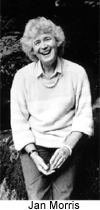 In early autumn the British press carried a series of profiles and articles on the internationally renowned travel writer, Jan Morris. It was a landmark occasion in the English literary world as it was Morris's last book and its publication was timed to coincide with her seventy-fifth birthday. The critics lamented her decision to retire and letters of regret flooded in from her admirers. Paul Clements, who has published a critical study of her writing, looks back on the career of this woman who has been described as a ęnational institution'.
Jan Morris's new book Trieste and the Meaning of Nowhere (Simon & Schuster, 208 pages, $23.00US, ISBN: 0743201280) marked the culmination of a forty-five year writing career. Its publication, at the beginning of October, was greeted with a huge fanfare and much critical acclaim. The London-based quality national newspapers, including The Times, Guardian, and Independent, all ran lengthy retrospective portraits featuring interviews with Morris looking back on her writing life. Her book on Trieste is a reflective meditation on a place she has known for a long time. She first went there as a 19-year-old soldier at the end of the Second World War. It is neither guide book, travel memoir, nor a chronological history, but a subtle and relaxing autobiographical essay written as a fan-letter to one of her favourite places.
It is her forty-seventh published work and marks the end of a career of extraordinary literary fluency and longevity. Morris is renowned for her evocative and stylish descriptions of places; many of her books are atmospheric and frequently portray cities and countries at a particular period in their history. The travel writer, Jonathan Raban, has described her ability to capture the spirit of a place as "the verbal equivalent of a landscape painting." As well as a travel writingłor ęplace' writingłas she prefers to call it, she is renowned for her essays, novels, critical and historical writings.
It all began fifty years ago when Morris worked as a reporter for The Times in London. In those days he was James Morris but in 1972, after many years of agonizing over his identity, he underwent a sex-change and became Jan. The story of the change is told in the remarkable autobiographical book, Conundrum, published in 1974.
Morris was born in 1926 and after public school he joined the army. He served during the Second World War in the 9th Queen's Royal Lancers as an intelligence officer in Italy and then Palestine. After the war he worked for the Arab News Agency as a reporter in Cairo before returning to England where he took a degree at Christ Church in Oxford. When he left Oxford he joined The Times and was selected to cover the British expedition to Mount Everest in 1953. Morris managed to outwit the other journalists and scooped the world with the news of the conquest on June 2. His dispatches won him international recognition and he later wrote a book about it called Coronation Everest. Morris gave up journalism after ten years to become a full-time writer.
Following the Everest triumph Morris went on a year-long Commonwealth Fund Fellowship to the United States and Canada. It was the start of a long association with North America and resulted in a book, Coast to Coast, published in 1956. During the winter of 1953 Morris took part in a trans-Canada lecture tour. Since that first visit she has travelled to Canada on many occasions and written numerous articles about it for magazines and periodicals. Her British imperial history, Pax Britannica, includes many Canadian vignettes. Morris followed in the paths of the fur traders into the wilderness, the gold-prospectors up to the Yukon and the Royal Navy to Esquimalt. Canada was only one of dozens of countries she visited around the world during research for her imperial trilogy that took ten years to write. Her travels for this magnum opus were far-ranging; her quest took her to places such as Rhodesia, Simla in India, Alice Springs in Australia, County Carlow in Ireland and villages in the Punjab.
The Pax Britannica trilogy is an immensely readable work of narrative history. A mixture of historical reconstruction and descriptions of the social atmosphere it is written in an entertaining style. The reader is taken up the Nile on Thomas Cook's steamers, and into the Klondike to see the Mounties imposing order on Dawson City. The books appeared at an appropriate time as the memories and agonies of empire were fading slowly into history. The trilogy touched a chord with a whole generation of people in Britain and Commonwealth countries; few other books have ever better expressed the huge grip the empire has had on the British imagination.
Apart from her trilogy Morris has written widely about Canadian cities. An essay on Montreal was published in her book called Cities in 1963. More than seventy portraits of cities covering every continent are included in this collection. They are based on her time spent as a foreign correspondent and show her ability to unveil the richness of a city and its people. She has an uncanny knack of describing a particular place, often at a certain time in its history. The essays contain many of the writing techniques for which she became well known. One of these is her skill at recreating the atmosphere of a place through the use of sound effects. Here, for example, she brings out the noises of Kyoto:
Away from the motorcycle thoroughfares, her air is full of crickets, frogs, bells, birds, the sliding of finger-tip doors, the clip-clop of clogs, the slither of slippers.
Morris uses language creatively and taps into her own feelings and emotions to capture the mood. She has an instinctive feel for the right phrase and her writing is imbued with a unique comic spirit. The essays in Cities are literary snacks that can be enjoyed any time. Full of curiosity, energy and enthusiasm they remain a testimony to her matchless craftsmanship and artistry. Another Morris literary device is to apply human characteristics to cities: thus Istanbul is "strong and stocky, sad or severe," Madrid is "tall and aristocratic but infused with sadness," Katmandu is "introspective and pernickety" while Lima is "to the manner born."
In her book, O Canada!, published in 1990, her ability to capture the genius loci of a place is once again demonstrated. Her first memory of the country was of standing in the open doorway of the Canadian Pacific sleeper train at night "seeing millions upon millions of trees stand black against the limitless snow." The ten essays in this book were commissioned by the Toronto magazine, Saturday Night. Morris wrote in the introduction that she was "offering the book simply as a somewhat random portrait, expressing no more than artistic responses of an impressionistic kind and I fear those responses may irritate some readers":
On the face of it Canada is one of the least magnetic places on earth, yet it is one of those two or three countries where half of humanity would prefer to resideąI can remember experiencing hardly a word of rudeness, or an inhospitable gesture, during the writing of these pieces, and this has only confirmed me in the conviction that Canada, while it may not be the most thrilling of countries, has a genuine claim to be considered the best.
Morris says in the book that of all the cities she has written aboutłanywhere in the worldłnone has given her more enjoyment than St. John's, the capital of Newfoundland, which she describes as "the most entertaining town in North America." She delights in finding a rum in St. John's called Newfoundland Screech, and a family clan with the name Noseworthy. She paints a memorable portrait:
Windy, fishy, anecdotal, proud, weather-beaten, quirky, obliging, ornery, and funąits chunky wooden streets clamber up and down the civic hills with a kind of throwaway picturesqueness, suggesting to me sometimes a primitive San Francisco, sometimes Bergen in Norway, occasionally China, and often an Ireland of long ago.
Trademarks of the Morris literary style are to be found in O Canada! She has a compelling voice and her astute observations shine through. Writing with an affectionate enthusiasm, her essays make readers chuckle with delight when, as one incisive critic wrote, "the spark of recognition jumps the gap and ignites understanding." Drawing on her good humour she ponders the smallness of small talk in Toronto and recommends lessons for its residents on ęHow to Respond to Casual Remarks in Elevators'. In St. Andrews, New Brunswick, she was affronted by the place at first, but as she walked around the Anglican churchyard with two widows, she could not resist its "complacent charms and innocent beauty." Its conservatism earned her respect because it came from the people whose families had lived there for generations.
In an interview with The Washington Post in 1989 Morris admitted that she had been "somewhat obsessed" with Canada but she had found that Canadians didn't particularly appreciate her affection for what they are. She gave an insight in this interview into how she strikes up an acquaintance with a place in a short time by immersing herself in it:
Say I'm writing about Saskatoon in Saskatchewan. I go for a week and don't think about anything but Saskatoon and Saskatoonism and Saskatoonery. I don't think about anything else. It doesn't matter who I meetłit could be a dentistłit will be useful. At the end of the week, I take three days, go to my hotel room, and write one draft of the essay a day. Then, on the plane, I go through and edit it.
Reading Jan Morris was once described by The Times Literary Supplement as "a peculiar luxury." Her writing is impervious to time. One of her strengths is that her books can be revisitedłthey retain their freshness. Her study of Venice, published in 1960, is acknowledged as a classic of twentieth century travel writing, and remains in print more than forty years after the first edition came out. As Morris points out in the foreword it is not a history book but primarily a report on contemporary Venice. It is a timeless book, focusing on history, architecture, and the atmosphere of the Serenissima.
Since the mid-sixties Morris has lived in Wales. She has written seven books and pamphlets about the country which communicate her love for itła feeling she has described as her "supreme pleasure." She has also written scores of articles and book reviews, and a stream of controversial cultural and political commentary. Over the years she has championed Welsh writers and trumpeted the cause of Wales. Morris has consistently banged the drum for her adopted country supporting the setting up of an Assembly, encouraging speakers of the Welsh language, and writing letters to newspapers on the hoary old subject of jokes about the Welsh.
Although she has declared that she will write no more books she is, happily, still continuing to write. She is working on an essay for the literary magazine Granta about her six-week tour of the world in the summer in which she searched for the new ęZeitgeist'. She returned home on September 11, the day of the terror attacks in the United States. New York has always held a special place in her heart and although she hasn't written specifically about the attacks, on the Sunday following them The New York Times published a series of essays about the city. Several lines from Morris's 1987 book, Manhattan ę45, were placed below a picture of the newly-shattered cityscape:
The Manhattan skyline shimmered in the imaginations of all the nations, and people everywhere cherished the ambition, however unattainable, of landing one day upon that legendary foreshore.
Morris is also writing an extended essay for National Geographic about her house in North Wales, called ęA Writer's Home in Wales'. That home is a converted stable block, Trefan Morys, near the village of Llanystumdwy in Gwynedd. She lives there with her former wife, Elizabeth, whom she calls her best friend. Two sons and a daughter live in Britain and a third son, Mark, who has written a Guide to Twentieth Century composers, lives in Canada. One of her sons, Tom Morys, lives close to her home and is a well-known Welsh-language poet, television performer and singer. He has translated two of her books into Welsh.
Morris's writing career has been a long and distinguished one. In a speech in London as part of her valedictory tour in October she outlined the reasons why she would write no more books. She talked about the physical and mental stamina of the publishing treadmill; she told the audience she was worried that her prose style had become archaic; she felt her self-discipline was weakening; she said she was tired of all the literary brouhaha and of propagating herself at book festivals.
Since that first visit to Trieste in 1946 Morris has roamed the world with a quizzical eye. It has been a restless life full of discovery. Age has not diluted her zest for literary travel and work or her descriptive powers, but many devotees feel she is quite entitled at the age of seventy-five to feel weary. Her last book, Trieste and the Meaning of Nowhere, is a celebratory farewell to a city that for her has always been full of ęsweet melancholy'. Critics greeted it with enthusiasm but there was also collective grief that it was to be her last work. One writer, reviewing it in the British current affairs magazine, the New Statesman, said that when you turn any page of a book written by Morris "you inhale something exceptional, something lit up by relish." For fifty years this celebrated figure on the literary scene has been producing exceptional writing and lighting up all our lives. The world will now be the poorer for her decision not to write any more booksłunless, of course, she changes her mind.
Paul Clements is assistant news editor with BBC Northern Ireland. He is the author of Jan Morris, a monograph published in 1998 by the University of Wales Press in the Writers of Wales series.