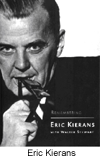 In those happy days when thousands of Canadians listened to Peter Gzowski's Morningside faithfully, the peak of enjoyment for many of us was his weekly conversation with the Three Wise Men, Dalton Camp, Stephen Lewis and Eric Kierans. Ostensibly conservative, N.D.P. and Liberal in their opinions, they were far more flexible than that categorizing suggests. Their conversations, often passionate arguments, were and remain a high point of CBC Broadcasting. Now, with Camp still writing columns for the Toronto Star and Lewis a Special Envoy for the United Nations, Kierans is relatively detached from official public life, but far from detached in interest or articulate opinion from the affairs that engaged and directed his life's work. With Walter Stewart he has written a frank, fast-paced, crisp and witty memoir, his life-long abundant energy still crackling off the page. Remembering has none of the sleep-inducing self-serving drone of many a political memoir. Besides being a record of a remarkable man and a remarkable life, it is a thoroughly good read.
His years in government, first in the Lesage and later in the Trudeau cabinets will be remembered by many readers, but it is the years leading up to these involvements in public life that have hitherto remained vague to many of us and that this book elucidates. It is a classic "poor boy makes good" story. Kierans was born in 1914 in Montreal to immigrant parents. His father, Hugh, was one of four brothers who left County Monaghan in Ireland first for Vermont and jobs in the logging industry and then for Montreal. His mother, Lena, emigrated without family from Hamburg, Germany and worked in domestic service until she and Hugh met and they were able to marry. Devout Roman Catholics, the Kierans had high hopes for their family; though it was his mother who was intensely ambitious in terms of her children's education. Eric remembers a special closeness to his father, "a warm, safe, cheerful home, and a neighborhood dominated by the rituals and pleasing certainties of the parish where we lived." In later life he had only one regret about his early education¨he begged to attend an English school, rather than the French school close to his home, and his parents gave in. Consequently he grew up speaking only English, a disadvantage that he came to regret bitterly as he matured into a politician.
He was both very bright and very competitive with the special quality of quick aggression that small boys develop among their larger mates. He developed "street smarts" early and his defensive head-butting tactics made him more than a match for older, bigger boys when he took to the football field in his teens. From his earliest days at school he wanted to shine, worked hard and enjoyed the approval of both teachers and family. He was almost always both the smallest and at the top of his class and when he won one of the three scholarships to Loyola in 1927, his future was assured: "So long as I kept my grades up, I would be able to attend four years of High School and four years of College at very little cost to my parents."
Aside from giving him a firm academic foundation, his Loyola years gave him an expertise in debating that was to be of immense importance to his career. He loved its challenges and competition and quickly became a star on the college team. Never without confidence in his own abilities, in his final year, 1935, he began to speak at five dollars a speech for the Liberal party and in the heat of the election campaign that year sometimes made as many as three speeches a day. He also began to consider the need to get a job and began as a salesman for Olgilvie Flour, quickly becoming its Maritime Sales Manager. He met and fell in love with Theresa Whelan in 1935 and in 1938 they married, beginning a mutually supportive life together that they still enjoy. Early in the war years, he gave up his job with Olgilvie's and moved back to Montreal where "the exciting jobs were." With Theresa's confidence in him added to his own, he felt well nigh invincible. He had been turned down for active service because of bad varicose veins, but he compensated by joining a reserve regiment, the Victoria Rifles, and proceeded through various business ventures to his first real triumph in 1945. He acquired the Bulldog Grip Cement Company, built it up under the more dignified name of Canadian Adhesives and proceeded, by dint of a hectic working schedule, to become a force in the business world.
Knowing himself lacking the theoretical underpinnings for a successful business future, but already well known in the business world, he applied to the Department of Political Science and Economics at McGill and was accepted as an M.A. student. With the built-in energy, enthusiasm and entrepreneurial aptitude that were his hallmarks, he soon made his mark there and in 1953 became Head of the School of Commerce, leaving finally in 1960 to become Head of the Montreal Stock Exchange. By this time he was inevitably drawn into politics; in 1957 he had plunged into a losing race for a Liberal nomination, and in 1962 he caused a furor in the midst of a Federal election by speaking in favour of the NDP's economic platform. He was grudgingly forgiven by his cohorts on the Stock Exchange, but with his penchant for making speeches, his strong opinions and powerful connections to the world of finance, it wasn't long before it was seen as a good move to get him officially into the Liberal Party and then into the Provincial Cabinet. He accepted the Revenue Portfolio from Premier Lesage and immediately began to make his mark, as he did wherever he went.
It is at this point that Remembering shifts and broadens its focus somewhat. Where previously our attention was directed intensely to Kierans and his steps to development and success, we are henceforth often treated to his appreciation of those around him, particularly at first Rene Levesque, and later Pierre Trudeau. Kierans remained sensitive to those with whom he worked, whether for or against. His tribute to Levesque is moving, the more so because the two men inevitably parted in their loyalties: "Basically, I am a QuTbTcois first and Eric is a Canadian first," said Rene, and their friendship endured all strains.
For Kierans, the next step and the next exciting challenge was Federal. He challenged Trudeau for leadership of the party in 1967 and lost, but Trudeau offered him the Cabinet position of Post-Master General, later Minister of Communications. Immediately he was plunged into the events that led to the October Crisis, the FLQ's abduction of James Cross, the murder of Pierre Laporte and the controversial passing of the War Measures Act. He writes that in retrospect he regrets that he did not oppose its passing in the final crucial cabinet meeting, because he now believes that the decision was premature and unnecessary.
One of Remembering's major pleasures is Kierans' readiness to admit mistakes and weaknesses in a rueful, self-deprecatory, often humourous tone that is endearing even as it rounds out our understanding of the man. He talked too much¨and knew it; he was all too apt, on any and all occasions to lay down the law, beginning with the "Look" that everyone who heard him on Morningside will well remember. He knew that, too, but on any and all occasions he spoke from intense conviction and a basic common sense. He resigned from Cabinet over the budget of 1970 which, he believed, was an invitation to foreign ownership and the exploitation of our resources and manpower.
He by no means lost his influence by forgoing his cabinet position, but continued to work indefatigably for the good of Canada as he saw it, particularly in his opposition to the Free Trade Agreement. By the time the Morningside years ended in 1992 he had made his mark as a nationalist of the best kind¨his views were based on solid knowledge of economics and the research that resulted in damning indictments of our betrayal to corporate interests: "The Free Trade argument has had no more vociferous exponent than that branch-plant president, Brian Mulroney, but that is not a surprise. Anything else would be a surprise."
The ideal of community has been his bedrock since his earliest youth. He has held to the principles that governed his lifelong commitments to family, church and public life. He has certainly earned the satisfaction he voices in the crafting, with Walter Stewart, of Remembering: "I say to myself: Right, there, that's done. What comes next?" ˛