Harold Kalman's A Concise History of Canadian Architecture is a revised and abridged edition of his two-volume History of Canadian Architecture (1994) by the same publisher. In its modified form, the book is an excellent reference work aimed at a wide audience of both academic and general readers.
Kalman, who studied architectural history at Princeton University with Donald Drew Egbert, is presently a heritage consultant and principal of Commonwealth Historic Resource Management in Vancouver. With a background in both academia and professional practice, he brings an understanding of architectural history and the technical knowledge of construction methods and materials to this work. Throughout the text, Kalman's focus is on buildings and building types rather than on particular architects or firms, although these are of course mentioned. Particularly good are his descriptions of building processes, which give readers a vivid sense of the architecture, a comprehension of technological developments, and a grasp of the impact of technology on architecture. Perhaps because of his interest in historic preservation, Kalman also takes the somewhat unusual approach of describing the current state of each of the buildings discussed, whether they have been demolished, restored, or otherwise. This gives the book the added benefit of functioning as a kind of contemporary guide to the country's historically important architecture.
Architectural history, like art history and many other academic disciplines, has reevaluated its field of study over the past thirty years. Vernacular, or "low" architecture, now has an important place in the discipline alongside "high" architecture such as churches, institutions, and the work of recognized architects. Kalman's survey of Canadian architecture works from a broad definition of architecture that acknowledges this change. For Kalman, architecture includes all aspects of the "built environment", from wigwams, log houses, and mail-order cottages to public works, corporate headquarters, and parliament buildings. As a result, this survey is, in part, a history of the building types related to Canada's colonisation, industrialisation, and modernisation, and in that respect, it contributes to the social history of Canada, as well as the country's architectural history.
In many ways, however, Kalman remains quite conventional in his approach toward architectural history. Perhaps taking his direction from Alan Gowan's Building Canada: An Architectural History of Canadian Life (1966), which is one of only a few other works that attempts to consider the architectural history of this country as a whole, Kalman has chosen stylistic analysis as the central organizing feature of his study. What this means is that although he sets out to help the reader "understand why people built the way they did," he spends much of his time tracing European and American influences on the stylistic development of Canadian architecture. The exception to this comes in his discussion of indigenous and early settler buildings, which is somewhat anthropological in its approach. The heavy reliance on stylistic analysis detracts from Kalman's ability to develop a thematic historical narrative of the Canadian-built environment. In "Building the Young Dominion" for example, he concentrates on the relationship between a building's function and the architectural style, with only passing reference to some of the significant political, economic, social, and cultural issues that affected such things as the kinds of buildings that were constructed, the selection of architects for those buildings, and the impact of urbanization on architectural form and function during this time.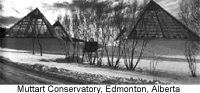 In terms of structure, the fourteen chapters of A Concise History are organized in roughly chronological order, with geographic region, type of development, and stylistic period also contributing to thematic chapters. This method allows Kalman the flexibility to move back and forth through time and geography and it is supported by page references in the text where similar topics are discussed in more than one place. Given the fluidity of his approach, the book's serviceability for general and undergraduate academic readers could be further enhanced by the inclusion of a chart or map laying out a chronology of concurrent regional development, building types, and styles. In any case, the text is well illustrated with contemporary and historical photographs, as well as a number of historical sketches, prints, and architectural plans. Each of the images corresponds to a description in the text, giving Kalman's account a specificity and concreteness that is both accessible and enjoyable to read. The glossary, the index of Canadian buildings, and the general index further facilitate the use of the Concise History as a reference book.
There are a number of notable changes from the two-volume History of Canadian Architecture. The material on native building forms has been reorganized with the elimination of the chapter, "The True North." The addition of a new chapter, "European Visitors," separates early building into indigenous and European forms, presenting a more coherent chronological arrangement of the material. The chapter on town planning has also been removed, which seems a shame, especially as only a small section of the material (on Toronto) has made it into the revised version of "Building for Communications, Defence and Commerce." While the original edition covered material up to 1992, the revised edition has been updated to include a number of important buildings from the late 1990s, including the Legislative Assemblies of Nunavut (1998-9) and the Northwest Territories (1992-3), and the award-winning Gatineau Preservation Centre of the National Archives of Canada (1991-7).
Like the earlier edition, the Concise History relies for the most part on secondary sources. The elimination of the endnotes and the reduction of quotations from the 1994 edition help to make this a more cohesive survey without detracting from the overall quality of the work. Instead of conventional endnotes, Kalman provides "Sources for Quotations" listed by page number. Why this is preferable to endnotes is not clear; however, with fewer quotations it is a manageable alternative. A bibliography of selected books on Canadian architecture also provides a useful reference for further reading.
Kalman's Concise History is both a useful revision of the original edition and an important addition to Canadian architectural history. Perhaps what is most significant is that Kalman fulfills his stated intention, making a history of Canadian architecture accessible to a broad readership. ò
Sarah Bassnett is a Ph. D. Candidate in the History and Theory of Art and Architecture at Binghamton University in New York. She is writing her dissertation on city planning in early twentieth-century Canada.