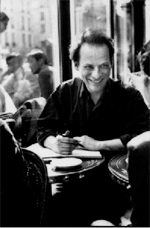 Adam Gopnik

Many books have been written by North Americans who have fled to Paris in search of romance, but none, I venture, more enchanting than Adam Gopnik's Paris to the Moon. I read most of the sections originally in the New Yorker, but to have them now combined into a cohesive five-year saga of the life of a transplanted little family is sheer bliss.
What makes one book more appealing than another? In this case it is undoubtedly the open, good-natured, unassuming personality of the writer himself. Gopnik is in a constant state of wonderment at the very fact he is there. He is funny about his own naivetT, yet at the same time he is an intelligent, well-informed observer who comments acutely on the day-to-day minutiae of daily life. These are the kinds of details everyone shares but with the added delight of the author's particular pleasures.
Gopnik and his wife, Martha, had fled to Paris for a holiday when they first fell in love. In the meantime they have married, he has established a solid reputation as a journalist, and they have a baby, Luke Auden. So this isn't John Glassco or Morley Callaghan or Ernest Hemingway or Edmund White mingling with the literati, but an average family trying to understand and cope with all the things that are different in another country. After a year Gopnik can write that "everything about moving to Paris has been wonderful, and everything about emigrating to France has been difficult."
This isn't an aphorism. The things one takes for granted simply aren't there. There is the difficulty of finding a gym, and the complicated process of joining it. When he takes his morning run around the Luxembourg Gardens he is accompanied only by the riot police in mufti. Martha has enormous difficulty finding a photo-copying shop. Christmas tree lights provide a problem every year. Difficult as they are on this side of the water, in France one hangs garlands that tie at the back of the tree, but it takes Gopnik five years to learn how to accomplish this. Like ours, these inevitably fail to function the following year. There is nothing like a quick snack for lunch. Robots wearing Walkmen are rare. People are suspicious of answering machines. Light plugs are three-pronged and Gopnik's printer starts to smoke when he first uses it. Banks arbitrarily assign you a pin number and that's that. Electric appliances are smaller and actually chic. And so it goes on and on and on. The price for all these obstacles is the reassurance that the whole world hasn't become homogeneous.
Beside these small things, the Gopniks find enormous differences in attitudes to life. There is no great anxiety about retirement. Old people look old: they are not dressing for eternal youth. Old age is regarded as a time for reflection. Holidays are sacrosanct: five guaranteed weeks for everyone. The greatest differences in culture they observe when Martha becomes pregnant. The obstetricians don't wear traditional lab coats but appear with a day's growth of beard, sporting jeans and a black silk shirt open to the navel. Martha does not get undressed behind a screen but in front of the doctor and an embarrassed husband. A new-born child is not immediately pushed into prison clothes; the father dresses her in some exquisite little outfit provided by a relative. Naturally the birth certificate requires almost a dossier.
Occasionally Gopnik ventures far from the Paris scene. In the spring of 1998 he travels to Bordeaux to cover the trial of Maurice Papon, a Vichy functionary responsible for sending Jews to the gas chambers. Unlike war criminals such as Eichmann, Papon is not a banal figure, but Mephistophelean, "pompous and aging and erect and unrepentant." Gopnik wonderfully captures the atmosphere of those in attendance: the great nazi-hunter, Serge Klarsfeld, surrounded by the Daughters of the Deported Jews of France chanting out the names of children Papon had deported. The jury are sent out with a large plate of sandwiches. Someone speculates that they are ham. The foreign journalists gather in a cafT to decipher Papon's last defiant speech to the court, interspersed with shouts to the waiters: "Fiche, fiche, fiche" as their orders are slapped down on the tables. The Jewish survivors weep over the disappointing sentence of ten years. It is all so real. Gopnik does not cover the trial. He is the observer, observing the observers.
One of my favourite sections is the account of the occupation of the Left Bank restaurant, Balzar. For Gopnik it is simply the best restaurant in the world because by now he believes he had become a regular. Disaster strikes when news leaked that it had been bought by the Flo group who have been busy acquiring all the famous old brasseries like Le Coupole, destroying the distinctiveness, eccentricity, and sense of continuity of the originals. The regulars concoct a plot to protest their concerns about the change to the new owner. Eloquent, elegant speeches are made, but to the amazement of everyone the owner agrees that the Balzar is a jewel and he has no intention of changing it. Of course it does change and the old waiters are discharged. They give a banquet for "les Amis du Balzar", and Gopnik is puzzled that the waiters have accepted their fate with a Gallic shrug. It was the regulars like Gopnik who had discovered that "moral self-righteousness is a very good substitute for pleasure."
Alice Waters of the famed Chez Parnisse in Berkeley comes to Paris on an expeditionary visit prior to opening a small restaurant for the Louvre. They visit Rungis, the wholesale food market that has replaced Les Halles and been banished to the western suburbs. Ah Adam, ah Alice! Neither of you knew what it was like when Les Halles was Zola's redline "belly of Paris" and it was de rigeur to have bubbling onion soup at four in the morning after exposure to crashing crates and expletives and piles of glistening carrots, peas, and potatoes. Your first memory of Paris may have been the crunchy taste of absolutely fresh green beans but I have memories too.
It is the little boy Luke who steals our hearts in Paris. He spends a great deal of time with his father¨especially in their favourite haunt, the Luxembourg Gardens¨and we see him developing into a precocious, interesting child who from time to time finds himself puzzled that he is not quite like his Parisian friends. The saga of Luke (who now prefers to be known as Luca) and his first infatuation is delicious. He tells his parents that a girl at school is "a dish." Indeed she is, his father discovers: wide-set blue eyes, two long blonde braids, and an Audrey Hepburn voice.
During Martha's pregnancy the family decide to take out a special eight-week membership to use the pool at the Ritz, the very spot where Pamela Harriman met her classy death ("Ža ne va pas"). One day the enchanting Cressida appears in the pool with her friend, the imperious Ada. Ada demands a chocolat chaud and cake. On each visit thereafter¨in the cause of Luke's courtship¨the bewildered father is required to provide these goodies for the group, including the Australian au pair. Martha explodes when the bill from the Ritz arrives. Gopnik reflects philosophically: "We began to take too much pleasure, I suppose, almost too much delight in the passage of our son's first romance because it recalled to us the landscape of limitations that surround all romance."
A sentence like this conveys the reflective, self-amused tone of the entire book. The title is taken from an engraving the Gopniks had bought on the rue Saint-Sulpice of a steam locomotive headed for the moon. Paris remains Henry James's "celestial city" to the end. Paris continues to look exactly as it should look, and will remain so long after Gopnik's departure. It will contain beautiful commonplace things long after the daily frustrations are forgotten. But the love affair with the city, like his feeling for his wife, will have been transformed from ardent infatuation to abiding love. ˛