These two volumes are welcome additions to the Canadian aviation canon, a subject that is always interesting and usually dominated by extraordinary characters with unlimited energy and indefatigable constitutions.
In the first, Grounded In Eire, Ralph Keefer recreates the story left by his late father, R.G.C. (Bob) Keefer, DFC, a Canadian pilot who flew eighty-eight missions as a Royal Air Force pilot during the Second World War. Shot up on a night time raid over Frankfurt in October 1941, Keefer along with his Canadian navigator, Jack Calder and four crewman flying a badly damaged twin-engine Wellington with a vicious tail wind, overshot England on their return flight and were forced to bail out over Eire.
Our spirited Canadian fly boys found themselves interned for having violated Eire's neutral airspace. After an interrogation they were taken to County Kildare and put into a prison camp right next to German fliers who suffered the same fate.
Keefer (a McGill University football star) and Calder (a Canadian Press reporter in civilian life) couldn't wait to escape to Northern Ireland so they could return to action. However, they found themselves in the unusual situation of being in a rather lax facility with an old boys honour system that allowed them immense personal freedom but restricted their inclination to escape at any cost. Allied and Axis fliers were treated the same. They lived under a parole system in adjoining camps that were lightly guarded and surrounded by barb wire. For the luxury of being able to leave the camp and have total freedom until 2 am each day, prisoners had to sign a parole pass and guarantee they wouldn't attempt to escape. They were free to go fishing, golfing, hang out in bars, go out with the local women or do anything they pleased, including trying to escape as soon as they got back to the camp.
Keefer has accomplished a labour of love in telling his father's story, which was left unfinished (along with an old shoe box full of pictures, clippings and other memorabilia) because of terminal illness. What he calls his 'recreated' story about his pilot father, Bob Keefer, and fellow Canadian navigator, Jack Calder is a lively well-researched tale. Keefer's insightful portrait of life in neutral Eire during the Second World War is more than adequately documented by way of pictures and other data. It provides an unusual historical perspective on international relations that was not widely known because of the concurrent larger conflict. Keefer does well in portraying the quaint, rather quirky but complicated Irish society that holds these men in a cursory manner. Rather than sit out the war in relative safety and comfort, our boys and their fellow fliers chafe at their unfortunate inactivity.
These are cocky men of action who revel in the conduct of their own professional code of chivalry and have an addiction to flying and the inherent dangers, in time of war, that go with it.
What shines through in this commendable volume are the personalities of two stubborn Canadians who manage to escape from Eire in their own particular fashions and return from a seemingly unreal interlude back to the fiery fray in the skies above Europe. Their respective stories and the adventures of their various compatriots are the accounts of men who lived their lives to the max.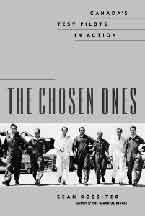 In telling this particular story the author succeeds in telling a larger story about a group of fliers¨Canadians, Poles, Brits, French, Commonwealth and Americans¨who defied the odds on any given day while pursuing dangerous missions that challenged human capabilities. Fellow Canadians can be proud of Bob Keefer and Jack Calder. These two brave men and their ilk continually risked their lives for a cause they believed in without a thought for their own safety. Bob Keefer came home, but was changed forever. Jack Calder did not make it back. Ralph Keefer has done an excellent job finishing his father's work, securing a legacy that enriches the genre immensely.
Sean Rossiter's The Chosen Ones puts the reader in the cockpit of untried prototype aircraft with some of the most daring adventurers from the past century. This volume tells the stories of the test pilots who worked for the companies, such as Avro and de Haviland, that designed and built original aircraft in the golden era of Canadian aviation history in the years that followed the Second World War. Many test pilots logically proceeded into the industry after gaining valuable flying experience in the war. After the war the continuation of aircraft development coincided with the Cold War era that demanded the West keep up with changes in Soviet technology. Men who were bitten by the flying bug and had proven themselves by flying nearly every type of aircraft under a variety of circumstances were able to put their experience to work in peacetime.
Perhaps fighter pilot is the occupation closest to test pilot. Both occupations require the reflexes, instincts and judgment necessary in making split second decisions¨with life or death consequences¨at great speed, in an amazingly complicated mechanical contraption. Men who made those choices flying hundreds of hours against a skilled enemy were perhaps the best equipped, and with the experience and fortitude to take on the frontier that was unique to the profession of test pilots. These men were the explorers and the adventurers of the age, riding wonders of technology. In addition to being endowed with the physical and mental faculties necessary to accomplish their tasks they also needed to have a great deal of knowledge in order to permit them to interact successfully with the design engineers and other highly trained people who worked in their industry. Whether they were first flight pilots, did experimental work or development flight testing, they provided the intangible human insights that work groups needed in their quest to improve, refine and master the product.
Rossiter has organized his book into two parts. Part One: A.V. ROE CANADA and Part Two: DE HAVILLAND CANADA containing ten chapters. Nine of the chapters examine the individual careers, exploits, and incredible contributions of nine test pilots; Don Roger, Jimmy Orrell, Mike Cooper-Slipper, Bill Waterton, Peter Cope, Jan Zurakowski, Russ Bannock, George Neal and Bob Fowler. The tenth chapter is about a group of De Havilland test pilots. The result is a series of exciting well-written stories that provided riveting testimony to document not only the work these men accomplished but also portray the spirit of their industry with a splendid insider look at the people who ran it.
This book pays lavish attention to detail. In each chapter Rossiter begins by providing a kind of mini bio of his subject with personal and career information before recounting the essentials of the work that explains why they were included in this volume.
Rossiter is a real aviation enthusiast who lets the reader in on a great deal of information about different kinds of aircraft and prototypes and about the way they were tested and brought along. Here are the insider stories about a group of cool analytical men who braved the unknown in perhaps the world's most high stress occupation. Rossiter tells their stories with panache. In addition, he examines a myriad of details about the shifting nature of the aviation industry and the sometimes controversial nature of the relationships that fueled its advancement. The interesting Endnotes at the end of the book read like a dialogue between experts aided and abetted by Rossiter's excellent interviews with several of his subjects and his thorough job of research.
Sean Rossiter deserves a great deal of credit for producing a highly readable work about a group of largely unknown test pilots who made aviation history. This volume will undoubtedly be regarded by future readers as a seminal work that has brought to life an era in Canadian history that should never be forgotten. ˛
Allan Safarik is the author of Bird Writer's Handbook recently issued from Exile Editions. He lives in Dundurn, Sakatchewan. He has just completed a year-long appointment as Writer in Residence in Estevan.