The Invisible Enemy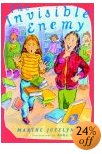 by Marthe Jocelyn,Illustrations by Abby Carter
167 pages,
ISBN: 0887765858

---
Berta:
A Remarkable Dog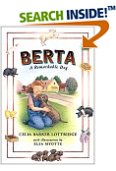 by Celia Barker Lottridge,Illustrations by Elsa Myotte
99 pages,
ISBN: 0888994613

---
Post Your Opinion
Children's Books
by Karen Krossing
Two new illustrated novels will appeal to humour-lovers in the eight-year-old to twelve-year-old set. Berta: A Remarkable Dog, by storyteller and author Celia Barker Lottridge, will provoke a quiet chuckle as a dachshund becomes mother to a lamb. The Invisible Enemy, by Marthe Jocelyn, will trigger loud hoots of laughter as Billie deals with her arch-rival turned invisible.
In Berta: A Remarkable Dog, Berta is a gentle, determined dog who usually only cares to defend her sleeping spot on nine-year-old Marjory's bed. She hardly reacts even when Marjory's best friend Rosalind says that Berta looks like a sausage. Only Marjory understands just how clever Berta is. How this quiet dog proves herself to be remarkable is revealed on the journey through this book.
Lottridge shows readers that Berta is a dog who knows what she wants, even if her human family doesn't always understand her. First she licks the chicks that Marjory's father brought home, then she tries to push her way into the piglets' stall. Finally, she kidnaps a neighbour's kitten and carries it carefully home in her mouth. The reader asks, along with Marjory, why is this dog suddenly interested in these baby animals? Then, as Marjory and her family are awaiting the arrival of spring, a neighbour delivers a newborn lamb for the family to raise. Berta, too, has a touch of spring fever. After Lottridge's careful development of Berta's character through believable doggy deeds, the reader delights in her unusual reaction to a lamb in her warm spot in the kitchen. Berta becomes mother to the lamb, named Patrick, and protects him, tries to lick him clean, and makes sure he is fed.
Berta is a well-paced, refreshing story about an animal whose behaviour is remarkable, yet doglike. The numerous realistic illustrations of the animals parallel the lifelike way in which animals behave in this book. This is Berta's story, and throughout the novel Lottridge keeps us clearly focused on Berta's world through Marjory's eyes. In this lovable dachshund, Lottridge has created a unique character with intriguing behaviours and clear motivations. Animal lovers in particular will appreciate this charming tale.

Readers who enjoyed the first two books in Jocelyn's Invisible series will be similarly pleased with The Invisible Enemy. Adventurous Billie Stoner is older now, in grade six, but she is still battling her sworn enemy, Alyssa Morgan, and her cruel tricks. In the first book in the series (The Invisible Day), Billie finds some vanishing powder and accidentally turns herself invisible, while, in the second book (The Invisible Harry), Billie cares for an invisible puppy. As The Invisible Enemy begins, Billie still has a small vial of vanishing powder hidden in her backpack. When Alyssa steals Billie's backpack and inadvertently makes herself invisible, the two girls have to endure each other long enough to orchestrate the cure.
Jocelyn's accessible, easy-to-read novel captures the language and feelings of a diverse cast of characters. It also tackles some tougher issues than the first two booksùbullying and relationships with boysùand continues to celebrate the culture and diversity of New York City, where Billie lives. The serious subject matter and the colourful locale are beautifully blended with non-stop humour as Billie tries to control an enemy that she cannot see. The short chapters and many amusing illustrations of key moments add further appeal. Readers will be hooked by this page-turning adventure as they imagine what they would do with a good dose of vanishing powder.

Karen Krossing is a children's book writer who lives in Toronto.