A Pilgrim in Ireland: A Quest for Home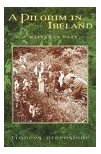 by Frances Greenslade
253 pages,
ISBN: 0670911127

---
Post Your Opinion
A Canadian Quests in Ireland
by Anne Cimon
Frances Greenslade has an engaging way in her first book of non-fiction A Pilgrim in Ireland: A Quest for Home. Even when her ideas about religion are far-fetched, and her stated beliefs on the fringe, she can hold the reader with the charming power of her anecdotes.
This book originated, Greenslade tells us, from a recent trip she made to Ireland, after a cache of her late mother's papers were given to her, including maps of holy sites her mother had annotated.
The near forty-year-old author, who presently lives in Regina where she teaches at the Saskatchewan Indian Federated College, is honest about her relationship with her mother, which was strained by her rejection of Catholicism as a teenager. She now questions why she is so different from her mother who possessed a "rock-hard faith". This is what Greenslade wanted to learn as she backpacked for six weeks through her ancestral country, leaving her husband David behind in Regina. Travelling alone, like many other women adventurer-writers before her, is something she obviously enjoys and has done before in Morocco, Mexico, Guatemala, and France.
Greenslade still likes to rough it, and stayed mostly in hostels. As she explains in the beginning of her narrative, she is not a "wanna-be" but rather a "wanna-have": "I have culture envyùI envy people who have a place and stories and a culture that grew out of that place. I'm native Canadian, but not indigenous; of Irish origin, but not Irish. Catholicism is as close as I come to a tradition, but it's not connected to a place."(p17)
She has come to know more about Native Indian mythology through David. His mother grew up in the First Nations reserves along the Fraser River Valley of British Columbia. Yet, though she is sensitive to its culture, Greenslade knows she is of different roots and doesn't fit in entirely.
Like other Canadians, she has lived in several other provinces. She grew up in Ontario, spent her teenage and university years in Winnipeg, and later, several years in BC. She adds: "I'm a migrant Canadian. Home is the place I've left behind."
And as she travels across Ireland with her mother's maps and a Lonely Planet guidebook, she is proud to have a Canadian flag sticker on her backpack.
Her stops include such popular touristy holy sites as St. Brigid's Well and New Grange. It's what is most enjoyable to read for the armchair pilgrim, as Greenslade is loquacious, curious, and generously shares her impressions. She bolsters her ideas with quotations from such classics as Carl Jung's Man and His Symbols and W. B. Yeats' Writing on Irish Folklore, Legend and Myth.
Her observations are often humorous. At the St. Patrick' Purgatory site, or Lough Derg, which is a Basilica on a remote rocky island built in honor of the Celtic saint, she bails out before finishing the pilgrimage, which is done barefoot. She notes: "From the people I spoke to over our last meal, I knew the reasons for coming to Lough Derg were as varied as the feet."
And from her childhood, she remembers "a catechism that had a hip-talking Jesus who said things to the disciples like æWhat are you getting so uptight about? It's just me, man.'"
The strength, but also the weakness, of this autobiographical travel book is its sometime naive point of view. Greenslade's vision can be reductive. For example, she dismisses the Old Testament in a few words: "I don't believe that a disembodied white-haired god in the clouds can see into my mind and know my sinful thoughts."
Much of her quest is to relate the old with the new. Greenslade is more instructive as she travels through Northern Ireland and writes about the Orange Order and how the conflict between Catholics and Protestants was imported to the Canadian soil. She is widely read on Canadian historical texts and uses interesting quotes from the pioneers Susanna Moodie, Catharine Parr Traill, and the Irish politician Darcy McGee among others.
She has empathy for "the underdog" and bravely writes about the subject of racism. She notes with much distress how the Irish, who have suffered historically from racism, could give a cold shoulder to the young Moroccan man she met in a hostel.
The time she spent in hostels yields some of the best, and often comic, anecdotes. Greenslade's extraverted style permits her to convey quickly a personality she meets like the Japanese girl Akiko, who carried a Japanese translation of Yeats' Writing on Irish folklore, Legend and Myth and eerily shared the same experiences such as being a writer of the same age, who had lost her mother to cancer and had a younger partner named David. They visit together a monastery built by monks on a jagged rock named Skellig Michael, seven miles off the southwest coast.
Evocative writing comes out of Greenslade's meditation on the motivation of these remarkable men:
They were looking for a landscape that would sculpt them into diamond-hard Christians, like the hermit monks who crawled into caves in the North African desert, fasted, and scrubbed themselves of bodily desires till they were smooth, clean shells ready to be filled by God. (p207)

In A Pilgrim in Ireland, Greenslade does not arrive at any real answers only a "Celtic knot" that she has been unable to unravel yet. Hopefully, she will continue her quest and write a sequel that is as fascinating. ò

Anne Cimon's new bilingual book of poetry All We Need/tout ce qu'il faut will be published this Spring by Borealis Press.