Country on Ice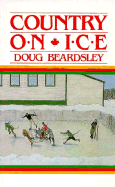 by Doug Beardsley
191 pages,
ISBN: 0919591221

---
The Montreal Canadiens: An Illustrated History of a Hockey Dynasty


by Claude Mouton
208 pages,
ISBN: 155013051X

---
Hockey Is Our Game


by Jim Coleman
174 pages,
ISBN: 1550130560

---
Post Your Opinion
SPORTS & LEISURE
by B.K. ADAMS
The first drop of the puck heralds the arrival of new hockey books in Canada and each printer the offering gets bigger and sometimes better. As with all sports, there are different species of hockey boots, and they are well represented in this sampling.
Claude Mouton - head of public relations for the Montreal Canadiens - spins a bigformat, glossy history of his beloved Habs. Flush with photos of the Greats, the boot, is fat with records and statistics for the demanding fan. This is simple hagiography and celebration, always a publisher's mainstay.
More unusual and successful is Jim Coleman's breezy, well-Illustrated history of Canada's participation in world hockey from the 1920s to the present. It comes at a good time: right across the programme, it appears, Canadian teams are proving they are the best in the world. It is of considerable interest to read here the full, often frustrating history of our fortunes on foreign ponds. Coleman writes from an unabashedly personal and opinionated viewpoint, especially in recounting our showdown with the wily Soviets and the Byzantine struggles with international hockey czars. An autobiographical flavour gives an immediacy and easy familiarity to the book, and Coleman is an old pro with the hockey prose.
Finally. Doug Beardsley, a communications professor and selfconfessed hockey nut, offers a hymn to our national pastime. He describes the romantic spirit of the game, formed by boyhood shinny, Foster Hewitt. and epic tales of our hockey heroes. Along the way, we dip in and out of nostalgia, editorial, and philosophical musing - there's even a reference to Albert Camus. Hockey, says Beardsley, is a "white transparent world of ritual and make-believe." For Canadians the game is a vast moral drama and struggle, a contrast to our more mundane lives in an impersonal, high-tech culture. While Country an ice is too often a jumbled hockey bag of favourite memories, ideas, and opinions about our national obsession, it is at least a refreshing twist on the season's more predictable offerings.