WithThe Making of 'Guys and Dolls', Keith Garebian's fifth book in his Great Broadway Musical series, Garebian demonstrates once again his meticulous research into what may be the last great American art form: the Broadway musical. An anomaly in the U.S. theatrical marketplace, Broadway had always forged ahead as a breeding ground for the new genres of musical comedy. Its uniqueness as a pacesetter in form, style and content in musical theatre is neatly capsuled at the end of Garebian's first book in the series, The Making of 'My Fair Lady', in a chapter entitled "A Brief History of the Broadway Musical". Anyone intent on reading the five books consecutively would do well in reading that chapter first.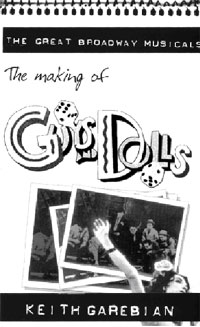 Though each of the books in the series beginning with The Making of 'My Fair Lady' (1993), followed by The Making of 'Gypsy' (1994), The Making of 'West Side Story' (1995), The Making of 'Cabaret' (1999) and The Making of 'Guys and Dolls' (2002), are different in their approaches to the subject matter, all follow a similar pattern in their structure and are at their most engrossing with the colorful anecdotes, humorous and/or traumatic behind the scenes stories of the nitty gritty job of putting the shows together, and the plain and simple voyeurism we can't help but engage in when the human frailties of the most brilliant and acclaimed artists ever crossing Broadway's path are in the spotlight.
One of the more salient stories concerns an arduous rehearsal for Guys and Dolls just prior to the New York opening in 1950. Composer Frank Loesser, known for his violent temper, and weary of not having Isabel Bigley, the show's Mission doll, Sarah Brown, sing "If I Were a Bell" to his liking, jumped up on a riser that put him eye-level with Bigley and slapped her in the face. It shocked the entire cast and not surprisingly Bigley kept her distance through the rest of the rehearsals.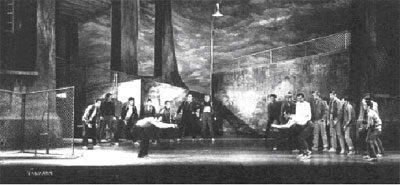 Though all the books begin with a literary prelude to the musical's world-wide theatrical status followed by a carefully drawn perusal of the show's literary or artistic source, some are more colorfully delineated than others. My Fair Lady, for instance, with its specific Shawian roots has the more dignified accolade of being "a phenomenon that elevated musical theatre to a rare level of polished literate entertainment," though the story of its rehearsal period with neophyte Julie Andrews and the self-absorbed, temperamental Rex Harrison, is as entertaining as any fictional backstage novel, while in The Making of 'Cabaret', with its much denser examination of source material, Garebian writes that it "is not just a musical, but provided... a symbolic edge that tips the show into a realm of fascinating metaphor." Cabaret not only gives the author an opportunity to delve more eruditely into the history of German Kabarett, pre-World War I Berlin and the rise of Nazism, Expressionism and Brecht's alienation effect, but also to engage in a near indefatigable appraisal of many of Fred Ebb's lyrics. As fascinating as they are, the details may be wearying to anyone other than musicologists or musical theatre historians.
In The Making of 'Guys and Dolls' Garebian clearly has been able to fuse genesis, evolution and after-life¨his own description of his goals in writing the series¨with some crisp and engaging writing, a style that suits the flavor of the material itself and has an economy that would have delighted Runyon.
Damon Runyon's collection of Broadway stories called "Guys and Dolls", was written at the peak of his career in the 1930s as a popular syndicated feature writer and reporter for the Hearst empire. Skilled at covering just about every facet of life from sports to crime, politics, high society, and the low life, Runyon's genius lay in his vivid settings, especially Broadway with its glittering eateries, nightclubs, speakeasies and restaurants, and emblematic names for his broadly-drawn characters. The bookies, gamblers, and mobsters were based on his own acquaintances (Harry the Horse, Nicely-Nicely Johnson), and his unique and eclectic slang earned the choice description, "slanguage" from one critic. The smell, sights and sounds of Broadway seemed to be in Runyon's blood, and the stories became his goldmine. He was quoted as saying, "I took one little section of New York and made a half a million writing about it." Nothing that he had ever done before or after proved as popular.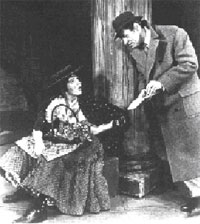 In each of the Broadway series books, Garebian pays as much attention to the producer as the artistic team, a commendable effort that truly enables us to see the larger picture. Many of the successful Broadway producers of the time had as much experience and show business savvy as anyone connected with the show, often paying his or her dues with years of working in films, broadcasting, and live theatre before turning to producing. David Merrick who produced Gypsy, and the controversial, creative Hal Prince, who served as producer of West Side Story, and as both producer and director of Cabaret, had one thing in common: their relentless commitment to their shows despite the odds.
The doomsayers of Broadway shows have always been ubiquitous. When My Fair Lady librettist Alan Jay Lerner met with Mary Martin's husband Richard Halliday to glean their comments about several of the numbers in the show, he was stunned when told that Mary Martin had paced up and down half the night saying "How could it have happened?....Those dear boys have lost their talent." While Lerner's colleague, composer Frederick Loewe shrugged it off, Lerner developed a bad case of writer's block and Mary Martin, as expected, was out of the running for the part of Eliza Doolittle.
Guys and Dolls producers Cy Feuer and Earnest Martin, who had scored a hit in 1948 with Where's Charley, starring Ray Bolger, hadn't yet chalked up the experience of Merrick or Prince, but they were known to be difficult to work with and the myriad of problems with Where's Charley had prepared them for issues with Guys and Dolls.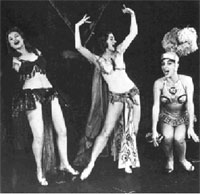 Though Runyon's colorful and informal prose was originally thought to be a natural transposition from page to stage dialogue, it turned out to be a headache for the producers as well as the show's librettist Jo Swerling who became bogged down in Runyon's book without adding any fresh new material. Composer Frank Loesser further discomforted them by declaring that the libretto didn't have the right "tone or pace" for his songs. Feuer and Martin were saddled with the delicate job of negotiating with Swerling for a settlement, as well as approaching a prospective replacement, the New York-born radio writer, performer, nightclub entertainer and composer Abe Burrows.
Burrows was said to be the most sought-after guest at parties and events, known for his send-up of popular songs. "Green and frightened," at making his Broadway debut as a librettist, Burrows leaned heavily on Cy Feuer's knowledge of music (Feuer had been musical director for Republic Pictures in the 1940s) and Loesser's songs, which were the guideposts for the libretto. After Guys and Dolls became a bona fide hit, Burrows revealed the secret of its success. "Nothing is in there that doesn't belong. There are no love ballads which are written in a different language from the dialogue....The dances are strictly in character. There's a crap game ballet which looks like a crap game."
The famous crap game number, "The Oldest Established (permanent floating crap game in New York)" was devised by Guys and Dolls choreographer Michael Kidd, who had a difficult time in convincing director George S. Kaufman that it was possible to use all of the performers on stage as part of a choreographed crap game. Garebian pays proper homage to Kidd's contribution in some highly imaginative descriptions culminating in an eloquent tribute: "Kidd's choreography incarnated the Times Square milieu, where the tensions, suspicions and feuds, the petty disasters and triumphs, the gaudy romances and comedic follies of its inhabitants seemed to be a thoroughly true record of Broadway society of that era." As inventive as Kidd's choreography was it did not direct the dialogue or story the way that Jerome Robbins's work was to do in West Side Story and Fiddler on the Roof.
Giving due recognition to the designing trio of Guys and Dolls, Jo Meilziner, Alvin Colt and Michael Kidd, as well as composer Frank Loesser whose eccentricities were said to match those of Runyon, Garebian devotes a welcome chapter to the less flamboyant George S. Kaufman, who was wanted by both Loesser and the producers because of his extraordinary credits as a playwright and director. Renowned by his peers because of his uncanny ability to draw the sharpest satire out of seemingly ordinary situations, he directed his actors in the manner of a business-like professor and insisted upon being called Mr. Kaufman. Yet his calm manner didn't preclude his insistence on getting his way¨which he always did¨or the exercise of his droll sense of humor.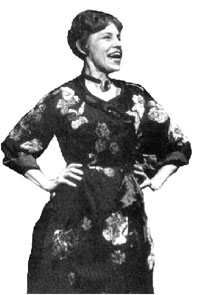 After a tiring work session with Abe Burrows, Kaufman remarked that Burrows had told the same joke three times in the script. "We often do that on radio," replied Burrows, "We call it a running gag." To which Kaufman replied, "Abe, radio is free. The people coming to see your show have to buy tickets. Give them a new joke."
Despite the calibre of artists involved in the show, Guys and Dolls was not exempt from the trials and traumas that can accompany laborious rehearsals and out of town try-outs. Burrows and Kaufman performed radical surgery on the opening section of the show as late as the last dress rehearsal and at one point, the producers insisted on so many revisions during the show's Philadelphia try-out that Kaufman feared they had lost perspective. He begged them not to degrade it by "pandering to the lowest common denominator."
There were no big stars in the show, unlike in Gypsy, where the character of Mama Rose dominated the story with the unassailable Ethel Merman presiding over it. In The Making of Gypsy, Garebian's careful study of that character and Merman's mammoth contribution is a sterling example of research and critique. Though there's no gargantuan character in Guys and Dolls to analyze, the casting of Guys and Dolls provides one of the most lighthearted chapters in the book.
Feuer and Martin had spent two years planning and working on the casting and wanted "unusual people, people with bumps," unlike Kaufman who wanted absolute professionalism from his actors. Instead he had a "mixed bag of seasoned veterans, newcomers who had more enthusiasm than craft, and performers who, for all their undeniable talent, were playing against type."
The auditions themselves were unconventional. At every audition seventy tramps showed up maintaining that Runyon had patterned his characters in the book after them. Loesser insisted that singers demonstrate their lung-power by yelling. Stubby Kaye who played Nicely-Nicely Johnson and had one of the show-stopping numbers, "Sit Down You're Rocking the Boat", was asked to sing faster, louder and in a higher key with each audition number he sang. On the other hand, Sam Levene who played Nathan Detroit was tone deaf and eventually relieved of all his numbers save "Sue Me" which only worked because of his acting ability and the strong orchestral accompaniment which covered up his flat notes. Only the flame-haired film actress Vivian Blaine who was cast as Miss Adelaide could both sing and dance, and the very young Isabel Bigley who played the Salvation Army Mission doll, Sarah Brown, brought a believable innocence and gorgeous soprano voice to her role.
The critics' raves after opening night on November 24, 1950 were unanimous, all agreeing that perfect casting was one of the show's triumphs. Robert Alda was called a superlative Sky Masterson, one critic enthusing, "When he sings, it's like a lug and not a trained Met tenor."
Guys and Dolls became the longest running show in the history of New York's 46th St. Theatre. It won a host of distinctions and awards, and swept the Tonys in the Musical Category with awards for Alda, Bigley, the Director, Producers, Book, Composer, Lyricist, Choreographer and Musical. Since it's a musical of seemingly unending popularity, Garebian devotes some time to its many reincarnations through the years, including the "radically flawed" Samuel Goldwyn 1955 film version which thankfully "couldn't obliterate memories of its Broadway source."
Though The Making of Guys and Dolls is probably not the last of Garebian's Great Broadway Musicals, it is a culmination of all that's exciting about the books with their uncanny ability to make the musical come alive through the author's passion for detail and authenticity as well as his ability to immerse the reader in a perceptive and entertaining account of their evolution. While some may want to read all five books at once, musical theatre buffs may want to take more time and savor each one individually. ˛