Sheldon Currie's Down the Coaltown Road is a murder mystery whose mystery is rooted less in intrigue of the whodunit variety than in the shocking predictability of ethnic prejudice. Set in a small Cape Breton mining community in the year Mussolini joins forces with Hitler, this novel's sour twist can be traced to its exploration of the manner in which conflict (seemingly at some remove) can be transported and terrifyingly transmuted. Coaltown is a town of recent immigrants¨Italian, German, French, Polish, Ukrainian, African, and Chinese¨all of whom, along with those who've been around a bit longer (Canadians of British and French descent) or a lot longer (Native Canadians), find their livelihood in the pits, and their leisure on the baseball field. The story's tension grows out of Prime Minister Mackenzie King's announcement of a list of supposed Italian dissidents, an announcement that takes place soon after Mussolini makes his move, and includes the names of several Italian Coaltown labourers, whose hard working ways keep the mines prosperous. The Mounties are ordered to round up the listed Italian-Canadians and take them to makeshift internment camps that have been set up in Minto, New Brunswick and Petawawa, Ontario.
This is not entirely new territory for Sheldon Currie, who is perhaps best known for his short novel The Glace Bay Miners' Museum (which was adapted for the screen as the internationally acclaimed film Margaret's Museum), a moving story that explores the heartrending reality of life in the underground deathtraps of Cape Breton's coal mines in the 1940s. In this most recent novel he recognizes, as do his beneficent Catholic priests, that the Coaltown pit, with its international mix of workers, acts as a "flashpoint" for pressures that might play out in more scattered or mediated fashion in areas of relative affluence and homogeneity. Father Rod MacDonald, who acts as a sort of kindly tourguide for the reader throughout the book, is stationed in Coaltown as trouble begins to brew, and his observations on Coal Road, "a wide strip of ashes and mud, full of potholes" (p54) forge an undeniable link between the fate of the town's residents and events overseas. "Everybody talked about the war. Everyone talked about the road. Everyone was waiting patiently for the war to end when the road would be paved and perhaps christened with a more elegant name." (p54)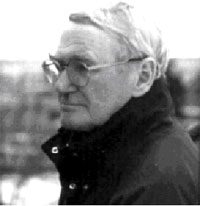 Father Rod is the novel's most deftly drawn character; a man of depth and texture, he is both sinner and confessor, and his role as secret-keeper and conciliator gives him (and therefore the reader) access to many of the town's goings-on. His backstory also seems more fully realized than those of Currie's many other Coaltown residents. His bathtub reveries (which often lead to memories of his childhood and Gaelic heritage) make for lively reading, and his friendship with Father Pat Mancini, cemented while serving overseas in the war, exudes a tangible warmth and credibility.
There were several points during the course of this novel that I wished I could have stayed with Father Rod's point of view instead of being shuffled between narrators like a kid at a grown-up party. However, Down The Coaltown Road is a novel of many voices and narrative threads, not all of them entirely successful or authentic. The novel opens with a prologue set in 1965 in which we are introduced to three nuns, Sarah, Mary and Helen. In the course of my reading, I came to think of them as the "twinkly-eyed Sisters". At various points all three brim with a quite literally "unconventional" mischief, and theirs is a brand of feistiness that, for this reader, didn't always ring true. The prologue finds Sister Helen out of her traditional habit, emerging, to Sister Mary and Sarah's amazement and amusement, in leather motorcycle gear. She is on her way to re-visit Fort Petrie, the site of her discovery of a dead body years ago, at the age of sixteen. This provides the impetus for the novel's action and prompts the reader to wonder about the dead man's identity and the secrets in Helen's past.
If the nuns' mischievousness sometimes strays into the realm of clichT, Currie's treatment of the clergymen and women's temptations of the flesh are, well, well fleshed out. A scene between Sister Mary and one of her much younger students and its aftermath is particularly disturbing, agonizing and sensual. And father Rod himself has his share of lusty trysts, both remembered and imagined. Indeed, the priests and nuns play a unique role, useful both to the writer and the reader for their status as compassionate outsiders, (who might, from time-to-time step in to make things happen), with understandable human merits and failings. However, it is the story line that follows Tomassio, his wife Anna, and their young son Gelo that gives the novel its grit and essence.
Tomassio is one of the detainees, an arrogant though diligent Italian-Canadian miner, with a wandering eye for the ladies, a gift on the baseball field, and a talent for stirring up trouble. But it is his wife Anna's voice we hear in the first person, in a few interspersed chapters, and which renders us privy to her more intimate thoughts. Again, while Anna is likeable and sympathetic, she isn't always believable. For instance, it is delightful that she chooses to confide in her friend Kate about a recent sexual escapade, but the utterly frank, near-ribald tone of her confession took this reader off guard. Perhaps one of the most charmingly subtle and striated of Currie's characters is Gelo, Anna and Tomassio's son. A regular teenager and a true innocent, he brings the situation of the Italians in Coaltown into sharp relief when he wonders aloud, and without guile, "Who's Mussolini?" Unfortunately for Gelo, the baseball diamond becomes not only an arena of athletic competition, but also the place where racial tensions and personal grudges play themselves out. Here, the author simply and beautifully renders a level of psychologically intricate rivalry that reaches far beyond the boundaries of the outfield.
In general, Currie is solidly adept at evoking place; his descriptions of children playing on Coaltown's train tracks, or the water "sloshing" up the shore onto Father Rod's sneakers are both straightforward and suggestive. There are times however, when the narrative voice feels preachy and overwrought, as in this sentence describing prison inmates toiling in a doomed vegetable garden: "Soon, when they exhausted the energy ingested with their late coffee and dry toast breakfast, these involuntary monks would retire to their cells for an hour of meditation before lunch." (p128) Later, the "involuntary monks" "[peer] at the future through a fog of fatigue, sickness, and yearning for alcoholÓ" (p128) And later still, the Italian detainees stare into "the dim future through the wet, red, darkening air." (p134) Similarly, although the bulk of the novel's dialogue successfully combines day-to-day colloquialisms with plot and character pumping exchanges, there are instances where the back-and-forth banalities seem extraneous.
But while it may be true that some of these evocations of disparate bits of community come at the expense of the flow of the plot and prose, they are also the novel's greatest strength. There is a readerly pleasure in witnessing dangling narrative threads come together, and these particular threads eventually coalesce into a powerful message. The dead body is a given from the beginning; it is not hard to guess the identity of the murdered individual, or even to surmise, from fairly early on, the murderer, a bully prone to rabble-rousing and pettiness. Indeed, the truly mind-boggling phenomenon here is that such small-mindedness can and does spring to life so easily, so pervasively, and with such tragic consequences. Down the Coaltown Road manages, through its attention to the voices of the priests, nuns, miners, women and children that make up its limited sphere, to unfold a story perennial in our evolution as a country of immigrants. It should also caution us against the kind of senseless scape-goating that a nation can so readily regress to in this post 9-11 world. When Father Rod sits down after breakfast to read the newspaper, on a morning not long after the P.M.'s announcement, his fruitless search feels frighteningly familiar: "Who created the list? Who was on the list? How to explain a list that seemed to include Canadian-born Italians with immediate relatives serving in the Canadian army, some of them already overseas? He could find nothing. No explanation in the background stories. Nothing on the editorial page. Nothing but excited headlines enthusiastic cutlines, and hardly concealed approval singing in every sentenceÓ." (p212) ˛
Heather Birrell's poetry and fiction is forthcoming in subTerrain, The New Quarterly and Descant.