Pauline Kael was often said to be more entertaining than the movies she reviewed. From her first collection, I Lost It At the Movies, to her final one, Movie Love, she remained cracklingly witty, uncompromisingly tough-minded, and aggressively alert to the tiniest details of filmmaking. Amazingly, she had no interest in seeing a movie more than once. She loved movies even at the low end of art, so long as they were free from sham and hypocrisy. She valued American Kitsch higher than she did European High Culture (Hiroshima, Mon Amour, Last Year at Marienbad, La Notte, et al) because they were at least exhilarating in their honest vulgarity. And she knew that Kitsch could be transformed into art, as in The Treasure of Sierra Madre, The Maltese Falcon, Citizen Kane, Nashville, Bonnie and Clyde, or (her choice as the greatest American film of all time) The Godfather, Parts 1 and 2.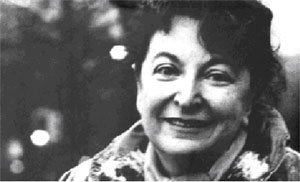 Pauline Kael
Kael's best reviews were essays that showed how movies affected us viscerally or how their narratives were cultural moments because they reflected shifts in fads, social beliefs, and values. She fused passion and knowledge, connoisseurship and craft. She went deeper into the popular art form with a kind of ardour that best suits a lover, and it is no surprise that many of her book-titles suggested sex or the violence and intensity accompanying sex: I Lost It At The Movies; Kiss, Kiss, Bang, Bang; Reeling; Deeper Into Movies; Taking It All In.
Pauline Kael was never shy or dull. She demolished some of the biggest names with a stiletto-thrust that posterity will never forget. She said of Lana Turner: "She's not Madame X, she's Brand X; she's not an actress, she's a commodity." She dispatched Julie Andrews in The Sound of Music thus: "The perfect, perky schoolgirl, the adorable tomboy, the gawky colt. Sexless, inhumanly happy, the sparkling maid, a mind as clean and well brushed as her teeth." Kevin Costner, Oscar-winner for Dancing With Wolves, earned this putdown: "There's nothing affected about Costner's acting or directing. You hear his laid-back, surfer accent; you see his deliberate goofy faints and falls, and all the close-ups of his handsomeness. This epic was made by a bland megalomaniac."
Yet, even some of her biggest victims treasured her, as Francis Davis points out in his 28-page Introduction to his book which is really a souvenir or keepsake. Dyan Cannon laughed uproariously when Kael described her as "looking a bit like Lauren Bacall and a bit like Jeanne Moreau, but the wrong bits." Barbra Streisand was incredibly pleasant to her after being roughed up for Funny Lady. And Paul Schrader, who was ripped for Hardcore, showed up at her hospital bedside after she had a bad reaction to a drug she was taking for her Parkinson's.
Shortly before she died on September 3, 2001, ten years after retiring from movie-reviewing for The New Yorker, she chatted with Francis Davis about her life and work. The result is this slim book, whose title follows in Kael's vein of sexual double-entendre. Ravaged by Parkinson's which has made her look like "anybody's ailing eighty-year old granny," Kael nevertheless retains her feistiness in response to some of Davis's questions about her family background and early career, her relationships with colleagues (especially Andrew Sarris to whom she is surprisingly generous, given their animosity in print towards each other), her opinions on actors, directors, and films, and her renewed interest in television (for The West Wing and Sex and the City).
Davis begins the conversation by recalling Kael's contagious enthusiasm in The New Republic for Jean-Luc Godard's Masculin-Feminine¨a piece that convinced William Shawn to hire her for The New Yorker, even though he was not really attuned to her film taste. It was a definite career boost to Kael who had grown up in farm country (Petaluma, California) and then had gone to law school in Berkeley before running off with a poet. After trying her hand at radio plays (she disliked the few she wrote), she turned to film criticism while running a repertory cinema, writing advertising copy, working in a bookstore and variously as a seamstress and cook. The New Yorker was not, in her frank view, the ideal place for her: she confesses that she would rather have exchanged positions with Andrew Sarris who wrote for The Village Voice.
The duty of a great critic is not simply to assess art but to do a rescue job as well. And that was what Kael did¨for such little-publicized movies as The Golden Coach, Fires on the Plain, The Earrings of Madame deÓ and the heavily publicized Bonnie and Clyde, Lolita, and Last Tango in Paris. Even as she awaited death, Kael never stopped thrashing what she loathed. To read her final kiss-offs to Spielberg, Star Wars, American Beauty, Eyes Wide Shut, Eddie Murphy, Tom Cruise, and the crassly decadent Hollywood system is to realize just how much she is missed among today's crop of gossips and panderers who pass themselves off as critics. ˛