The trumpet fanfare that signalled the opening of the Stratford Festival in the summer of 1953 heralded a wonderful new era for drama in Canada as well as a burgeoning coast-to-coast appreciation of all the arts. It and all the following Stratford fanfares were composed by Louis Appelbaum who, for six decades, was involved in every aspect of Canadian culture and whose life and work is celebrated in Walter Pitman's biography, Louis Appelbaum: A Passion for Culture. To a remarkable degree Appelbaum combined musical creativity with a talent for administration. It was his patience with the tedious, committee-ridden operations that made him unique among our cultural leaders. A roll-call of his activities covers the entire spectrum: National Film Board, C.B.C., both radio and television, Canada Council, Ontario Arts Council, Ottawa's Performing Arts Centre, The Federal Cultural Review Committee. Besides, he never stopped composing; "I want to be remembered as a composer," he said, and in a gala celebration of his 80th birthday in 1998, a host of artists paid him a glorious tribute.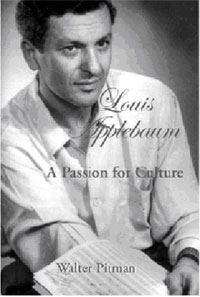 Louis Applebaum
He was born in 1918, his parents, Morris and Fanny, the children of emigrants from Eastern Europe in the years before WWI. He grew up in Toronto's Jewish enclave, an area around the present Kensington Market where hundreds of Jewish people settled and where music speedily became the common community bond. Morris Appelbaum and his partner, Joe Markovitch, had moved from sweat-shop conditions as employees of Eaton's to found the Bell Cloak Company, manufacturers of women's suits and coats. They were by no means well-off, but they were canny businessmen and their company weathered the Depression. Louis and his sister, Ruth, began music lessons at an early age; the piano in their parlour was the centre of a large extended family's entire recreational life. Though he was a lifetime critic of elementary education, maintaining that the creative urges with which children began school were beaten out of them by Grade 7, Louis had no such reservations about his years at Harbord Collegiate: it was unique in the city and indeed in the province for its encouragement of both academic and artistic excellence.
Brian McCool, the head of the school's music department, had established the first High-School orchestra in the province and even more important for Louis, had begun the performance of Gilbert and Sullivan operettas annually. Another teacher, Alistair Haig, trained the chorus for these productions, involving Louis in 1933 with The Pirates of Penzance, in 1935 with The Gondoliers, and in 1936 with Iolanthe. At Harbord he found confirmation and support for his musical ambitions. He also became proficient in tennis and swimming and found further confidence and fellowship in the company of his peers, many of whom were, like himself, Jewish, talented, ambitious and bound for outstanding careers.
Louis was fortunate in his music teacher, Boris Berlin, an immigrant with a fine European musical education, and one who quickly recognized and encouraged his talent for composing. As he admitted himself, he was not really interested in learning to play, but he constantly improvised and Berlin encouraged his development. At 18, he won a national contest and went to Ottawa to receive the prize, $150, from the Governor General, John Buchan. From that time on, he was determined on a career as a composer, a madman's choice to his family, especially in the midst of a depression, but they supported his decision. He enrolled in the University of Toronto's Faculty of Music because, as he later said, its tuition was the cheapest of all the Faculties, $40.00. Though Pitman is tactful, its curriculum was obviously a very poor excuse for academic musical training. Its administration even managed to lose the string quartet that Louis had submitted as his major exercise in his final year and so the man who was to become Canada's foremost "Music Man" over the next decades never received his degree. He made his mark as an undergraduate¨and one that cancelled out his colourless academic performance¨as collaborator with Johnny Wayne and Frank Shuster, classmates, in the Beta Sigma Revues, always smashing successes. In the summer of 1940 he and Jan Hershoff were secretly married, and in the fall Louis left for the Julliard School of Music in New York, at that time North America's pinnacle for musical training.
From that time on, Pitman's chapters are a roll call of Louis's training and experience in every conceivable musical setting. When he returned to Canada and joined the National Film Board, newly founded under the leadership of the charismatic John Grierson, his career really began to take shape: "I attribute my whole life to John Grierson," he said later, "he turned us into film makers, and he turned us into public servants. The idea of contributing to society was something that he instilled in all of us." Particularly in these formative years of his career, Louis was fortunate in his mentors and eager to learn from them. Pitman's chapter called "The Miracle of Stratford" gives full credit to Tyrone Guthrie, another vast influence on Louis and his work. As Guthrie had answered Tom Patterson's challenge and arrived in Stratford to produce Richard III and All's Well that Ends Well, so Louis enthusiastically accepted Guthrie's invitation to provide the music for the plays. He was a natural team player, and his association with Stratford was from the start, one of the elements of its success. In 1953, the very first year, he began the music festival that from a slow start gradually became an important part of the Stratford's offerings. In the late 50s Guthrie again called on him to help produce the Gilbert and Sullivan operettas that he was newly mounting; the huge popular success of that enterprise gave Louis enormous satisfaction, linking as it did his teen-age Harbord experience with his mature expertise.
He went on to play a major part in every cultural advance in this country until his death in 2000. When he was already fighting cancer and well into his seventies he undertook and successfully completed his final great composing challenge, the opera Erewhon, with Mavor Moore the librettist. Fortunately, his leadership had long since been recognized: at the gala celebration of his life's work, his friends paid him tribute by their performance of his own music. Among numerous other honours, in 1995 he was made a Companion, the highest level of the Order of Canada.
Walter Pitman has written a meticulous, authoritative biography, enhanced by personal interviews with friends and family. His voluminous end-notes are themselves another fascinating text, covering as they do so much that is integral to our culture's history. As Appelbaum's career unfolded in multiple directions, its story demanded a chapter by chapter treatment: there were so many challenges, so many opportunities, so many successes and, inevitably, a certain number of frustrations. "Louis's enterprises filled every moment of his schedule... the Canada Council and the planning of a new arts complex in Ottawa needed his expertise, to say nothing of a new provincial agency for grants to the arts that was just being launched in Ontario. And he continued to compose." A certain amount of repetition is an inevitable component of Pitman's method and the book just as inevitably loses a degree of its readability. However, the authenticity of his work will never be challenged, nor will its tribute to a man whose combination of talent and single-minded devotion to the Canadian musical scene leaves us forever in his debt.
Unfortunately, the Dundurn Group's production of Appelbaum's biography does not match the standard of Pitman's writing. A bad glue job means the constant frustration of loosening pages. ˛