The Carving of Canada, A Tale of Parliamentary Gothic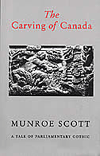 by Munroe Scott
176 pages,
ISBN: 0921254938

---
The Liberators


by Munroe Scott
223 pages,
ISBN: 1894131215

---
A Boy All Spirit, Thoreau MacDonald in the 1920s


by John W. Sabean (ed.)
304 pages,
ISBN: 1894131290

---
Tales of Courage, Stories From Eastern Ontario's:
Remarkable Past


by Bernard Chevrier
128 pages,
ISBN: 1894131304

---
Out of Muskoka


by James Bartleman
192 pages,
ISBN: 1894131312

---
Captured In Stone: Carving Canada's Past


by Eleanor Milne with K. Barbara Lambert and Eleanor Moore
95 pages,
ISBN: 1894131320

---
Post Your Opinion
Out of Penumbra, Suberb Canadian Histories
by R. B. Fleming
Penumbra Press is one of scores of small Canadian publishers that are turning out some of Canada's finest books. One of the press's most prolific authors is Munroe Scott. In 2001, Penumbra published Scott's novel, The Liberators, a raucous novel set in late 1830s, in post-Rebellion Upper Canada where anti-government activity continued on islands in the St. Lawrence, near Cornwall, even after William Lyon Mackenzie had fled the colony. Scott and his editor at Penumbra are currently polishing Scott's memoirs, which will give readers a glimpse of this man's range and durability, from film to biography and fiction.

In late 2002, Penumbra published Eleanor Milne's Captured in Stone, Carving Canada's Past, a companion piece to another of Munroe Scott's books, The Carving of Canada. Both books deal with the same subject, the history of Canada, from pre-contact to 1914, as represented in the flora, fauna and people carefully carved into the Indiana limestone of the foyer leading to our House of Commons. The work was carried out during the last half of the twentieth century.
The difference in the two books is method: while Scott has a mythical "Old One" describe the carvings and the history they represent, Captured in Stone uses analytical narrative, the more traditional historical method. In Captured, styles of architecture and art are explained, from Romanesque to Neo-Gothic, as well as stone-carving methods, from design to process and tools. Eleanor Milne, Dominion Sculptor from 1962 to 1993, is the woman who headed the massive project. Not surprisingly, there is a brief biography of the multi-talented Milne, who in Scott's book remains a more obscure mythological figure called 'Ti'Elen.
Captured in Stone is beautifully illustrated, mostly in black and white, with two or three full-page colour photographs of the entire foyer, which show that the interior of this Neo-Gothic building is arguably as beautiful as the interiors of European cathedrals whose style its architects and carvers emulated.

Also recently published by Penumbra is James Bartleman's Out of Muskoka, a short memoir, elegantly written. Few readers will come away unmoved by this story of a rise from poverty and discrimination to the top of the diplomatic and vice-regal life. (Today he is Lieutenant-Governor of Ontario.) Born in 1939, Bartleman grew up in a canvas tent and a series of uninsulated frame shacks around Port Carling, Ontario. At school, epithets such as "dirty half breed" were hurled at the family. The future looked gloomy until one day along came a fairy godfather, an American millionaire on holiday in Muskoka. He paved the road to higher education and diplomacy.
All was well until one night in Cape Town, an intruder, equipped with an electric prong of high voltage, breached the posh hotel's tight security. He managed to get inside Bartleman's room where he gagged and robbed the diplomat, who survived only to suffer from mental depression and nightmares, which returned him in memory to childhood poverty in Muskoka. The rest is memoir, with a little didacticism thrown in for good measure.
In a memoir, the reader is expected to suspend disbelief and banish skepticism. Some memoirs, notably Katharine Graham's Personal History and Charles Ritchie's The Siren Years, carry the reader beyond skepticism. Bartleman's book, however, sometimes reveals more than memory wants uncovered. While backpacking through Europe in the 1960s, the young Canadian seems to have caught the disease of prejudice that surrounded him as a youngster. Crowded into a Spanish train, he disparages poor and odoriferous Spanish peasants and their "snotty-nosed children." More to his liking are the well-scrubbed ruling classes, such as the despot Sheik Mujibur Rahman, the cultured but corrupt and brutal leader of a newly-independent Bangladesh in the early 1970s.

Another recent Penumbra publication is Tales of Courage by Bernard Chevrier. The book is a series of biographical sketches of "outstanding citizens" who have lived in Eastern Ontario. Each demonstrated courage, and each was touched by the "unique culture"of the three eastern counties of Stormont, Dundas and Glengarry; and by the "human quality" of the other residents of those three counties. Chevrier's courageous people include an early settler, the novelist Ralph Connor, Governor General Jules LTger, John Sandfield Macdonald, Ontario's first premier, and even Prime Minister William Lyon Mackenzie King, though it is stretching credulity to claim that men like LTger, who lived in eastern Ontario as a schoolboy, and Mackenzie King, who was elected there but never lived in the area, were greatly influenced by eastern Ontario.
Whether or not Chevrier proves his contention that the culture of eastern Ontario is unique or that the area has bragging rights to the highest number of outstanding citizens in Ontario is open to question. (Chevrier does not say whether or not he would consider among his group of worthies the rebels of Eastern Ontario who populate Munroe Scott's The Liberators.)

Emily Carr called the young Thoreau MacDonald, son of the better known J. E. H. MacDonald, and later an artist and illustrator, "A boy all spirit". Editor John Sabean has used the phrase in the title of A Boy All Spirit: Thoreau MacDonald in the 1920s (2002), a beautifully illustrated collection of a decade of MacDonald's diaries and letters.
Sabean quite rightly argues that MacDonald deserves far more recognition and admiration than hitherto accorded him. This attractive book, I predict, will go a long way to bringing that recognition. The illustrations, by MacDonald himself, from books, magazines and from the margins of his personal letters, demonstrate the talents of this lyrical artist who, like his hero and namesake, Henry David Thoreau, loved nature and found solace in the countryside. Macdonald railed against the destruction of the Ontario's landscape and Toronto's heritage buildings. And that was in the 1920s!
It is a rare treat to read a book whose endnotes are so elegantly written and thoroughly researched. Sabean has patiently read every relevant document, interviewed all surviving associates of the artist, and has hiked every MacDonald landscape from Toronto's Hogg's Hollow to Coboconk in the Kawartha Lakes, north east of Toronto. This book is one of the best of 2002.
In fact, each one of this talented group of writers, artists and editors deserves attention and appreciation. So too John Flood of Penumbra Press for presenting them so elegantly. ò

R. B. Fleming is a biogapher and historian whose latest books, published by Lynx Images of Toronto, are The Royal Tour of Canada, a Canadian view of the royal tour of 1939; and General Stores of Canada, Merchants and Memories, a well-illustrated view of Canada's love affair with shopping for close to four centuries.