Undelivered Letters to Hudson's Bay Company Men on the Northwest Coast of America, 1830-57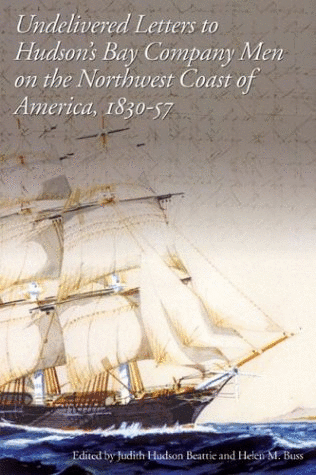 by Edited by Judith Hudson Beattie and Helen M. Buss
497 pages,
ISBN: 0774809744

---
Post Your Opinion
Letters of Lost Words
by Allan Safarik
The union of the mighty Hudson's Bay Company (founded in 1670) with the North West Company in 1821 signaled a whole new chapter in the pursuit of company business with the establishment of new trade routes to accommodate the newly acquired posts on the Pacific Ocean. By 1850, the original focus of the beaver trade had been expanded to included a far wider mandate. On a yearly basis Company ships sailed the long arduous journey from London, England, around the southern tip of South America to the company 'Columbia Department' headquarters at Fort Vancouver (now Vancouver, Washington) and in later years to Fort Victoria (now Victoria, the capital of British Columbia).
The Company ships that plied these waters eventually expanded their focus and supplied men and goods to support their business interests from Chile and California, as far north as Alaska and far out in the Pacific to the Sandwich Islands (Hawaii). The fur trade gradually grew into being a much more diversified business that included fish, agricultural products, and lumber with the ever greater opening of new markets and expanded trade opportunities. The men who signed on endured a two-year round trip just to travel to the Pacific posts and make the return trip home. Often they stayed many years longer while working at posts or on company business in various isolated locations.
While most of these men remained employees of the Company, some chose the more lucrative offers presented to them by American ships, and others deserted or migrated away from the company after 1846, when the international border was established, and found work on the farms and in the mines of the British Colony on Vancouver Island. A steady stream of correspondence followed these hardy adventurous men on their journeys to what must have seemed like the other side of the world, as their families, friends, and sweethearts kept up the links of communication. This volume, edited by Judith Hudson Beattie, Keeper of the Hudson's Bay Company Archives, Provincial Archives of Manitoba, from 1990 to 2003 and Helen M. Buss, English Department, University of Calgary, is a fascinating tool for understanding the nineteenth century.
In these pages are letters which for one reason or another were never delivered. The length of time that passed between supply ship voyages and the vagaries of the time meant that often letters just missed the individuals for whom they were destined. In some cases the men had already left for home, moved on to other employment, decided to start over without the burden of the past or had met with a tragic accident. In keeping with its policy of being particular about how it handled the private property of its employees the Hudson's Bay Company preserved over two hundred and fifty of these letters in its Archives¨for up to one hundred and fifty years.
Beattie and Buss have done a remarkable job in transcribing these undelivered letters and presenting them whenever possible in the context of the people and the times. The biographical backgrounds that have been included flesh out the lives and fates of many of the people who were meant to receive these letters (and in some cases the senders), providing a wealth of interesting material that helps enliven and frame the letters. Often this gives amazing insights into the deeper recesses of human nature. The letters themselves, carrying day-to-day news, are often poignant documents that bring chatty gossip about the events of the day or word of desperately sad family affairs. Many of the family members who were left behind were depending on their working relative to send money. Others had their emotional lives completely invested in the one who had traveled so far away. Bereft mothers, widows, fathers, children, broken down family members, relatives in the domestic services, and lonely wives sent missives out into the great unknown never to be delivered. The following is an excerpt of a letter written by Joseph Grenier to his son on April 10, 1831.

My dear son,
This is the third letter that I am sending you since I received your letter five years ago. That was the last we heard of you, except for the news that LacharitT told me about you. I assure, you, dear child, that you cause us a great deal of worry and concern in our old age to see our dear child that we took so much trouble to raise and believing that he would give us care and consolation and now to see him so far away. Dear child, have you forgotten us and have you completely lost the memory of our tenderness to you in your youth? Believe me, dear Joseph, I and your poor mother want very much to see you once again before we die because if you do not come home quickly you could well not see us alive because we assure you that our hair has gone quite white since you left us.

Unfortunately Mr. Grenier's son, Joseph, had drowned in the Columbia River on July 3, 1830 along with eight of his countrymen.
These pages offer us an illuminating look back into history¨at the social fabric of the day, especially the lives of the working classes. Theirs was a world of limited opportunities and no social safety net, and so often the letters are desperate pleas for money from people who were suffering under the most trying, tragic circumstances.

My Dear Son
I am Greatly surprised in not hearing from you when the Ship arrived & So I am avery bad and have ben so a long time and I am in Great destress. I have nothing. Comeing in as I am not able to work your Sister Gives her Kind Love to you and is avery Sorrow that you did not Send a letter home an I also James as it si so long since I see you, Ann gives her kind Love to you an her Brother also & son I hope you will answere this Letter by return poast
I have not received aney of your money this two years an half. your own heart must know what state I am in. M starling delivered is message to me & son I think avery hard that you did not come nor send to me.
I have now to say but God bless you and send you a pleasant Voyage and speedy return. I remain your Affectionate and Afflicted Mother.
Mary Allan

The majority of these letters were sent from Lower Canada, England, Ireland, Wales, Scotland¨including Orkney and the Hebrides. The width and range of the background and support material combined with the editors' superb scholarship has produced a volume that is not only highly readable for the layman but presents a treasure trove of support material for the more discerning reader. This volume is well illustrated with maps and plates and the appendices and notes to ships, posts and people are exceptional additions to the work that will undoubtedly provide a great deal of material for other historians and genealogists. Buss and Beattie have done a masterful job in putting together an annotated book of letters that is an eloquent record of the times, irrespective of the limitations of the various writers. While resting between reading the individual letters, my mind often travelled back, and I imagined the greater person and the circumstances of their writing at the particular locus in time and place. This book will remain on my shelf not only as a reference book but as one of those volumes that can be read again and again to experience the essence of a time long past that remains a vivid link to the roots of so many of us.
A word to the production of this volume. The publisher asks reviewers of the cloth ($85.00) version of this book to mention that it is coming out this July (03) in a paper edition ($35.95). The cloth edition without dust jacket seems somewhat pricey at $85.00. I am somewhat mystified as to how a cloth binding without dust jacket can add nearly $50.00 to the price. ˛

Allan Safarik's most recent book of poetry is Bird Writer's Handbook, Exile, 2002.