Frontier Spirit: the Brave Women of the Klondike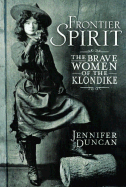 by Jennifer Duncan
ISBN: 0385659040

---
Post Your Opinion
A Review of: Frontier Spirit: The Brave Women of The Klondike
by George Fetherling
Jennifer Duncan's Frontier Spirit: The Brave Women of the Klondike, is most captivating in the first 40 pages. There Duncan recounts the events, and degrees, by which a downtown Toronto short story writer can become a Yukonophile. It is a memoir both hilarious and touching, as she recounts how she worked up the resolve to spend a winter in Dawson.
She could have made an entire book of this Bloor-Street-in-exile stuff, with the roar of spring break-up in the Yukon River competing with the resounding clash of two of Canada's cultures. But she doesn't, because she has a mission: to show, as many have done in the past, that women were important in the Klondike gold rush.
The eight figures she chooses are already familiar, but she doesn't rely on the obvious sources alone. More importantly, she shows how the individuals form a motif.
Kate Carmack, known to Han-speakers as Shaaw Tla, was married to George Carmack, one of the men who made the strike on a tributary of the Klondike River that led directly to the great frenzy. He had been in the Yukon a decade by then and "was known-and despised by some-for his acceptance of First Nations people and their culture, a respect that was unusual for the times." As for Kate, "No one knows the year of her birth," Duncan writes. "There is no way of knowing the actual events [of her] life, nor how she truly experienced them. What is known is that the discovery she was part of unleashed a tsunami of colonization that would swallow up the land of her people and sweep tens of thousands of newcomers off their feet."
She seems to us to stand for dislocation writ large, for when she and her husband became rich she found herself "laced tightly into the corset of Victorian society," remote from the matrilineal world she had known, and "her strength, her knowledge, her skills honed through millennia of women before her meant nothing in this new, noisy world." Her marriage cracked up under this and no doubt other strains. She died of pneumonia in 1920, "50 or 60 years old, no one knew."
Like George Carmack, milie Fortin Tremblay (1872-1949), a "spunky small-town French-Canadian girl," was in the Klondike well before the big strike that pricked the world's imagination, "an intrepid woman who ventured into remote territory and lived a pioneer life with aplomb, persistence, and grace." Tremblay "took pride in her culinary arts-once making omelettes and then cookies out of fresh seagull eggs" She was an object of curiosity to First Nations women who had seen few of their white sisters, but she "never came to count them as friends."
After long years in mining camps and placer claims, she became a townie in 1913, long after the rush, when she and her husband moved to Dawson City. There she operated a women's clothing shop on Third Avenue (later restored by Parks Canada as "Madame Tremblay's"); it began by selling haute couture from Europe but went more downmarket as the population dwindled. She's also remembered for being a hard worker in civic and charitable matters, both secular and Roman Catholic.
One of Tremblay's rivals for the distinction of having been the first white woman in the region was Anna DeGraf (1839-1930), a somewhat mysterious German seamstress who "made everything from shirts to tents" as she moved from boom town to boom town in both Alaska and the Yukon, looking for a lost son she never found. She became especially adept at running up outfits for entertainers on Dawson's raucous Front Street. "On the trail, the boys called her Mother' but in Dawson she was known as The Samaritan', especially for her maternal protection of the dance hall girls." These young women trusted her, and she tried, not always successfully, to help them through such tragedies as rape and abandonment. Once, delivering a dress, she found her customer dead by suicide. "The man who had cheated on her came in, stared, turned, lit a cigarette, and left. Another young woman took the dress and the show went on."
Regardless of their station, background or line of work, Klondike women had to be both ingenious and resilient: this is the theme of Duncan's book. It's also why most of the ones she writes about are still celebrated locally. The dining room of one of Dawson's large new hotels, for example, is named after Belinda Mulrooney (1872-1967), an Irishwoman from the U.S. who by age 21 had made enough money in a real estate flip to open a restaurant at the Chicago World's Fair of 1893 but always insisted she had only 25 cents to her name when she arrived in Dawson in 1897 and built a lingerie shop and a restaurant. Those were preludes to a first-class hotel she constructed at "the Forks, where Eldorado Creek meets Bonanza, the centre of all the mines around." Finding the 18-mile trip into Dawson a burden, she founded the local telephone company. "In one short year, she'd become the richest woman in the Klondike and one of the moguls that made Dawson a city."
She had a volatile not to say violent personality, and was often in court in disputes with partners, especially in matters rising from the mining claims in which she speculated. More than once this "fierce and vengeful woman," as Duncan calls her, personally bullwhipped people who crossed her. Yet, being human after all, she married a travelling champagne salesman who claimed to be a French count but seems actually to have been a qubcois barber. She died "cursing and kicking, a fierce and unrelenting fighter, determined to have her own way."
Almost equally determined (and longlived) was Martha Black (1866-1957). This former debutante from Chicago came to the Klondike and, after making a fortune in mine properties, married the territorial commissioner and presided over high society in Dawson, where two of her residences are now tourist attractions. She followed her husband into the House of Commons, becoming the second woman to win a seat.
"After her marriage," Duncan notes dispassionately, "Martha became a Conservative, an Imperialist, and an Anglican, believing that wives and husbands should be in accord about politics, country, and religion." She also became a renowned authority on B.C. and Yukon wild flowers and a [CAP]Fellow (though the term sounds wrong) of the Royal Geographical Society. She called her memoirs My Seventy Years, but in the second edition the title had to be changed to My Ninety Years.
Duncan's more colourful and perhaps saddest character was another American who also died in 1957. Kathleen Rockwell (born 1876) was a redheaded entertainer who liked to be called Klondike Kate and Queen of the Klondike. She was billed as the "Soubrette Extraordinaire" and became "one of the most popular dance hall figures of her time"-and one of the most prosperous. In her most notorious turn, she appeared on stage dressed as a mummy (over pink tights) and let miners unwrap her. Her work day ended at 9 a.m. She denied being a prostitute but admitted that "a girl blended now and then."
She performed at the Orpheum in Dawson, the first theatre owned by the future vaudeville and moving picture magnate Alexander Pantages, with whom she had a celebrated affair that ended in a breach of promise scandal. In later years, she lived in Oregon, where "she did celebrity endorsements" and used Portland's police force as "her personal taxi service." In the 1940s, Hollywood made a movie about her life. Posters for it hang today in Klondike Kate's, the best restaurant in Dawson.
Duncan's last two choices are the weakest characterizations. Faith Fenton (1857-1936) was a Toronto journalist who went to Dawson for the Globe and wrote mostly what we'd now call lifestyle journalism. Nellie Cashman (1868?-1925), an Irish-born American like Mulrooney, had prospected in Tombstone and other mining towns in Arizona, where she knew Wyatt Earp and once saw Geronimo in battle. She owned Delmonico's Restaurant in Dawson as well as a hotel and other ventures, including enormously rich claims she staked herself. But she's best remembered for her charity, often within a Catholic context-just like Anna DeGraf.
For this is the wonder of Duncan's book: the way she weaves each of her characters in and out of the lives of the others. She shows, for example, how Tremblay was connected to Black as well as to Cashman, who in turn crossed business paths with Mulrooney and made costumes for Rockwell. Or how Mulroney was serving food at the Chicago World's Fair at the same moment that Fenton was there, covering a women's conference organized by Black. And so on. Duncan handles these correspondences with just the right touch.