Find Me Again: A Rebecca Temple Mystery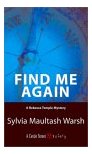 by Sylvia Maultash Warsh
ISBN: 1550024744

---
Post Your Opinion
A Review of: Find me Again
by Desmond McNally
Despite Find Me Again's cover notes I was unprepared for the engrossing journey over two centuries on which I was to accompany the author. This is Warsh's second novel, a sequel to the well regarded To Die in Spring, and once again its central character is Dr. Rebecca Temple.
Rebecca's husband has been dead eleven months, too short a time for her to reconcile herself to this tragedy and the opening chapters are suitably poignant and melancholy. Her relationship with Sarah, her Mother-in-Law, is somehow stilted and mostly at arms length emotionally. Sarah has justification for her reluctance to commit to a warmer relationship; her experience as a Holocaust survivor in occupied Poland makes her a victim of dark and distressing nightmares. The horrors of the Holocaust are a necessary and integral ingredient of this tale and this aspect is handled with great sensitivity by Warsh.
We are are diverted from Rebecca's sadness with the arrival of Halina, an old friend of Sarah's, who has come from Communist Poland to Toronto in the hope of finding a cure for her daughter Natalka's serious illness. Through these visitors we are introduced to Count Michael Oginski, a larger than life charmer, described with affection by Warsh and John Baron, another Polish migr, who is the martinet owner of the mining company that the Count now works for in Toronto. The Count tells Rebecca with great enthusiasm of the historical novel that he is writing, which, he claims, will revise current understanding of history and confirm his royal ancestry.
A surprising development soon follows: There is a murder and we are introduced to two mysteries-one set in the late 1970s, the other in the mid 1740s. While Rebecca strives to identify a murderer in Toronto, believing that the Count's manuscript contains the answer, Warsh transports us through history. We become witnesses to the often-incestuous affairs and political intrigues of the royal courts of Poland, Russia, Saxony and Prussia.
Rebecca, while searching for answers in the Count's novel, becomes transfixed by the characters and their machinations; there's plenty of romance, political diplomacy, and at times, plain jostling for better status at court.
Warsh knits the two mysteries together seamlessly, writing convincingly of Europe in the 1740s, ably capturing the nuances of the language of those times. She handles the transition from one story to the other deftly until Dr. Temple, through her sheer determination and courage, presents us with satisfying and believable solutions to both conundrums.
The author, while raised in Toronto, was born in Germany, a child of Holocaust survivors, and has an obvious empathy for those who lived through those events; she has successfully put that understanding to use in this excellent novel.