Elizabeth Smart: A Fugue Essay on Women and Creativity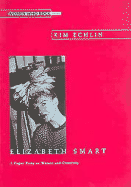 by Kim Echlin
ISBN: 0889614423

---
Post Your Opinion
A Review of: Elizabeth Smart: A Fugue Essay on Women and Creativity
by Clara Thomas
Far from a conventional biography of the woman whose life so fascinates generations of Canadians, Kim Echlin's Elizabeth Smart combines her own experience and her subject's. The work is Echlin's manifesto to creativity, biological as well as artistic, and to one woman who dared to live and explore her own needs outside the boundaries of acceptable social practice.

"She left her home in Ottawa, lived with artists in France and Mexico, had four babies with a British poet. She never married. She created a self-exile in England during the Second World War, supported her children and various artists by copywriting, and recreated herself as a bohemian personality in London's Soho district. She wrote and published fiction and poetry. In the final two years of her life she returned to Canada to write and teach."

Echlin, often with her mother's companionship and assistance, travelled tirelessly in search of those who had known Elizabeth (Betty or Liz as she was known to family and friends). She uncovered numbers of testimonies to her charm, her word enchantment, her mothering tenderness and the difficulties she faced alone in keeping her family together. Finally one of her poet-friends testified that "Liz discovered at the very end what she was searching to know her whole life, that she was a poet." That is one powerful facet of the imperative whose dictates Smart had been following always, from her flight from her stifling family situation in Ottawa to her very last days in Soho. What drove her for a lifetime was a dual imperative, however, the need to write and the need to nurture:

"Her Muse screamed
But the children louder
Then which strength
Made her prouder?"

It has been customary to label Elizabeth Smart as the ultimate obsessive "romantic" who dared all for love. One of three daughters of Russel and Louie Smart, she was born into Ottawa's highest social echelon, the child of a doting father and a conservatively ambitious and manipulative mother. She was used to privilege: Mackenzie King, the Prime Minister, was a family friend; in her teens her father had presented her with 200 acres of wild land in the Laurentians north of Ottawa; her so-called "dress allowance" always continued despite her flight from Ottawa to a bohemian life amongst artists. As a girl she picked the British poet, George Barker, as the man she was going to marry. A beautiful young woman and even more important, one with the money to enable her to go where she wished and do as she wished, she became Barker's mistress and bore him four children over an off-again on-again relationship that lasted for many years. She was solely responsible for the care and welfare of her children. As she put it, "I could never get George to marry me."
She and her children endured years of hand-to-mouth existence before she became an exceedingly well-known copywriter and free-lance journalist for important London publications. From her early girlhood she kept diaries, she wrote poetry that remained unpublished and she agonized over the impossibility of a writer's life. When she left home it was to find that life; her quest never ended. This is the story that former writers have made of Elizabeth Smart's life. Echlin's work is different: her subtitle, "A Fugue Essay on Women and Creativity" was well chosen, for "Fugue" derives from the Latin meaning flight, "in music a short theme given by one part and repeated successively by others." Echlin's work does indeed take flight, for she has a broader and deeper purpose than simply to record Smart's life story. Echlin's purpose is to examine the age-old problem of women's position with regard to their work, profession, art, as well as, and at the same time as, their maternity. The problem that is at the heart of this book is age-old: how can a woman's biological imperative and her mothering instincts and duties be reconciled with her need to fulfil her other innate talents and urges?
The path Echlin takes gives us a record of her research and its findings as she follows Smart's life journey. Above all she seeks the truth of Smart's experience as she doggedly explores the truth of her own. With empathy and great tact she interviews dozens of people who knew Smart, assembling a wealth of materials, opening up the life, and at the same time revealing many facets of her own. Kim Echlin and Elizabeth Smart are both revealed-this is Life Writing with a difference!
Smart never managed to conquer her fear of her mother, the always critical, always disappointed, always manipulating obstruction to her daughter's mature fulfilment. Louie Smart is the polar opposite of Echlin's own mother, who helped her at every step of her research and whose opinions and advice were an invaluable support to her. Their relationship is a major delight of this book and, as Echlin makes abundantly clear, a major source of her own strength.
For many years readers have honoured Elizabeth Smart's works: By Grand Central Station I Sat Down and Wept, The Assumption of Rogues and Rascals, and the unfinished Dig a Grave and Bury Our Mother. There are more-My Lover John, a novella, poems and fragments from an on-going work, never finished, that she called her "mother book." Echlin is begging us to see clearly, recognize and honour the total woman as well. Elizabeth Smart left happy memories and a kind of awe-struck admiration with those who knew her. She lived her truth in the face of appalling difficulties and wrote that truth as well. "Faithfully she remains true to her first love-the English language. Poetry is comfort, self-reflection, growth, art. Time fleets away. words, spoken and written are her meaning and necessity: Now I lay me down to sleep. Regret-mostly for the slow too stately way of words spoken.(Written, they go off on their own life, find their right time, like seeds, whirling, floating, snapping, bursting, lying low for generations 'til conditions are right....'"
In Smart, Kim Echlin has found an exemplar for all women who seek to live and work by their individual truths. This is an important book. Every woman reader will identify with the problems that continue to be hurdles in the path of the total development of her dual imperatives. Every woman reader will also be heartened and strengthened by Echlin's testimony to the process of her own on-going quest.