The Group of Seven and Tom Thomson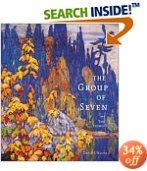 by David P. Silcox
ISBN: 155297605X

---
Post Your Opinion
A Review of: The Group of Seven and Tom Thomson
by Peter O'Brien
The Group of Seven and its attendant mythologies continues to define Canada and Canadian art, whether we wish it or not. "Enough!" you might say. We've had enough of their lush trees,tumbling hillsides and iconic mountains. Enough of their images on calendars, of their greeting card simplicity, of their omnipresence.
In fact, there are still many paintings by the Group that are not generally known to the public, worthy biographies still waiting to be written on most of the members, and not yet a catalogue raisonne that has been produced on any one of them. There are also many art historical questions yet to be explored, including research on the influence of other painters who helped shape the Group's early work; on the philosophical, theosophical and religious beliefs that defined their work; on the stylistic and thematic differences among them; and on the Group's sustaining grip, since their final show at the Art Gallery of Toronto in 1931, on subsequent Canadian artists.
This book goes part way to filling in the complete picture, by allowing more of the work to be generally known. Of the 369 full-colour images in The Group of Seven and Tom Thomson, 123 have never before been reproduced, and there are 20 black and white drawings that have not seen printing ink since 1925.
The abundance of images, lovingly reproduced, is this book's great strength. Produced entirely in Canada, using a distinctly Canadian typeface and printed on 100-lb archival paper, the book's many images are so marvelously presented that it is possible to see on the wooden panels and canvases the Group's spontaneous talent at work and to trace their fluid brushwork and painterly gestures.
But if you are looking for the story of Tom Thomson and the Group in words, you will still have to look elsewhere. (The recent catalogue, Tom Thomson, by Dennis Reid and Charles C. Hill, and the catalogue from the mid-1990s exhibition, The Group of Seven: Art for a Nation, by Charles C. Hill are both fascinating and essential reading.) Of the 444 pages of this book, only 68 are devoted to David Silcox's historical and critical commentary, with additional pages for a bibliography, a list of works reproduced and two indexes.
Silcox is the Managing Director of Sotheby's Canada and a noted art historian and cultural administrator. In his catalogue raisonne and biography of David Milne, he has produced among the most important documents in Canadian art criticism. Here he gives us only snippets and hints of greater goods.
Many times throughout these pages I was looking for more than his teasing and inconclusive comments on spiritualism, on van Gogh's influence, on LeMoine FitzGerald's pointillism, on Lawren Harris's painterly affection for the Rockies, on Fred Varley's use of rich colours in his Vancouver paintings, etc.
There is no question that Silcox knows these paintings intimately and knows how to coax collectors and galleries into sharing their painted riches. But, as Silcox says, this book is the story of the Group and Tom Thomson "told primarily in pictures." And there are so many delightful images to meander among. Fred Varley's two "Open Window" paintings, one created in 1929 and the other c. 1933 are marvelous to see in the same book, and then one can wander over to LeMoine FitzGerald's quiet "From an Upstairs Window, Winter", for a similar viewpoint but very distinct vision.
It is always a shock to see the tumultuous and confident use of colours in Tom Thomson's paintings, including "Sunset", "Autumn Foliage" [1915] and "Autumn Foliage" [1916]. Frank Carmichael and A. Y. Jackson come close to Thomson's brilliance, but they still can't match his flourish. Every time I see J. E. H. MacDonald's "The Wild River", I can hear the rumble and splash of water over rocks. And then there is Lawren Harris, surely one of the finest artists of the twentieth century, not just here in Canada but anywhere. To see him move from the portrait "Dr. Salem Bland" to "Winter in the Northern Woods" to his magisterial mountains, as represented here by "Isolation Peak", (unfortunately not by "Mount Lefroy") is nothing short of breathtaking. That Harris kept up such a pitch of insight for so many years is a joy to behold, even though his final abstract works are less powerful.
And here, so that every artist in the book gets at least one mention, are a few other favourites: Arthur Lismer's scratchy but affectionate "My wife, Sackville River, Nova Scotia"; Edwin Holgate's perfectly simple "Frances' Tree"; Frank Johnston's almost abstract "Woodland Tapestry"; A. J. Casson's "House Tops in the Ward" which always makes me think of Riopelle's massive abstractions; and Edwin Holgate's inviting nudes from the 1930s.
Whether we accept it willingly or not, Tom Thomson and the Group of Seven will continue to help define Canadian painting for as long as there are artists in Canada. Like Irish writers who must pass through James Joyce's linguistic pyrotechnics, or American composers who must wander through the musical landscapes of Aaron Copland, Canadian painters as diverse as David Milne, Doris McCarthy, Allan Harding Mackay, Mary Pratt and Will Gorlitz have all had to confront the legacy and centrality of Tom Thomson's and the Group's power and persuasive influence. It is a legacy that deserves our respect and our affection.
Tom Thomson and the Group have also helped define the country itself and how it changes over time. Given the choice, I'd rather have them define the country than governments, corporations, the media, religious groups and local community interests. Surely none of these would be as purely inspired by the country's imagination, strength and potential as a group of artists with no aims other than to communicate the mysterious, ineffable beauty of this land.