Ridiculous!: The Theatrical Life and Times of Charles Ludlam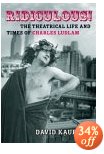 by David Kaufman
ISBN: 1557835888

---
Post Your Opinion
A Review of: RIDICULOUS! The Theatrical Life and Times of Charles Ludlam
by Keith Garebian
What sort of performers would Bette Midler, Charles Busch, Harvey Fierstein, and the original cast of Saturday Night Live have been without the influence of Charles Ludlam? Actor, director, designer, and the author of 29 plays who ran his own acting company for two decades in a small theatre way off Broadway before his death from AIDS in 1987 at the age of 44, Ludlam was a promulgator of the Ridiculous-a sensibility that turned to drag, camp, parody, and burlesque in order to undermine political, sexual, and cultural categories. The Ridiculous is comedy beyond the absurd, frequently in structures that cannibalize popular icons and artefacts of mass culture. Ludlam's plays plundered everything from Chekhov (Bluebeard), Dumas and Verdi (Camille) to Wagner (Der Ring Gott Farblonjet), Emily Bront, Daphne du Maurier, and Bram Stoker (The Mystery of Irma Vep). He tried his hand at everything from country-Western musical (Corn), melodrama (Bluebeard), and travesty (Galas) to psychodrama (The Ventriloquist's Wife), farce (Love's Tangled Web), and comedy ballet (Le Bourgeois Avant-Garde).
Rejecting the minimalism of the Theatre of the Absurd and the narrowness of naturalism, Ludlam tended towards the baroque where the banal was counterbalanced by the sublime. In the course of his career, he won Drama Desk and numerous Obie awards, as well as playwriting fellowships from the Guggenheim, Rockefeller, and Ford foundations and the National Endowment for the Arts. Ludlam had his detractors who charged that his shows were amateurish, sloppy camp. But he also had his champions (such as Joseph Papp, Mel Gussow, Frank Rich, Martin Gottfried, Geraldine Fitzgerald, Madeline Kahn, Eric Bentley, and Stefan Brecht), some of whom felt him worthy of comparison to Shakespeare, Molire, and Noel Coward.
Any good biography of this phenomenal artist must address the question of his value and legacy, just as it should incorporate an articulate discussion of the attitudes that inform the Ridiculous. David Kaufman's biography, the first exhaustive account of Ludlam's life and times, has many things working in its favour, but it is surprisingly thin in its treatment of Ludlam's own published essays and opinions about the panoramic, surrealistic, open-ended nature of the Ridiculous. Kaufman provides excellent synopses of the plays and revealing examples of Ludlam's comic touch, but he scrupulously avoids engaging with the dissenting opinions of Walter Kerr and John Simon, for example. Instead, he opts to let the facts of the Ridiculous cult speak for themselves, revealing in the process his awareness that for all his debts to John Vaccaro, Jack Smith, and Ronald Tavel, Ludlam was really sui generis.
Kaufman's style has a lacklustre transparency that works to its advantage by default: it does not allow rhetorical ornamentation or a didactic agenda to intervene between the biographer and his subject. It does not even become nostalgic, for nostalgia was not an attitude that Ludlam cherished. He allowed for areas of pain in his art, without succumbing to a mere ravishment of the senses. The greatest value of Kaufman's biography is its sense of immediacy. The book carries us into Ludlam's life and era, generously quoting from all the major players in his acting troupe, many of his lovers and enemies, and giving a palpable sense of the creative ferment and amoral license of the sixties and seventies. In effect, the biography creates a rich portrait of Ludlam the conflicted man and artist.
Ludlam was the older of two sons in a Catholic Long Island family in which his father was a virile, muscular, irascible Yankee, a yahoo who once slapped Charles for admiring himself in a mirror and who denigrated the boy for a lack of manliness.' Charles' mother poured her love onto her son, fostering the delusion that he resembled Garbo, withdrawing her affection from her husband, and provoking a resentment (claims Kaufman) of father towards son that became increasingly brutal over the years.' The biography quickly traverses the early years when Ludlam distinguished himself as a rebel in high school and at Hofstra University. It also delivers useful information about his earliest friendships and confusions about romantic and sexual intimacy. The prevailing leitmotif in the first-half of the book is Ludlam's passive-aggressive nature in everything from friendship to sex to professional work. After making his New York stage debut in 1966 in Ronald Tavel's The Life of Lady Godiva, directed by John Vaccaro at the Play-House of the Ridiculous, Ludlam had his own first play, Big Hotel, staged by Vaccaro, but then was fired during rehearsals for his second, Conquest of the Universe, a.k.a. When Queens Collide. Most of the cast walked out with him, and he was able to found his own troupe, the Ridiculous Theatrical Company. Ludlam was an extraordinary actor who enjoyed two of his biggest acting successes in drag as Maria Callas (Galas) and Marguerite (Camille), but he asserted that his were examples of character-acting and not simple drag. As he moved deeper and deeper into writing rather than acting, he showed little respect for the work of rivals, and his own company became too dependent on his gifts and inspired anarchy. As some of them finally parted ways with him, they were subject to his raging denunciation.
His biographer carefully records the panic and the giddy exaltation of Ludlam's creativity, noting that Ludlam sometimes composed dialogue while luxuriating in a gay bathhouse, and often completed plays just prior to their previews. Nevertheless, his literary corpus was considerable. Ridiculous! charts Ludlam's interaction with the diverse figures in his troupe, his numerous artistic and personal quarrels, his relationships with patrons, his grooming of his final life-partner, Quinton Everettt, and his attempts to defy as many limits as he could in art and in life.