Toscana mia: The heart and soul of Tuscan cooking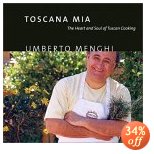 by Umberto Menghi
ISBN: 1550547216

---
Post Your Opinion
A Review of: Toscana Mia: The Heart and Soul of Tuscan Cooking
by Jon Kalina
Umberto Menghi is one of those guys you could strangle. He has a beautiful villa in Tuscany, he has a loving wife, he has a cooking school, a restaurant and he publishes lush cookbooks, the latest of which is Toscana Mia: The Heart and Soul of Tuscan Cooking. At least he doesn't complain about his lot in life.
"Mia Toscana" (which translates as "My Tuscany") is part cookbook, part family memoir, and part advertisement for his cooking school. There are plentiful recipes, wine recommendations from Canadian wine writer Anthony Gismondi (as warned, you may or may not find these wines in your local store) plus some beautiful photos of markets, restaurants and shops.
Menghi has divided the book logically: after talking about himself and the splendours of Tuscany (more of this later) he goes from antipasti through soups, salads, vegetables, pasta, rice, polenta and eggs, fish fowl and meat (with wild game) right to dessert. Just writing that list makes me full. Most of the recipes are straightforward like "Tuscan Cabbage and Bean Soup" or "Cod Grilled with Garlic and Oil" while a very few are more daring like "Saffron Risotto with Pumpkin" or an orange and fennel salad with pomegranate molasses.
If I'm less than overwhelmed by "Mia Toscana" I confess that when it comes to Italian cookbooks; I already have my favourites. It would take a lot to pry me from the pages of Marcella Hazan's "The Classic Italian Cookbook" and the less well-known but completely charming "A Tuscan in the Kitchen" by Pino Luongo. Both are, in their own ways, of the imperious school of cookbookery. Hazan assumes that you'll overcook your pasta (among your other culinary crimes) but decides she'll help you anyway. Luongo assumes you're already a good cook so he doesn't bother giving you amounts of ingredients. Over the years both of these writers have captured me with their attitudes-and they've taught and inspired me with their recipes. "Mia Toscana", for all its charm, doesn't come up to their mark.
One of my problems with the book is that "Mia Toscana" seems aimed more at the novice cook than at anyone with experience in the kitchen. Perhaps that's what happens when you run an upscale cooking school 50 kilometres from Florence. It seems more like the book you give your students to remember Tuscany by than a solid addition to the kitchen library.
Menghi tries to make up for the simplicity of the book with an effusiveness for Tuscany that in the end becomes grating. He writes in his introduction: "Toscana Mia, my Tuscany, keeps calling me back I feel energy in Tuscany. The colours are clear and strong. Aromas fill the air." Later on we get in bold letters over a picture of the author in a field of sun flowers: "To love Tuscany is to love life." Please. The fact that the colours in Tuscany are in fact clear and strong almost forgives this sort of nationalist prattling, but not quite. Not that I wouldn't go back in a second.