Intimate Strangers: The Letters of Margaret Laurence and Gabrielle Roy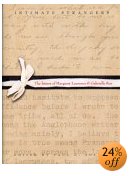 by Edited by Paul G. Socken
104 pages,
ISBN: 0887551777

---
Margaret Laurence: The Making of a Writer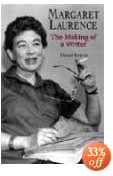 by Donez Xiques
391 pages,
ISBN: 1550025791

---
Post Your Opinion
Margaret Laurence in Life and Letters
by Clara Thomas
These two books have been labours of love. Paul Socken's collection, thirty-two letters in all, has been given a very special production by the University of Manitoba Press. This small beautifully produced book is a gem, and will take its place as a special treasure on the shelves of Roy and Laurence lovers. Xiques's work is the product of many years of devoted research. It is a careful biography of Laurence's apprenticeship years, packed with information that fleshes out Laurence's life and works. It ends just before the publication of The Stone Angel, the novel that demonstrated to all who read it the presence of a major talent and voice in our galaxy of Canadian authors. Socken is a veteran member of the French Department at the University of Waterloo, and Donez Xiques has taught for many years at Brooklyn College, The City University of New York.
Intimate Strangers is well titled: its thirty-two letters detail the friendship between Gabrielle Roy and Margaret Laurence from '76 to '83, a relationship that was almost entirely epistolary. They met only once and that was at the 1978 conference in Calgary. Masterminded by Jack McClelland, ostensibly to discuss the 100 "most important" novels in Canadian literature, it also served to publicize McClelland's formidable list of Canadian authors, particularly the writers of the flourishing New Canadian Library series. The occasion became notorious for the embarrassment of Malcolm Ross, the N.C.L.'s editor, and the many writers and academics who resisted and resented such arbitrary listing and ranking as had gone on by a hand-picked list of "judges". Both Roy and Laurence had been dragooned into attending by virtue of their friendship as well as their business ties with McClelland, and both were embarrassed by having been "voted" at the top of the lists which were announced only at the conference's end. For Roy, however, there was one outstanding advantage about visiting Calgary: at 3000 feet above sea level, her chronic asthma disappeared and she felt healthy. She even contemplated moving there but feared that she would be "as lonesome as a cat". Margaret was mightily offended, before, during, and after the conference, but McClelland's charm won out as it habitually did with all of his writers, and they resumed their old special relationship.
Intimate Strangers begins with a letter from Laurence, instigated by her friend, the writer and translator Joyce Marshall, who had done translations of three of Roy's works. Its tone establishes the tenor of their subsequent exchanges: Laurence's regard for Roy's works neared reverence, and this deep respect that was shared by many Anglo-Canadians, including myself. We were eternally grateful for The Tin Flute, first published in English in 1947. Combined with that respect was delight in the delicacy of Roy's work and its priceless contribution to our literature. Roy, in turn, greatly admired Laurence. They approached each other with great care and a mutual understanding of the pleasures and pains of the writer's career. Laurence's tone in these letters is far from the tone she usually used for her vast correspondence: she wrote to other writers as equal members of her "tribe", the word she loved to use for her companions in the craft; to Roy she writes as to a revered icon, one to whose works she always looks up with a special tender regard. Roy's place was doubly special because she too was a prairie writer; her roots were in Manitoba's St. Boniface as Laurence's were in Neepawa.
The collection is slim, but these 32 letters share many themes: Laurence wrote of her children, the events of her life, her beloved "shack", the cottage on the Otonabee, her new home in Lakefield, her writing trials and her declining health. Each deeply regretted her inability to write in the other's language, though Roy's letters are beautifully rendered to an Anglophone's eye. Laurence's regret was legitimate, for her French was non-existent, and its lack was often a matter of embarrassment. Roy was seventeen years older than Laurence, and throughout the letters she is unfailingly supportive, affectionate and totally understanding of the many hurdles they both faced in their careers. As they became older, failing health plagued them both, but Roy especially was chronically in poor health, though she managed to produce beautiful books in spite of it. Both were passionate Canadians, and the threat of the rising separatist movement of the '70s troubled them greatly. On that question they saw eye-to-eye, agonizing over the possibility of a broken Canada and deeply regretting the persisting "two solitudes" of our country.

Margaret Laurence: The Making of a Writer is a densely packed and wonderfully informative account of Laurence's early years, the loss of her parents, her schooling, the years at United College in Winnipeg, and her marriage to Jack Laurence. The African years are treated in detail, as are the years back in Vancouver; Xiques, in an exhaustive search, has unearthed a great deal of information that has not been published before. The result is a book that is compulsively readable for Laurence enthusiasts and scholars. Her careful research has inevitably led to a certain amount of repetition, but this is far less important to Xiques than her aim of including everything a serious reader would deem significant. The endnotes alone (over 1000 of them), warrant a separate reading when the narrative is finished. It couldn't have been easy to make such a wealth of detail into a coherent narrative, particularly since two other biographies were published just in the past decade. Xiques is to be congratulated and commended on her perseverance and her readers will enjoy the resultant fleshing out of the portrait. It is as if she has turned over a tapestry and followed all its interwoven threads.
Opinion will vary respecting her treatment of various individuals in her account. For instance, I would argue that the portrait of a hard, stern and unremittingly disapproving grandfather is an overly biased one; to the young and teenaged Laurence, he appears as in A Bird in the House-formidable, an ogre in her young life. Massively influenced by that portrait, which Laurence herself renounced repeatedly in her later life, those whom Xiques quotes are indulging in agreeable hindsight, especially when characterizing him as miserly. In fact Grandfather Simpson was not unlike many another head of a family in those patriarchal days for whom the word was "careful". His life would certainly have been disrupted when the Wemyss family came to live with him-the ensuing complications affecting everyone. Similarly, while the death of her father and mother when she was just a child no doubt had a lifelong effect on Laurence, I believe that Xiques overstresses their impact throughout this first part of her work. Death and the Great Depression had indeed played an important part in her growing years, but Laurence still led the life of a privileged young woman in the Neepawa of her day. Very few young women were able to attend university in those late Depression days. Very few teenagers, living in a town, were able to take up riding as she and her close friends did. Very few had the luxury of a family summer cottage to visit. She had in full measure both the adaptability of the young and their intense self-involvement, in her case enhanced by her early and total dedication to writing. She was never without the support and love of her "Mum" and her Simpson aunts. When Xiques quotes Wes McCammon, her former teacher, on the slightly snobbish aura of Laurence's high school circle of friends she is right on the mark-though as she grew older, she completely shed that early veneer as did Morag in The Diviners, who as a teenager could hardly wait to get out of Manawaka. In fact, Laurence wrote out her complete farewell to her young self in A Bird in the House, just as many times she spoke of The Prophet's Camel Bell as her farewell to Jack.
Once Laurence is removed from the Neepawa years, and their somewhat overstressed dark shadows, Xiques is on much safer and firmer ground. Again, Margaret or Peggy as she was known to everyone, was a privileged undergraduate, living in residence, taking a trip out to B.C. with her friend, Madge, to pick cherries as part of a wartime scheme to recruit young people for work on the land. The pictures she gives of both the United College years and the postgraduate journalism experience are excellent. No one before Xiques has gone to the trouble of examining in detail the papers she worked for, and no one has begun to give us such a detailed account of the immense variety of the work she did. Careful research and reporting enhances invaluably our knowledge of the apprenticeship that Laurence carved out for herself with such single-minded determination.
It is impossible, I believe, to overstate the climate of the Social Gospel that permeated United College in her day. It stayed with her for her lifetime and had a large hand in making her the social activist that she later became. It prepared her for the compassion and empathy she was to develop for the very different peoples she encountered in Africa. Ironically, it also undoubtedly set her mind against the British colonisers whom she later met in Africa. The intensity of her antipathy had to be softened somewhat before publishers accepted her first novel, This Side of Jordan.
Xiques's meticulous detail about the African years is also most welcome. The information she offers concerning the genesis of a Tree for Poverty is well documented as is her discussion of The Prophet's Camel Bell. These two works, especially the early translations, which were completed in the face of great difficulties, are more unusual than we, who are much influenced by her later, wonderfully successful novels, often realize or admit. They are indisputable evidence of a serious writer at work. The translations were the product of a young woman's labour, carried out in a totally alien culture, because she was determined to communicate its poetry and tales to English-speaking readers. That the Somalis themselves had no written literature adds to the difficulties she faced and to her achievement. Furthermore, she undertook the task and persevered in it before any lively interest in folklore occurred in Canada and without Laurence having the slightest reason to believe that her work would be published and valued. A Tree for Poverty, written years after the experiences she recounts, was her valedictory to Africa and, as she often said, her valedictory to Jack as well. Writing it years later, back in Vancouver, she was well into the painful process of accepting that writing was indeed her fate, admitting no compromise.
It is a pleasure to read Xiques's research into those years. She has talked to many who knew Laurence then. Not least, among the illustrations, many of which will be new to readers, she has unearthed from the files of the Vancouver Sun the charming dust-cover photograph of a young and laughing Laurence. The intensity that Laurence brought to her work was a large factor in its impact as well as a large factor in every aspect of her life. In those Vancouver years she was leading a many-faceted existence-as a fully committed mother and wife, and as an equally committed writer. Her choices were agonizingly hard ones as the people who knew her then could testify. Xiques has brought to her research a resolve that "attention must be paid" to every detail within her power to uncover. Her meticulous method has ushered in a book that expands and satisfies our understanding of "The Making of a Writer" in ways and details that no other of the many Laurence scholars has achieved. We are in her debt.