Eudora Welty: A Biography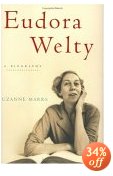 by Suzanne Marrs
652 pages,
ISBN: 0151009147

---
Post Your Opinion
A Tendency to Saintliness
by Joan Givner
"Atendency to saintliness is your only fault," a friend once wrote to Eudora Welty. That phrase might well serve as the epigraph to this authorized biography, which comes perilously close to hagiography.
In fairness, it should be said that Welty had many qualifications for sainthood. She was kind, generous, and charming; and she remained preternaturally shy and modest in spite of winning most of the prestigious literary prizes offered in the United States, and becoming the first living American writer to have her work published in The Library of America series.
Most authorized biographers understand the liabilities of their anointed status. The assets-familiarity with the subject, privileged access to witnesses and to archival material-are counterbalanced by the danger of a reverence that produces an idealized, air-brushed portrait. Marrs, a protTgTe and friend of Welty, enjoyed the confidence of Welty's close friends, and had access to new archival material. As a result, she adds a great deal to our existing knowledge of the author. She explodes the myth that Welty, who lived all her life in the family home in Jackson, Mississippi, led a protected, sheltered life. From an early age, she traveled extensively and constantly, making annual trips to New York, and going alone by boat to Europe. Marrs documents Welty's strong liberal political beliefs, and she shows that, in spite of her celibacy, Welty was susceptible to handsome men and had at least two intense love affairs. Unfortunately, Marrs also falls prey to every danger inherent in being an authorized biographer.
An instance of this is her attack on a previous biographer, Ann Waldron, for daring to suggest that Welty was "an ugly duckling" (not a phrase that Waldron uses). The truth is that Welty belongs to the group of accomplished women-George Eliot, Charlotte Brontd, Eleanor Roosevelt, Golda Meir and others-not favoured with physical beauty. There is ample testimony to this fact in her own statements, as well as in those of her friends and observers, and in photographs. But Marrs will have none of this. Instead she calls Waldron's characterisation "decidedly antifeminist". (This from a writer who habitually refers to married couples as "the Roger Mudds" and "the Robert Penn Warrens"). Marrs also berates Claudia Roth Pierpont, the author of an insightful New Yorker article on Welty, for "accepting fully" Waldron's characterisation.
In her discussion of Welty, Carolyn Heilbrun, one of the most reliable critics on the writing of women's lives, invokes Catherine Drinker Bowen on the subject of female beauty and the lack of it:

"I sometimes wonder why women do not write more about the condition of being homely. It is something that colors a woman's life, almost from the moment of consciousness . . . Every girl who lacks beauty knows instinctively that she belongs to an under-privileged group, and that to climb up and out she will have to be cleverer and stronger and more ruthless perhaps than she would choose to be."

Heilbrun adds, ". . . like Welty, most women do not write of this, nor do they observe that not having been a natural sex object in youth may have turned out to be a very good thing." How much more honest and useful it would have been if Marrs had explored this subject rather than denying it.
Similarly, Marrs takes issue with Heilbrun's reading of the very popular autobiography that Welty wrote in 1983, a work that Hermione Lee describes as "her evocative, evasive memoir." Heilbrun wrote, "I do not believe in the bittersweet quality of ONE WRITER'S BEGINNINGS, nor do I suppose that the Eudora Welty there evoked could have written the stories and novels we have learned to celebrate."
There is ample evidence of tormented relationships within the Welty family in the autobiography. Welty's comment, "All my life I continued to feel that bliss for me would have to imply my mother's deprivation or sacrifice," surely signals a crippling sense of guilt. It is echoed in her description of her emotions on travelling away from home: "As the train picked up speed, rolled faster out of town, I would lie back with an iron cage around my chest of guilt." To such examples can be added the evidence of many short stories that resemble the old myths and fairy tales she loved, with their wicked witches and stepmothers, their overt and covert meanings playing around the conflicts and pressures of family life.
Welty was as conflicted in her feelings about her native state as she was about her mother. She loved Mississippi for its pace of life, its natural beauty, its distinctive culture, and she was fascinated by its rich tormented history. But she also lived through a period of violent turmoil. This period included the Civil Rights Movement of the 60s, the arrival of the Freedom Riders in Jackson, the battle by James Meredith to enroll in the University of Mississippi, and the murder of Medgar Evers. Marrs makes clear that Welty deplored the racism and despised the Governor and the public officials who opposed integration, and in doing so she felt completely isolated. "Wish I was in Timbuctu-or Xanadu," she wrote.
Yet, when the New Republic asked her to "speak for the unheard voices in Mississippi," she refused. In July 1963, she declined to be interviewed by her friend Ralph Ellison on television because she was worried that appearing on national television with an African American would create hostility in Mississippi. (Flannery O'Connor similarly refused to meet James Baldwin in Georgia, saying, "it would cause the greatest trouble and disturbance and disunion . . . I observe the traditions of the society I feed on.") And when Robert Penn Warren asked permission to use in his projected book, Who Speaks for the Negro?, a fictionalized version of an evening he spent discussing the situation with Welty and her friend Charlotte Capers, that permission was withheld. Capers feared that she would be recognized and might lose her job at the Mississippi Archives.
Welty explained her refusal to speak out in a simple phrase: "I'm a coward." It was a typically honest response, and not hard to understand in a time and place when the Ku Klux Klan was powerful and death threats were not mere scare tactics, but likely to be carried out. Instead, she sold to The New Yorker a short story, "Where Is the Voice Coming From?", inspired by the murder of Medgar Evers. As well, she wrote an essay, "Must the Novelist Crusade?", and she spoke at integrated events that took place at nearby Millsaps College. The biographer is under no obligation to castigate Welty for silence and inaction, but to construe her actions as "bravery", which Marrs does, is going too far. It also does a disservice to the genuinely courageous and principled people from Mississippi and elsewhere who put jobs and lives on the line in the struggle for civil rights.
A problem with producing an idealised portrait is that it loses shading, simplifies what is highly complex, and substitutes reportage for analysis and interpretation. The happy tone of the autobiography notwithstanding, there was much suffering in Welty's life. This was caused by the premature deaths of her father and her two brothers, and by one brother's alienation from the family and that same brother's mental illness. Other pain was caused by her passion, probably unconsummated, for two unattainable men. A ten-year relationship with a former schoolmate, John Robinson, ended when he entered a lasting same-sex relationship. Her second emotionally intense relationship was with Kenneth Millar, a mystery writer who used the pseudonym Ross Macdonald, and who was married to the writer Margaret Millar. The relationship was conducted through letters and occasional meetings.
Marrs is the first writer to have access to the correspondence between Millar and Welty, and the first to describe the relationship. One of its complicating factors was that Millar was married, and his wife was intensely jealous of Welty. Here again Marr's tendency to lash out at those who dare criticize her heroine comes into play. Margaret Millar was a woman whose 31-year-old daughter died suddenly of a stroke, and whose husband had fallen in love with a literary celebrity with whom he openly carried on a prolific correspondence-a situation likely to provoke hostile behaviour. Surely it's needlessly cruel to document the woman's antics in a book, especially since they have minimal relevance to Welty's life.
Another source of pain was Welty's very long writer's block. In 1973, at the age of sixty-four, she published her last novel, The Optimist's Daughter, an expanded version of a piece accepted five years earlier by The New Yorker; it won the Pulitzer Prize. Ten years later came the series of lectures at Harvard University-The History of American Civilization-which were later published as One Writer's Beginnings. In the last 28 years of her life she didn't publish any new fiction.
Many of her stories depict an artist standing apart from a clamorous family. In "A Memory", a young aspiring artist looks in revulsion at a mutually tormenting family. In "Why I Live at the PO", the narrator abandons the family to become a woman of letters. With the death in the same year of her mother and her older brother, Welty at last stood alone, bereft of her immediate family. Marrs might have thought about the cessation of her creativity in this context. Instead she falls back on a mechanical account of the external trappings of Welty's celebrity status-the wonderful parties, the garnering of honours, the celebrations, the endless journeys to pick up honorary degrees, and the many appearances on public platforms.
The proliferation of scholarly articles devoted to Welty's fiction gives testimony to its high degree of complexity. Such work implies the same degree of complexity in the author who produced it, and her life, when seen in its full complexity, poses corresponding challenges to the interpretive abilities of the biographer. It is safe to predict, therefore, that this biography will be followed by many others, especially in view of the fact that in 2021 the family correspondence, sealed for twenty years following Welty's death, will yield up its secrets. ò

Joan Givner has written of her own personal and literary encounters with Eudora Welty in her books, The Self Portrait of a Literary Biographer and Thirty-Four Ways of Looking at Jane Eyre.