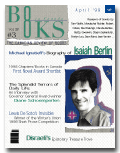 Note from Editor

Note from the Editor
by Diana Kuprel
It is only natural that as this crisis-weary century gropes and stumbles its way to a close, and the new millennium "lurches to be born" that we take stock of the institutions that have helped to define our sense of ourselves as a nation and of the role
Read more...
---
Book Review

Untangling the Tentacles Around the human heart
by Roman Sabo
What can we do so as not to surrender to despair? Is it possible to rescue our compassion for humanity? How can we preserve our ability to care? In answer to these fundamental questions, Jean Vanier, in Becoming Human (a book comprising the 1998
Read more...
---
Book Review

Warrior-Princes and the politics of peacekeeping
by Sandra Whitworth
Soldiers of Diplomacy is an excellent example of what the mainstream has to offer in studies of peacekeeping and, likewise, suffers from many of its limitations. As peace operations have moved centre stage within the United Nations' repertoire
Read more...
---
Book Review

An American Ware: Wolfe in Georgia
by Kevin Okeeffe
If you have not read Tom Wolfe's latest effort, A Man In Full, you may be forgiven for presuming that this voluminous novel is worthy of the sort of serious attention usually reserved for acknowledged literary masters.
Read more...
---
Book Review

Belligerently Contemning the Sacred Cows
by Liz Springate
Mordechai Richler's Belling the Cat: Essays, Reports and Opinions is a rich collection of what the author refers to as "miscellaneous pieces that I wrote to support myself". The essays, twenty-eight in all, constellate around topics near and dear
Read more...
---
Book Review

Rule of Law Under the Gun
by Kevin Dwyer
Paul Palango is deeply concerned about both the state of Canada and the Rule of Law. Nowhere else is his concern more manifest than in his investigations into the state of federal law enforcement today. His first book, Above the Law,
Read more...
---
Book Review

Camelot Wired
by Clara Thomas
"Do you know Avalon University? I don't suppose you do. Not many people have heard of it. Nothing notable comes out of the place." With this statment, Sean Kane invites his readers into the world of Virtual Freedom, a novel which celebrates, even
Read more...
---
Book Review

Charcoal, wax, oil pastel, the inky groan froth and blood
by Tim Christian
"Overnight, the universe has lost its center and now in the morning it has any number of centers. Now any point in the universe may be taken as center. Because, suddenly there's plenty of room." (Bertold Brecht as quoted in
Read more...
---
Book Review

The Comfort of the Encased Man - When Dwelling Becomes Museum
by Diana Kuprel
"[The interior] represents the universe for the private individual. Within it he brings together distant places and past times." (Walter Benjamin) All our belongings have arrived undamaged, my collection has much more space
Read more...
---
Book Review

Colombo in Convulsion
by Jack Illingworth
With the publication of the subtle and deeply humane Cinnamon Gardens, Shyam Selvadurai has established himself firmly as an important chronicler of the complexities of social and cultural difference. His tremendously successful first novel,
Read more...
---
Book Review

From the borderlands - View of Bosnia from Princip's Bridge
by Krzysztof Czyzewski
"Objectivity, in Bosnia, could not be neutrality, and the head, in Bosnia, meant nothing without the heart." (Cohen) 1. I'm reading Robert Cohen's book, Hearts Grown Brutal: Sagas of Sarajevo, in Graz, Austria, in an old Uhrturm,
Read more...
---
Book Review

Girls Friday & Scullery Maids of MASH
by Margaret Higonnet
How a war is remembered has become a hot topic today, symbolized by debates about whether monuments should be realistic or abstract, monumental or minimalist-and over who deserves to be remembered publicly. Increasingly, we also understand that
Read more...
---
Book Review

Invisible
In 1993, in celebration of its 20th Anniversary, The Writers' Union initiated a Short Prose Competition for New Writers to discover, encourage, and promote emerging writers of fiction and non-fiction. One past winner and two finalists have since gone
Read more...
---
Book Review

Ecce Dionysus
by Hugh Graham
In December 1888, in Turin, Nietzsche broke down in tears and embraced a beaten carriage horse. In his final mental collapse, it so happens, he was also embracing the rediscovered roots of his own philosophy in his first book, The Birth of Tragedy
Read more...
---
Book Review

Fighting the Good Fight
by Roxanne Rimstead
The feisty pose on the front cover of The Fight of My Life is of Maude Barlow, arms folded, holding a flag and announcing herself to be an "unrepentant Canadian". Still fighting for a more humane, inclusive nation in an age when many
Read more...
---
Book Review

Lascivious Variations
by Nikki Abraham
What do Zoe & Douglas, Hugh & Sybil, Max & Catherine, Melody & Gordon, Jeremy & Belinda, Joan Henry, and Warner & Becky have in common? They are the seven couples that form the sole focus of attention in Evelyn Lau's
Read more...
---
Book Review

Mapping Our Story
by Phyllis Reeve
When I was presented with Volume 1 of the Historical Atlas of Canada in 1987, I didn't read the book, I experienced it. Every atlas maps space; but this atlas maps space and time in a multidimensional continuum that is all about us-our space
Read more...
---
Books on Kids

Books on Kids - Jumping Off the Nature-Nurture Teeter-Totter
by Johan Aitken
In The Two Sexes: Growing Up Apart, Coming Together, Eleanor E. Maccoby has done the meticulous research her students, colleagues, and general readers have come to expect of her. The book cum textbook contains the introduction, chapter summaries
Read more...
---
Interviews

Pappadums at the Sky Dome - Ameen Merchant speaks with Shyam Selvadurai
by Ameen Merchant
Shyam Selvadurai was born in Colombo, Sri Lanka, in 1965. After attending the Royal College and completing his university entrance requirements, he emigrated to Canada with his family following the 1983 riots in Colombo. He studied Fine Arts
Read more...
---
Interviews

Splendid Terrors of Daily Life - Eva Tihanyi speaks with Diane Schoemperlen
by Eva Tihanyi
Diane Schoemperlen was born in Thunder Bay, Ontario, in 1954 and was educated at Lakehead University. From 1976 to 1986, she lived in Canmore, Alberta, where she worked as an avalanche researcher, typesetter, newspaper reporter, and bank teller.
Read more...
---
Essays

The Epistle According to Disraeli
Mel Wiebe always has a well-thumbed copy of Burke's Peerage nearby so he can identify long-dead aristocrats. The walls of his workroom at Queen's University are lined with political biographies, copies of Hansard, almanacs, and nineteenth-century
Read more...
---
First Novels

First Novels - 1998's Last Call
by Eva Tihanyi
This is Eva Tihanyi's last First Novels' Column for Books in Canada, but it is certainly not the last time we shall hear her voice in these pages. For the past four years, Eva has fulfilled
Read more...
---
Brief Reviews

Brief Reviews - Fiction
by Madeline Bassnett
Marcel is crazy. A big twenty-three-year-old kid who sleeps in the same bed as his mother in a two-room basement apartment, waking her in the morning with his foul breath. But in Michel Tremblay's A Thing of Beauty (Talonbooks, 222 pages, $16.95
Read more...
---
The Moccasin Maker
by E. Pauline Johnson, A. LaVonne Ruoff, A. LaVonne Ruoff, A. Lavonne Ruoff,
272 pages $77.6 TP
ISBN: 0608007293

Brief Reviews

Brief Reviews - Anthologies
by Carole Gerson
Around the turn of the century, Emily Pauline Johnson (1861-1913) was Canada's best-known woman author. Her writings and public recitals drew on both sides of her parentage: her English-born mother schooled her in genteel manners and mainstream English
Read more...
---
Brief Reviews

Brief Reviews - Anthologies
by Julie Burtinshaw
In February 1998, W.O. Mitchell passed away in Calgary leaving behind a legacy of great Canadian Literature, including such favourites as Jake and the Kid (1962), The Kite (1962), The Vanishing Point (1973), Roses Are Difficult
Read more...
---
Brief Reviews

Brief Reviews - Poetry
by Rob McLennan
A few days after Digressions of a Naked Party Girl (ECW Press, 128 pages, $14.95 paper) came out, I read one of Sky Gilbert's poems, "Why Kathie Lee Gifford Is Just Like The United States of America", to a high-school group. Having heard only
Read more...
---
Brief Reviews

Brief Reviews - Environment
by Brian Brett
Tatshenshini, Clayoquot, Stoltmann Wilderness, Carmanah, The Singing Forest, Walbran, Skagit, Arrow Lakes...The fight for B.C. forests has become a running guerilla war, and these are just a few of the major, and legendary, battlesites that, watershed
Read more...
---
Brief Reviews

Brief Reviews - Poetry
by Rob McLennan
In Still Clinging to My Skin (Black Moss Press, 72 pages, $16.95 paper), Windsor-based Paul Benza's first poetry collection, lines step exactly where they should-in careful, and sometimes far too deliberate, moves. This is a good collection
Read more...
---
Children's Books

Children`s Books
by Sophia Schweitzer
In Time for the Easter season comes an offering from Scholastic that should delight the literary palates of young readers everywhere.What is the meaning of true friendship? How can we overcome prejudice? What is the nature of love and of beauty?
Read more...
---
Children's Books

Children`s Books
by Alicia Sloboda
Tim Wynne-Jones, one of Canada's most celebrated authors of children's books, and illustrator Dusan Petricic have pooled their considerable talents and come up with a fun, whimsical, and boldly designed parable about how art can conquer chaos.
Read more...
---
Bay Girl
132 pages $6.95
ISBN: 1550501321

Children's Books

Children`s Books
by Julie Burtinshaw
Sudden, unwelcome change is nothing new to East Coasters. Thirty years before the cod disappeared off the Grand Banks, the Canadian government adopted a policy of resettlement, and Newfoundlanders, living in remote outports, were forced to grapple with
Read more...
---
Children's Books

Children`s Books
by Sherie Posesorski
Fifteen-year-old Nicky MacNeil is an expert at bottling up her feelings, and she's had plenty of them to bottle up since her mother abandoned her eight years before. Hardly anyone is aware of just how turbulent they are-neither her close friends,
Read more...
---
Children's Books

Children`s Books
by Diana Drebner
Myth. Science fiction. Utopia. Dystopia. Islands have often been chosen as the setting for books of these genres or with these themes. And if the setting is not a geographic island then it is often the conceptual island of an isolated community, a
Read more...
---
Douglas Fetherling

Douglas Fetherling - Isaiah Berlin
by Douglas Fetherling
Flagging Down Isaiah Michael Ignatieff Orleston Mews London NY7 8LL Dear Michael: This is a fan letter. Well, a fan column actually. No other recent work of Canadian non-fiction has impressed me more
Read more...
---
First Novel Award

First Novel Award
The First Novel Award was started by Books in Canada in 1976 to promote and encourage Canadian writing. In 1986, Smithbooks (later Chapters) became a co-sponsor of the award, which was increased from the original $1,000 to its current $5,000.
Read more...
---