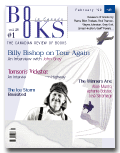 Note from Editor

Note from the Editor
by Olga Stein
To endeavour to speak about Canadian identity is to enter upon a highly contested and vertiginous playground. Whereas in the last issue of Books in Canada, its transcultural aspect insistently disclosed itself, what emerges here
Read more...
---
Book Review

Saga of a Self-Made Ojibwa
by Stephanie Farrington
We have become a culture deeply concerned with "truth". In fact, in recent years, the general public's concern with the concept of honesty seems to be bordering on the obsessive. Where this idea of truth is concerned, Tales of an Empty Cabin presents
Read more...
---
Book Review

Under Celebrity Skin
by Mary Michele
I was driving back to Montreal from Toronto, the radio tuned to Ottawa's Magic 100. The news included an item about a graduate student in entomology whose take-home assignment was caring for a tarantula. To her surprise, she has become very fond of the
Read more...
---
Book Review

Love in Full Summer Leaf
by Keith Garebian
1998 Giller prizewinning The Love of a Good Woman is Alice Munro's eighth short-story collection, not counting the Selected Stories. Its eight stories (one reprinted from Saturday Night and five others from The New Yorker) constitute
Read more...
---
Book Review

Freeze-Frames
by Glenn Baglo
Drawing on the work of fifty-four photographers from nine Montreal- and Ottawa-area newspapers, with text by Mark Abley of The Gazette (Montreal), The Ice Storm chronicles "the most destructive weather disaster in Canada's recorded history.
Read more...
---
Book Review

Within the Tribal Circle
by Norman Ravvin
In the summer of 1997, I went to Newfoundland when a replica of John Cabot's caravel was making its slow way across the Atlantic to mark the 500th Anniversary of European landfall at Bonavista. Wayne Johnston's new novel, The Colony of Unrequited Dream
Read more...
---
Book Review

Trudeau Haunts Us Still
by H Forbes
Unlike the proverbial old soldier, Trudeau is not just fading away. His departure will be marked by many lengthy commentaries and reflections. During his sixteen years as our Prime Minister, he worked deep changes in our understanding of ourselves. Later,
Read more...
---
Book Review

Blame it on Churchill or Multiculturalism Mystified
by Sam Ajzenstat
Finding Our Way: Rethinking Ethnocultural Relations in Canada began as a series of meetings and reports commissioned by the Department of Canadian Heritage. In this short, tightly written book, Will Kymlicka, a political philosopher who has publish
Read more...
---
Book Review

Rooting (for) Canadian Culture
by Paul Keen
If you love Roots, you will love this book. In fact, it's a book filled with photos of people who love Roots. Arnold Schwarzenegger loves Roots-there's a picture of him smiling in his Roots shirt. Ditto Pamela Anderson and Dan Akroyd and Mark Messier and
Read more...
---
Book Review

Anatomy of Silence
by Ted Whittaker
Dennis Lee's collected prose is even thinner on the ground and, until the publication of Body Music, even more fugitive than his few books of poems. Anansi, which in 1977 published his only previous book-length critical work (the three-part essay,
Read more...
---
Book Review

The old, the wounded, and the damaged
by Jack Illingworth
Sir Vidia's Shadow caused quite the commotion this past summer when excerpts appeared in The New Yorker. Paul Theroux's then unpublished memoir of his friendship with V.S. Naipaul quickly became one of the year's hottest literary topics.
Read more...
---
Book Review

The Arctic - New York, via Africa
by Deborah Jones
Zigzag is true to its name. An armchair journey through the intriguing life of Canadian artist, author, and bon vivant, James Houston, Zigzag treads a path full of twists and turns. Alas, it meanders, without offering any sort of road
Read more...
---
Book Review

The Gospel According to Saramago
Partly in response to the Portuguese government's refusal to endorse the nomination of The Gospel according to Jesus Christ for the European Literary Prize, in 1993 Saramago moved with his Spanish-born
Read more...
---
Book Review

Canadians - On the Edge of Everything
by Cynthia Sugars
These days people tend to speak of the Canadian identity crisis as an outworn cliché. At least, this is the word on the street. Yet to me it seems that the very persistence of the crisis, the relentless need to rehash it, is a testament rather to a
Read more...
---
Book Review

If we had become Borealians
by Alex Bisset
Wayne Grady's Chasing the Chinook is a highly entertaining, informative collection of forty-one essays, each written around a word or words having some connection with Canada.

The essays deal with topics that range from places (Acadia and C
Read more...
---
Book Review

Giving Up the Toy Plane for the Cane
by Jerry Wasserman
Staring out from the front cover of Talonbooks' published playtext of Billy Bishop Goes to War is a photo from the original 1978 production: a slim, young Eric Peterson stands before a Union Jack. Resplendent in his First World War Royal Flying
Read more...
---
Books on Kids

Books on Kids - Online Loners
by Francois Lachance
"At school, children outnumber adults, and children show not the slightest interest in anyone's reform agenda. All they want is nice teachers, a good day, something interesting to do."

Our schools need to continue to cultivate advocates, not breed e
Read more...
---
Interviews

Flying Low into Another Tour of Duty - Jerry Wasserman speaks with John Gray
by Jerry Wasserman
I spoke with John Gray in the kitchen of his home in Vancouver's Kerrisdale last November, soon after the Playhouse opening. John is the author of a number of successful musical plays besides Billy Bishop
Read more...
---
Interviews

Survival Cree, or Weesakeechak dances down Yonge street - Heather Hodgson speaks with Tomson Highway
by Heather Hodgson
Born in 1951 in a tent on his father's trapline, Tomson Highway is a Cree from Brochet, a reserve in the extreme northwest corner of Manitoba. He studied classical music and English literature in Canada and England, but gave up his
Read more...
---
Essays

A Stubborn Seam of Light
by Steven Heighton
Set inconspicuously about a third of the way through The Ice Storm, a small photograph shows a highway sign encased in verglas and hung with icicles: KINGSTON POPULATION
Read more...
---
First Novels

First Novels - Luminous Things
by Eva Tihanyi
Luminosity (Random House, 432 pages, $32.95 cloth) is a huge book-not just in terms of length, but in terms of scope and ambition as well. Its authors, Frank and Gillian (who've opted to drop their last names and to live and write together in
Read more...
---
Brief Reviews

Brief Reviews - Poetry
by Alana Wilcox
The best parts of Nicole Markotic's minotaurs & other alphabets (Wolsak & Wynn, 85 pages, $12 paper) are where she allows her labyrinthine and playful language to be expansive while keeping the concrete and the abstract in balance.
Read more...
---
Brief Reviews

Brief Reviews - Fiction
by Jennifer Duncan
In his latest collection of short stories, The Flesh So Close (Mercury Press, 205 pages, $18.95 paper), Kenneth J. Harvey writes: "Only through battered eyes did the world begin to change, to disclose its delicate wonder."
Read more...
---
Brief Reviews

Brief Reviews - Fiction
by Madeline Bassnett
In Cruelties (Anansi, 160 pages, $19.95 paper), Lise Bissonnette exposes the ways in which we strike, sometimes unwittingly, at the foundations of each other's souls. She gives us fifteen stories, as well crafted and succinct as the cruelties
Read more...
---
Brief Reviews

Brief Reviews - Poetry
by Alana Wilcox
Four Red Crescent Moons (Wolsak & Wynn, 72 pages, $12 paper) is Julie McNeill's first collection of poetry, and, for the most part, it demonstrates a dextrous handling of language registers. The first poem, "Recalling my Love of
Read more...
---
Brief Reviews

Brief reviews - NonFiction & Adventure
by Kevin Okeeffe
In Godforsaken Sea (Knopf Canada, 315 pages, $33.95 cloth), Toronto author Derek Lundy treats us to a riveting account of the 1996-97 Vendée Globe round-the-world single-handed yacht race-a race that not only represents the pinnacle
Read more...
---
Brief Reviews

Brief Reviews - Travel
by Diana Kuprel
There are journeys that are plotted, and journeys that are governed seemingly by serendipity. "All journeys have secret destinations of which the traveler is unaware" (Martin Buber). These words of wisdom are echoed by Montreal writer Irena Karafilly,
Read more...
---
Brief Reviews

Brief Reviews - Aging
by B Goldlist
"When I was a child, I spoke as a child, I understood as a child, I thought as a child: but when I became a man, I put away childish things" (Corinthians). Theodore Roszak is a professor of history best known for his youth-oriented book,
Read more...
---
Children's Books

Children`s Books
by Sherie Posesorski
Every Holocaust survivor story is both an adventure and a horror story. As in every adventure story, there is danger-life-threatening situations and enemies. Since these are overcome by the survivor's ingenuity and courage, the ending becomes an affirmat
Read more...
---
Children's Books

Children`s Books
by Erinn Banting
Writing wide-ranging and sophisticated verse for children between the ages of three and eight is an ambitious goal, to say the least. William New has accomplished just this, and admirably so, in his first children's book, Vanilla Gorilla.
Read more...
---
Children's Books

Children`s Books
by Mary Kovack
Orchard Books has called upon the considerable talents of award-winning children's storybook writer Geraldine McCaughrean to "retell" and breathe new life into ten classic tales that have inspired some of the world's greatest and most beloved ballets.
Read more...
---
Children's Books

Children`s Books
by Lian Goodall
Sheree Fitch is a poet whose work is much loved by the children and adults of this country. Her There Were Monkeys in My Kitchen! won the Mr. Christie Book Award; Mabel Murple took the Anne Conner Brimer Award; and Toes In My Nose has
Read more...
---
Children's Books

Children`s Books
by Marnie Parsons
A blend of nostalgia and didacticism, delicately paced yet stilted, Joseph Kertes's The Red Corduroy Shirt is as odd a beast as the "corduroy" his protagonist, Jake, imagines when he assumes the beautiful shirt worn by his new friend, Jerry Hom
Read more...
---
Great Authors

Great Authors of Our Time - Jose Saramago
José Saramago is the first Portuguese writer to win the Nobel Prize for literature. He was born in 1922 in Azinhaga, in the Portuguese province of Ribatejo. For financial reasons, he had to abandon his high-school studies and train
Read more...
---
Great Authors

Saramago - In the Name of Record
The North American reaction to the selection of José Saramago as the winner of the 1998 Nobel Prize for Literature could perhaps best be described as one of bewilderment. Judging by the media coverage, people were not so much shocked as perplexed
Read more...
---