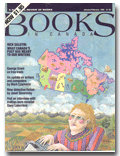 Note from Editor

London pride
by Katherine Govier
In Britain the threat of Americanization is only part of a much-remarked-upon decline... There are debates in the Spectator and the London Review of Books about "Britishness." It is, well, Ironic In England recently, I worked at home in Primrose Hill and made occasional forays to the local library in Camden, where the. Labour Council, strapped for cash, has sold all the books to a French bank.
Read more...
---
Book Review

Unfinished business
by Betty Bednarski
Jacques Ferron's last book, though polemical, is filled less with anger than sadness at the contemplation of loss At the time of Jacques Ferron's death in 1985 no major new book by him had been published in Quebec for many years The silence was troubling and eloquent in the case of a writer whose voice had been resonant throughout the 1960s and '70s
Read more...
---
Book Review

Wheeler dealer
by Dasmond Morton
By now, not many Canadians need to be told who Bob White is. Arguably, the ex-farm boy from Northern Ireland is the bestknown trade unionist the Canadian Labour movement has generated. If Bob White tends to be a little cocky, he has plenty to be cocky about. At 22, a highschool dropout and newlywed, he fed his first strike against a tough, antiunion multinational and won. At 25, he had won a place on the United Auto Workers' organizing staff.
Read more...
---
Book Review

Cautios Ned
by Al Purdy
During most of the years mentioned in the book's title, Edwin John Pratt, an expreacher from Newfoundland, was generally regarded as the foremost poet in Canada. Pratt's bibliography lists 17 books of poetry, including three Governor General's Award winners. Many other honours, medals, honorary degrees from universities, memberships in learned societies, etc., were showered on him. Despite the contemporary presence of A.J.M. Smith, F.R. Scott, A.M.
Read more...
---
Book Review

Filflammery
by Gerald Pratley
This is not so much a book as a report prepared by two machines named Globerman and Vining, which, working at other machines, have turned out a depressing array of figures and statements to the effect that we should not be in the least concerned over Hollywood's control of film distribution in this country. It i's calculated to give Mel Hurtig a heart attack, and for this reason it should be kept away from him.
Read more...
---
Book Review

Techno pathology
by Brian Fawcett
A few month ago an acquaintance who works in advertising told me that the average North American citizen is currently subjected to 12,000 pre-inscribed images each day-shaped and franchised data signals from television commercials to streetscape Golden Arches to the Toyota or Ford logos on the tailgates of pickup trucks glimpsed momentarily in traffic. I asked him to put his statistic into a historical context and into the context of our total perceptual capability.
Read more...
---
Book Review

The gift of wings
by Laurel Boone
Social constraints prevented Lucy Maud Montgomery from expressing her most intense feelings, and so, from the age of 14 until her death at 66, she narrated her experience, examined her conscience, and exorcised her demons in journals. In the privacy of her notebooks, she transmuted her life into a continuous story, upon which she practised her craft and which she sometimes mined to embellish her fiction. But she couldn't predict or control this story's plot.
Read more...
---
Book Review

Scenes from a life
by I.M. Owen
George Woodcock is a compound of contradictions. Look at him, and you see a sober, comfortable, matter-of-fact sort of person, just the man to have edited a respectable mainstream literary quarterly for 18 years. Yon don't see the poet: he looks no more like a poet than - well, Raymond Souster. And you certainly don't see the anarchist: he looks no more like a devotee of a romantic lost cause than - well, Jacques Parizeau.
Read more...
---
Book Review

Gathering of the Klans
by Cary Fagan
Stanley Barrett's preface to his comprehensive and deeply considered study of the right wing in Canada describes the author as a liberal humanist who found himself depressed for days after interviews with racists and antics. While the work, as Barrett writes, may not have been a labour of love, it deserves the highest praise for the thoroughness of its research and the clarity, even elegance, of its presentation
Read more...
---
Book Review

Great Scott
by Bruce Whiteman
In a short article written in 1977 and published the following year in the Laurentian University Review; Sandra Djwa remarked that, unlike the critic, the literary historian "simply documents what is: preferably in as elegant a manner as can be managed." This may present a pretty naive view of history (literary or otherwise), but it also raises the useful point that Canadian literature still lacks documentors.
Read more...
---
Book Review

The fate of willing
by George Grant
The Americans proclaim themselves a country and eschew the word empire, while their battleships try to impose their will in the Persian Gulf If You Love This Country: Facts and Feelings on Free Trade, edited by Laurier LaPierre, McClelland 8t Stewart, 2611 pages, $5.95 paper (ISBN 0 7710 4697 9).
This book comprises statements by 47 thoughtful Canadians who oppose the Canada-U.S. free-trade agreement.
Read more...
---
Book Review

New star in the east
by Paul Stuewe
Janice Kulyk Keefer has a lot of nerve. Not only is she prolific - these two titles make a total of four books published during the last two years - she also dares to cross those traditions! boundary lines that keep most of us pinned within the conventional literary genres. Now I suppose we shouldn't be shocked by the fact that Transfigurations, her second collection of short stories, was preceded by a book of poetry.
Read more...
---
Interviews

What I didn't tell Sheila
by Josef Skvorcki
"No, I wasn't hallucinating. I offered to buy the king another drink and he accepted without hesitation." When I arrived at the Savoy Hotel in Kitchener just before noon the next day, the manager was off on another business trip, and the only physical trace of his presence was a photograph over the bar with a shiny brass plaque below it bearing the legend: DUSAN TRCKA, MANAGER, WELCOMES YOU AT THE SAVOY. Trcka might well have been an aristocrat.
Read more...
---
Interviews

Dany Laferriere
by David Homel
"I'm interested in resistance between cultures and in border crossings between them. It's the minority question seen in a new light." Haitian-born novelist Dany Laferriere's How to Make Love to a Negro was published in Quebec in 1985 (the English translation, published this month by Coach House Press, will be reviewed in our next issue.) That novel was followed by Eroshima in 1987, "tales of sex, memory and the bomb," in the author's own description.
Read more...
---
Essays

The future of our past
by Rick Salutin
Canada's peculiarly placid history has been difficult for writers, who wish it had all been more exciting. But now, after the free-trade deal, everything looks different - we may be living the last moments of that history I wish I had written this before the Tories signed their free-trade deal with the U.S. It would have been easier, far more . . . straightforward.
Read more...
---
Essays

ENGLISH, OUR ENGLISH
by Bob Blackburn
When the OED says, with British restraint, that a use is avoided by many writers, it obviously means good writers, although it is too polite to come right out and say that Since our last meeting, the cumbersome machinery of moving paper from one place to another has coughed up two weighty lexicons I had hoped to write about in the December issue.
Read more...
---
Essays

Authorial voices
by Ray Filip
Montreal's 1987 Salon du Livre in Place Bonaventure this November celebrated its 10th anniversary along with that of UNEQ (Union des ecrivains quebecois), the 500member writers' organization. The official opening ceremony brought together two of the city's most illustrious English and French authors. Michel Tremblay sat with folded arms at one end of the stage, while at the opposite end a bespectacled Mordecai Richter gazed on, looking engagingly bored.
Read more...
---
Moby Jane
by Gerry Gilbert
Coach House Press
268 pages $14.5 paper
ISBN: 0889103097

Prose/Poetry

POETRY
by D. FRENCH
Moby Jane is a whale of a title, but this collection has merely a fishy odour. Gilbert himself warns the reader, "when I write with ink I don't lose my mistakes." A major mistake is surely a piece about Karen Ann Quinlan "Zombie," which moves from "I bet your shit/ is lily white" to "take a stand/ & die Karen Ann." The puerility and speciousness of that tone permeates the book, which resists classification as poetry, or chopped prose, or experimental word-play.
Read more...
---
Prose/Poetry

Gwendolyn MacEwen 1941-1987
by Mary Di Michele
"You held out the light" It was John Keats and "La Belle Dame Sans Merci" that ignited my first interest in poetry. Read it aloud and even a child can summon the Muse. And it was John Keats who coined the phrase "negative capability," the ability of the poet to enter, to entertain, her subject. Gwendolyn MacEwen lived in fiery subjection to that Muse. She was an old soul. She had spiritual depth enough to become the other, to become T.E
Read more...
---
Opinion

The inputting of wisdom
by Mark Czarnecki
Computers have influenced how writers write, what they write, where they live, and how they are published. They have even changed writers' political opinions. And the end is not in sight. It's become such a cliche - when writers get together at a party, all they talk about is their computers, " says Linda Griffiths, with bemused resignation
Read more...
---
First Novels

Mysterios ways
by Janice Wyk Keefer
Could the Pulp Press three-day novel competition spark some embryonic writer on the road to Ulysses or To the Lighthouse? Yes, but such a writer would never make the deadline How does one respond to Hardwired Auger (Pulp Press, $6.
Read more...
---
Brief Reviews

SACRED & SECULAR
by MARY FRANCES COADY
Catholic feminists don't have an easy time of it. Oppressive. anti-female forces are not only built into the structure of Catholicism, but are also subtly pervasive in the mindset of the clergy; the more sensitive a woman becomes to them, the more alienated she becomes. Women deal with the problem in various ways. Some continue to struggle from within. Some become marginal Catholics or join "intentional communities" where they can express their faith in the midst of likeminded people
Read more...
---
Brief Reviews

HUMOR
by WAYNE JOHNSTON
Bartholomew Bandy, the hero (sort of) of The Bandy Papers, the dog-fighting, Ganderflying master of verbal excess, the member of that rare fraternity, the immodest Canadians, is back. In This One's On Me, the sixth volume of The Bandy Papers (three of the previous five have won the Leacock Medal for humour), Bandy's picaresque adventures take him to Iceland, then to England, then to various parts of the Middle East.
Read more...
---
Brief Reviews

SPORTS & LEISURE
by B.K. ADAMS
The first drop of the puck heralds the arrival of new hockey books in Canada and each printer the offering gets bigger and sometimes better. As with all sports, there are different species of hockey boots, and they are well represented in this sampling. Claude Mouton - head of public relations for the Montreal Canadiens - spins a bigformat, glossy history of his beloved Habs. Flush with photos of the Greats, the boot, is fat with records and statistics for the demanding fan.
Read more...
---
Brief Reviews

SPORTS & LEISURE
by B.K. ADAMS
In the past ten years, the biggest sporting story in Canada was the success of the "Crazy Canucks," those brash skiiers who hurled themselves down icy slopes in quest of the World Cup. For a few years, so it seemed, Canadians dominated the downhill; in the process, Ken Read and Steve Podborski became household names, national icons. Now in knee-mangled but youthful retirement, they compete once again, this time on bookstore shelves.
Read more...
---
Brief Reviews

SPORTS & LEISURE
by CYNTHIA M. SMITH
Starting this book is like dipping into a box of popcorn: you may think you can stop at any time, but in fact you can't untilevery morsel is devoured. Gratton's mordant wit arid lively journalistic style combine to expose life inside the White House of the North with amusing, acerbic, and occasionally touching revelations of the lives of Canada's Ken and Barbie of politics Brian and Mila.
Read more...
---
Brief Reviews

Maestro cappuccino
by Douglas Malcolm
Picasso once observed that he had spent most of his lifetime unlearning his formal education as a painter. If the Spanish master had ever been foolish enough to study for a doctoral degree, it's doubtful he would have found sufficient time is his 90-odd years to forget the experience. A great many writers these days have earned doctorates in literature - Hugh Hand, James Reaney, John Gardner, and David Lodge come to mind so it's not too surprising to discover traces of academe in their work.
Read more...
---
Brief Reviews

Fiction
by PAUL DENHAM
In "Coming to poetry," Stephen Hume offers several spectacular and intense images for poetic revelation, then concludes: But it was none of these things Only the click of a door opening. The dull lick of a door and beyond It a dusty yard. .A single chicken raiding dry milkweed, brittle as the blue Sky over gnarled juniper. Hume is not just an imagist, but this essentially imagistic aesthetic is the basis for his strongest and most effective poems.
Read more...
---
Coming Attractions 5
by edited by David and Maggie Helwig
Oberon
127 pages $12.95 paper
ISBN: 0887506798

Brief Reviews

Fiction
by D. FRENCH
The presentation of three "new" writers in Coming Attractions is an annual event, like Christmas, and this year's offering is cause for celebration. Charles Foran sets three stories in three different worlds, each made real by his imaginative powers. "Cat at the Door" balances reality and fantasy, offering the reader a soothing possibility for human connection as the protagonist massages a drunken woman to relieve some of the pains of alcohol poisoning
Read more...
---
Two Voices
by Bruce Edmundson
Oberon
68 pages $9.95 paper
ISBN: 0887506658

Brief Reviews

Fiction
by D. FRENCH
The narrator of the title story, an 18-year-old incarcerated for dealing LSD, hears a second voice in fellow-convict Silver's primarily unspoken seductive advances. In a floor hockey game, after the narrator has rejected him, Silver "swung his stick and smacked me square in the balls." The narrator spends the next day in his cell reading Madame Bovary. Unfortunately, the story peters out after that delightful absurdity and concludes with a commonplace, macho retaliation.
Read more...
---
Brief Reviews

Fiction
by D. FRENCH
In counterpoint to a cover illustration of a Don Johnson look-alike, hugely dressed to the right, the stories in Dianne Warren's The Wednesday Flower Man are feminist in the most basic (and most advanced) sense: the diversity of female experience is greater than the range of differences between men and women. "Weak Hearts" has Alex furious with wife Rose, who shows up at a wedding reception in an outfit both revealing and red. When she approaches him after the dinner, "it was too late.
Read more...
---
Mortal Sins
by Anna Porter
Irwin
271 pages $24.95 paper
ISBN: 0772516707

Brief Reviews

Fiction
by BERT COWAN
Whoever prepared the book jacket blurb has had the daring (or the temerity) to link Porter's name with those of the current great English ladies of crime, P.D. James and Ruth Rendell. It's an obvious sales ploy. A first reading indicates that there may be a case for it - and what novel of this genre deserves, or gets, more than a first reading? Yet niggling doubts creep in. Upon reflection, the characters and plot elements may seem not to fall into place quite as easily as they should.
Read more...
---
Brief Reviews

THE PAST
by RON PHILLIPS
The story of the great gold discovery north of Lake Superior that has come to be known as Hemlo, after the nearest small railway station, has many fascinating aspects. Hemlo is, after all, the richest gold strike ever made in the Western hemisphere. When you add the David-and.Galiath story of little Corona Resources of Vancouver taking on Lac Minerals Ltd. For the ownership of one of the world's richest mines, you get one of the best stories of the decade.
Read more...
---
The Story of English
by Robert McCrum, William Cran, and Robert MacNeil
BBC (Penguin Canada)
384 pages $16.95 paper
ISBN: 0142002313

Brief Reviews

RERUNS
by BERT COWAN
Since this is such a big, sprawling book about such a big, sprawling subject, it's hard to go into much detail about what It is and what it accomplishes; it is possible to say that it's as good a read as a gripping novel. Yet, one can also browse in it with pleasure, at random. As a companion to the television series, which it declares itself to be, it points up weaknesses and strengths in both versions
Read more...
---
Brief Reviews

SPORTS & LEISURE
by JACK MACLEOD
The subtitle of this book is "Politics and Patronage in the Mulroney Government." What a juicy subject. As a journalist, Hoy is known for invective and diatribe, aimed particularly at feminists, pinkos, and gays. Will he flay Brian with the same lash? Yes. And will the result be a rip-snorting read? No. In short bursts Hoy can dish the dirt with the best, but to sustain the reader's attention through a long volume requires more than nose-thumbing and nastiness.
Read more...
---
Great Authors

George Ryga 1932-1937
by John Juliani
A writer's politics are not usually the some in values or scope as a society's. That is why so many writers in so many countries have been, are, and always will be, political prisoners or exiles. (Peter Hay, Canadian Theatre Review, 1979) George Ryga was never exiled, or forced to spend time in prison for his political beliefs. He didn't have to leave Canada to feel like an outcast.
Read more...
---