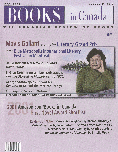 Note from Editor

Editor's Note
by Olga Stein
We are proud to publish once again a shortlist of first-time Canadian novelists nominated for the Amazon.com/Books in Canada First Novel Award. This year's shortlisting of authors deemed by Books in Canada to have penned the most outstanding debut novels of 2001 is the 25th time such a list has been drawn up
Read more...
---
Book Review

Sins and Sisterhoods
by Clara Thomas
The Divine Economy of Salvation, Priscila Uppal's first and outstandingly successful novel, brings together two well-worn subsets of fiction: stories of teenage girls in a boarding school, and of nuns in a convent. "My name was Angela H. then. You may remember me," Sister Angela begins, a nun of twenty years' standing in a small and impoverished convent.
Read more...
---
Book Review

Drama Jamaican-Style
by Irene D'Souza
Molly Galloway, the sleek heroine and narrator of this debut novel by the widely recognized editor and co-founder of Sister Vernon Press, is a horticulturist, living in Toronto, having arrived from Jamaica in 1971. Makeda Silvera's elegiac story about the disruption of emigrant families and the durability of childhood memories is sure to garner her attention as a writer first and foremost.
Read more...
---
One Man at a Time
by Elizabeth Simpson
Macfarlane Walter & Ross
295 pages $22.99 paper
ISBN: 1551990857

Solitaire
by Marian Botsford Fraser
Macfarlane Walter & Ross
295 pages $36.99 cloth
ISBN: 1551999644

Book Review

Women Wander About Love
by Jana Prikryl
Solitaire and One Man at a Time call to mind a pair of unlikely girlfriends who are close precisely because they have so little in common. Both titles bring fresh meat to that crammed, contentious shelf in the bookstore, women's studies, where today it seems a legion of well-meaning authors variously advise females to cleave to their husbands, embrace their libido, or follow their dream.
Read more...
---
The Grim Pig
by Charles Gordon
McClelland and Stewart
259 pages $34.99 cloth
ISBN: 0771033974

Book Review

Superbly Barbed Roman a Clef
by Gerald Lynch
P arker MacVeigh, a jaded newspaperman who has sworn off booze and cynicism, is almost too weary to want better for the world and himself: "I was pushing fifty and wanted to survive another ten years, maybe seven, and retire honourably, with enough money saved to buy a place beside a lake, where I could hang out in a canoe, play some golf, get a dog. I wanted to survive more or less peacefully, with minimum stress.
Read more...
---
Book Review

George Szanto talks of Mexico and his Trilogy
by Nikki Abraham, Olga Stein
by Olga Stein The Condesa of M. is an absorbing tale within a tale. The tale within is of a ranch-owning Mexican noblewoman, Rita, an irregular beauty, and a woman of intelligence, remarkable intuition, and an uncompromising sense of Justice. Her beloved husband dies unexpectedly but comes back as an other-wordly presence to watch over her, give her practical advice and to note with all-seeing eyes how those around his living wife and children conduct themselves.
Read more...
---
Home Truths
by Mavis Gallant
McClelland & Stewart
378 pages $18.99 paper
ISBN: 0771032927

Book Review

The Poetics of Dislocation
by David Ingham
When a Canadian literary icon publishes a new work, the first question for the reviewer is "How does this work stand up to this writer's earlier work?" When the work of such a writer is re-released after twenty years, however, the question changes to "How well has this work stood up over time?" For Mavis Gallant's Home Truths, which was first published in 1981 and won the Governor-General's Award for fiction that year, the short answer is "Quite well, thank you.
Read more...
---
Book Review

Cars, Trains, and Standard Yiddish
by Michael Greenstein
"Vos hokst du mir a chinik," the Yiddish equivalent to Shakespeare's "brevity is the soul of wit," translates literally as "why are you banging pots," in its plea for an end to loud long-windedness. This concern for the pithy over the prolix explains the Jewish affinity for the short story in such masters as Bernard Malamud and Isaac Bashevis Singer, whose shorter fictions are arguably superior to their novels.
Read more...
---
Book Review

Crime and Consequence
by Nathan Whitlock
There is a great deal of good news and bad news in this, Joan Barfoot's ninth novel. The book begins with bad news¨the worst news of the book, in fact. Isla, a middle-aged partner in an advertising firm, heads into town with her second husband, Lyle, to get celebratory ice creams cones in honour of Lyle's successful attempt at lowering his cholesterol. Lyle waits in the truck while Isla goes in for the cones, stepping right into the middle of what appears to be an armed robbery.
Read more...
---
Desirable Daughters
by Bharati Mukherjee
HarperFlamingo Canada
310 pages $34.95 cloth
ISBN: 0002005158

Book Review

Places Prone to Upheaval
by Padma Viswanathan
Bharati Mukherjee once said in an interview that she is a great fan of James Ellroy, the master of hardboiled LA crime fiction. She acknowledged that it might seem strange that "a very demure Indian lady sees James Ellroy as a kindred literary spirit." It might seem less strange now. Desirable Daughters, Mukherjee's newest novel, is classifiably noir. The story is propelled by a threat, possibly from Indian mafiosi, against innocent but wealthy targets.
Read more...
---
Book Review

Deconstructing the Phallus
by Matt Sturrock
To read a cultural history of the penis is to delve into humanity's most depraved pursuits: rape, genocide, pederasty, self-mutilation. To those who might have spotted A Mind of Its Own in the book store and picked it up for its lurid entertainment value (one imagines the gaggle of teens giggling as they flip to the photos insert, or the anxious loner surreptitiously scanning for the "size" entry in the index), be warned: this is a heavy and scholarly tome.
Read more...
---
A Good Life
by Frantois Gravel
Cormorant Books
311 pages $29.95 cloth
ISBN: 1896951341

Book Review

The Not-So-Simple Good Life
by Robert Allen Papinchak
Francois Gravel's engaging family saga, A Good Life, translated by Sheila Fischman, defines the nature and value of its title in the simplest terms. It means creating jobs, supporting families, and bringing up children. At least that's what Louis Fillion believes. Louis is the patriarch and main character of the biographical story narrated by one of his sons, Benoit. A better title for the novel might have been Fillion, FrFres & Sons & Daughters.
Read more...
---
Book Review

Bewitchingly Beautiful Women
by Gordon Phinn
About thirty years ago, an era now rendered almost antique by the arrival of cell phones and the internet, I was gainfully employed by the Ontario Ministry of the Environment as a mobile technician in the noble battle against airborne pollutants. A white knight in the crusade against the dragons of lead and asbestos, I daily drove the length and breadth of what we now call the GTA, maintaining equipment and daily logs.
Read more...
---
Book Review

Paul Gauguin and his Sensual Creations
by Christopher Ondaatje
Paul Gauguin (1848-1903) was living in the French colonial capital Papette on the island of Tahiti, when Sigmund Freud published his first major psychoanalytic treatise, The Interpretation of Dreams, in 1899.
Read more...
---
Crow Lake
by Mary Lawson
Knopf Canada
291 pages $34.95 cloth
ISBN: 0676974791

Book Review

Pond Life as a Microcosm
by Kathryn Kuitenbrouwer
Crow Lake is a simple, feel-good novel set some five hours north of Toronto by a fictitious lake, amid the blackflies, the impoverished, the abusers and the Bible thumpers. Kate Morrison is our narrator and like her father not much of a storyteller; she meanders and repeats, she tells instead of shows, she is blind in obvious ways and uncannily astute in obscure ways
Read more...
---
Book Review

The Tough Old Days
by B. Glen Rotchen
My father has a framed blow-up photograph prominently displayed on his office wall. The image was taken in the mid-1950s. A group of men and women are propped on ski poles huddled together high atop a Swiss peak. The long-legged woman in front is wearing the latest spandex ski-fashion, her lips are pasted bright white, a tall fur hat is perched bird-like on her head.
Read more...
---
Book Review

Before Shtrosers and Blintzkreigers
by Kenneth Sherman
Has any language been so loved and despised as Yiddish? To some, its harsh gutturals and singsong cadence mark it as the crude and mongrel tongue of a bizarre and outcast people. To others, its affectionate diminutives and ironical expressions speak of a unique and irreplaceable culture. Miriam Weinstein, in her informative and entertaining book, traces the growth and demise of this language whose history is as interesting as the people who spoke it.
Read more...
---
Duty and Passion
by Manny Drukier
Lugus Publications
326 pages $25 paper
ISBN: 1896266967

Book Review

Survival as Duty
by Linda Davidson
The title highlights the themes that drive both the story line and the anti-hero Armand Wczesny. Conventional wisdom teaches that duty and passion are mutually exclusive, yet they inextricably intertwine in Armand's universe. The present is the milieu of Holocaust survivors attempting to normalize their lives and relationships. The past intrudes on this present even when it is not insinuating itself as graphic images and tragic undertones.
Read more...
---
Book Review

Bulgaria and its Jewish Citizens
by Nancy Wigston
In the parade of horrors that marks the twentieth century, the Holocaust represents an until-then unimaginable nadir. Of all the countries living under German domination, only two, Denmark and Bulgaria, provided collective protection to Jews. Most of us are familiar with the heroic figure of the Danish king, who appeared with the yellow star sewn to his clothes after Jews had been ordered to do so, but far fewer know what happened in Bulgaria.
Read more...
---
Book Review

To Life and Success
by Bill Gladstone
One evening some months ago, a crowd of about 600 people gathered in Toronto's Adath Israel Synagogue for the launch of Rabbi Erwin Schild's latest book, The Very Narrow Bridge: A Memoir of an Uncertain Passage. The hall in the synagogue was packed (standing room only) as the rabbi delivered a short talk, and a fond horde queued up afterwards to buy copies of his book and have them autographed.
Read more...
---
Book Review

The Blacker the Berry
by James Allan Evans
Pic. Lawrence Hill Most Canadians would deny it, but we have a covert fondness for hurting each other. I have vivid memories of my own transition from professor at McMaster University to the University of British Columbia. The British Columbians I encountered wanted to know where I came from. Lawrence Hill notes this Canadian oddity in Black Berry, Sweet Juice: we want to place the Canadians we meet in their proper slots. Hill finds it annoying, and it is. But I owned up
Read more...
---
Book Review

With Age Comes Wisdom
by Gloria Hildebrandt
We need more work like Joan Bodger's A Crack in the Teacup: The Life of an Old Woman Steeped in Stories. There is a need in society, especially among women, for more role models of powerful, female old age, instead of the Hollywood-type avoidance of older women, or worse, its flights from reality into surgical versions of maturity. Joan Bodger's autobiography traces the evolution of a wise woman.
Read more...
---
STET
by Diana Athil
Granta
250 pages $29.95 cloth
ISBN: 1862073880

Book Review

An Editor's Memoir
by Clara Thomas
Stet is the proof-reader's word for "let it stand". Diana Athill's STET is a well-named example of the kind of publishing memoir that we sadly lack in Canada. Now eighty-seven, she was a co-founder of AndrT Deutsch Limited and its chief editor throughout decades of success until its sale in 1985. During WWII she had worked in the Overseas News Service of the B.B.C.
Read more...
---
Essays

Mavis Gallant and a Literary Grand Prix
by T. F. Rigelhof
One could say¨and many did¨that Mavis Gallant's appearance at Metropolis Bleu Festival LittTraire International de MontrTal (April 3 at 7) to receive the $10,000 Blue Metropolis Literary Prize was "a triumphant return" to the city in which she was a child and where she became a woman.
Read more...
---
Essays

Literary Journeys' End
by Paul Clements
In early autumn the British press carried a series of profiles and articles on the internationally renowned travel writer, Jan Morris. It was a landmark occasion in the English literary world as it was Morris's last book and its publication was timed to coincide with her seventy-fifth birthday. The critics lamented her decision to retire and letters of regret flooded in from her admirers.
Read more...
---
Essays

On Being a Jew
by David Solway
When I was five years old I was dragged off the street by our Catholic neighbour, stood before a picture of the suffering Christ which hung on her living room wall, and accused of murdering the poor bastard. I assured her as best I could that the man I had apparently offed was a complete stranger to me
Read more...
---
Prose/Poetry

Recollecting Eli Mandel
by Chris Jennings
Just over ten years ago, Essays on Canadian Writing devoted a double issue to the work of Eli Mandel. Julie Beddoes introduced the mix of memoirs and essays with a sense of embarkation, writing that "[i]t will be fascinating to see, over the next few years, where the valuable new work on Mandel will be located, and which, if any, of the theoretical directions taken here will come to govern future critical storytelling." Her fascination has met with little more than silence.
Read more...
---
Prose/Poetry

Happy Shipwreck
by Ada Donati
Joe Rosenblatt has been writing poetry since the early sixties. He is the author of over a dozen volumes of poetry and received The Govenor-General's award for poetry in 1976 for Top Soil (Press Porcepic) and The B.C. Book Prize in 1986 for Poetry Hotel, Selected Poems 1963-1985 (McClelland and Stewart). His poems have been translated into Italian by Prof.
Read more...
---
The Exile House
by Erling Friis-Baastad
Published by Salmon Publishing
60 pages $15.99 paper
ISBN: 1903392144

Prose/Poetry

Laughable Miracles and Other Poems
by Alex Boyd
Pic. Erling Friis űBaastad The inventor of Champagne apparently said, "Come quickly¨I am tasting stars." Clearly we are at our most expressive in everyday language when we stumble across a fresh way to say something. Poets are among those people who value and constantly search for new ways, and good poet attempt to communicate more through less.
Read more...
---
Viriditas
by Peter Levi
Anvil Press
72 pages $10.95 paper
ISBN: 0856463510

Prose/Poetry

A Blind Poet Captures Stillness
by Richard Greene
I last saw Peter Levi in a laneway near the Bodleian Library in Oxford, I think in 1989. He was unsteady, looking in various directions, apparently unable to make his way in a place where he had spent most of his life. I was surprised to see him like this and called out. He seemed pleased to hear a voice he recognized but did not look precisely in my direction. He said, "I've lost my eyesight, temporarily. I am going to buy shoe-laces in the Turl. Will you walk with me.
Read more...
---
Up Front

Congratulations from Amazon.com
by Steve Duda, Tom Nissley
2001 was a remarkable year for first novels in Canada. Half of the novels nominated for the Giller Prize were debuts, as were some of the other most talked-about books of the year¨Dennis Bock's The Ash Garden was the first name on every literary journalist's tongue for most of the summer and fall, it seemed. So it's no surprise that W.P. Kinsella has been able to choose such a strong and varied shortlist for the Amazon
Read more...
---
Opinion

by Michael Taube
Most people have probably heard of self-published books. Perhaps they have read one in their lifetime. If not, here's a quick explanation: would-be authors pay a set fee to a publishing house or printing company to run off copies of a book for future release in a bookstore. The author of a self-published title has to make arrangements for the following: art for the cover page and inside pages, an ISBN number, and a deal with a bookstore to carry said work for a specified amount of time.
Read more...
---
First Novels

First Novels
by W.P Kinsella
Strong Hollow by Linda Little (Goose Lane Editions, 280p, $19.95, ISBN: 0864923082). Jeeter Lester of Tobacco Road would feel right at home in Strong Hollow, a backwoods Nova Scotia hole where booze, cigarettes, sex, and avoidance of work and birth control are life's priorities.
Read more...
---
Children's Books

Children's Books
by Jeffrey Canton
Hana's Suitcase is simply a remarkable book, and behind it is a remarkable story. Reading a tiny article in The Canadian Jewish News about Fumiko Ishioka's worldwide search to trace the origins of a suitcase that she had received on loan from the Auschwitz Museum for exhibition at the Tokyo Holocaust Education Resource Centre inspired writer Karen Levine to produce her CBC Radio documentary "Hana's Suitcase".
Read more...
---
Green Cat
by Dayal Kaur Khalsa
Tundra Books
32 pages $18.99 cloth
ISBN: 0887765866

Children's Books

Children's Books
by Joanne Schwartz
Having languished somewhere in her publisher's offices, the manuscript of Dayal Kaur Khalsa's Green Cat appears more than a decade after her death. Khalsa has retold a famous folktale, known best in its Jewish version, "It Could Always Be Worse". Khalsa makes her telling uniquely her own by setting it in the context of a modern family story. A brother and sister complain about sharing a room
Read more...
---
Children's Books

Children's Books
by Jeffrey Canton
The spring is always an exciting season for children's books¨we'll be hearing lots of news of the major Canadian children's literature awards including the Ruth Schwartz Children's Book Award, the Canadian Library Association's Book of the Year for Children and their Young Adult Book Award, the Silver Birch Award and the Bilson Award for Historical Fiction for Young People.
Read more...
---
Children's Books

Children's Books
by Theo Heras
In this day and age when parents are concerned with their children's safety and outdoor play is closely monitored, when and how do children experience adventure, test their mettle and exercise their imagination? One place might be in books. While I wouldn't argue that this vicarious alternative is the best or only venue, books can be wonderful and magical places to go.
Read more...
---
Children's Books

Children's Books
by Karen Krossing
Award-winning authors Karleen Bradford and Carol Matas have written the latest in the Dear Canada series of fictional diaries, which began last year with Sarah Ellis's Prairie as Wide as the Sea and Jean Little's Orphan at My Door. Each of these beautiful imitation diaries includes a ribbon bookmark and historical notes and photos.
Read more...
---
The Dollmage
by Martine Leavitt
Red Deer Press
196 pages $9.95 paper
ISBN: 0889952337

Children's Books

Children's Books
by Gillian Chan
It would be hard to imagine a more dramatic opening line than, "My people lay down your stones." Martine Leavitt starts her magnificent new novel, The Dollmage, in this way, metaphorically gripping her readers by the throat, a grip she never loosens until the whole sorrowful tale of two magically gifted girls in the village of Seekvalley is brought to its inevitable, and horrifying, close. Seekvalley is an isolated village in a world where magic holds sway
Read more...
---
This is Me
by Stephanie Craig
Penguin/Viking
158 pages $13.99 cloth
ISBN: 0670912131

Children's Books

Children's Books
by Gillian Chan
This is Me, Stephanie Craig's debut novel, at first reading appears to contain many of the elements that have become tired and rather stereotypical in novels aimed at young teenagers: a protagonist whose search for identity drives the story, a dysfunctional family, a mixed bag of adults, some helpful and nurturing, others controlling and confusing, and, finally, the vicissitudes of first love.
Read more...
---
First Novel Award

2001¨World Class Contenders
by W.P. Kinsella
The Amazon.com/Books in Canada First Novel Award Shortlist The difference between 2000 and 2001 is that in 2000 I didn't have to read and review the bad novels. At the end of the year I was presented with a huge box of books and asked to come up with a short list. I was able to abandon the clunkers after 50 or 100 pages. This year I had to read and REVIEW the good, the bad, and the ugly. I am surprised that there were so many truly bad novels.
Read more...
---