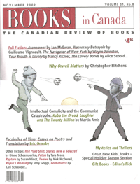 Note from Editor

Editor's Note
by Olga Stein
Yann Martel is no longer just a promising young author. With Life of Pie, his second novel, he has earned himself this year's Man Booker Prize. He is only the third Canadian to win this prestigious award for literature written in English (Michael Ondaatje won for The English Patient in 1992, and Margaret Atwood for The Blind Assassin, in 2000)
Read more...
---
Atonement
by Ian McEwan
Knopf Canada
371 pages $34.95 Cloth
ISBN: 0676974554

Book Review

Undone by a Note
by Andy Lamey
When Cyril Connolly launched his famous literary magazine Horizon in 1939, it impressed the entire English literary world¨except Virginia Woolf. She ensured that posterity would record a significant dissenting note at the birth of Connolly's journal when she harrumphed in her diary, "Horizon out; small, trivial, dull. So I think from not reading it.
Read more...
---
Book Review

Rich and Varied Texture
by Michelle Ariss
Nancy Richler's Your Mouth is Lovely is a fine example of the type of writing that Rhea Tregebov called for more than a decade ago in "Some Notes on the Story of Esther." Published in the feminist anthology entitled Language in her Eye¨Writing and Gender (1990), Tregebov's essay urges Jewish women writers to write "consciously," to tell their own stories and to let their writing grow to be "an assertion of our difference and a refutation of the otherness imposed upon us.
Read more...
---
The Lovely Bones
by Alice Sebold
Little, Brown
328 pages $29.95 cloth
ISBN: 0316666343

Book Review

Adolescent Afterlife
by Gordon Phinn
In the fall of 1999, when the film The Sixth Sense was so suddenly and hugely successful, National Post columnist Len Blum, in one of his weekly columns, sought to grasp the movie's remarkable word of mouth reputation. While thinking that it obviously connected with our innate sense of unworthiness and fear of failure, he felt its major magic was to "tap into our desire to commune with loved ones who have died, to tell them we love them, to resolve things left unresolved.
Read more...
---
Book Review

Revered Genre Subtly Subverted
by Jack Illingworth
Necessary Betrayals is the English-language debut of Montrealer Guillaume Vigneault. It is a translation of Vigneault's second novel, Chercher le vent, a refreshingly original road novel that is blessed with exceptional emotional intelligence but occasionally marred by moments of excessive melodrama. Vigneault's narrator is Jacques "Jack" Dubois, a professional photographer and former bush pilot who is just entering middle age.
Read more...
---
Twelve
by Nick McDonell
Publishers Group West
244 pages $37.95 cloth
ISBN: 0802117171

Book Review

Wealth, Ennui, Slaughter
by Matt Sturrock
What immediately strikes the reader upon picking up Nick McDonell's first novel, Twelve, is that the publisher was able to wrangle a cover blurb from reclusive gonzo giant Hunter S. Thompson. That Dr. Thompson postponed his own important work¨that of ingesting LSD and firing large calibre tracer bullets at the empty Jim Beam bottles lining his fence¨in order to read McDonell's book and then dictate a message to a courageous assistant is in itself impressive.
Read more...
---
Book Review

A Century of Sunsets
by T. F. Rigelhof
Two men meet on a Moscow street corner in 1951. Ivan asks, "Comrade, how are you?" Igor answers, "Better than tomorrow." If you don't get the joke, you have good reason to read Martin Amis's Koba the Dread. If you have no idea that telling such a joke killed (literally¨the secret police were bleakly humourless) in Russia in 1951, you have even better reasons for reading this book.
Read more...
---
Book Review

Gift Books ű Editor's Pick. Photography
by Olga Stein
Roberta Bondar was the first Canadian woman astronaut to fly aboard the space shuttle Discovery. She is a neurologist, a scientist and pilot, and with this book she proves she's an excellent photographer. She captures scene after breath-taking scene in this book about the natural beauty of Canada. Facing each full-page photo there's a quote from a recognized artist, writer, musician or otherwise distinguished person, but the quotes are completely upstaged by the magnificent images.
Read more...
---
Book Review

Trusted Lawyer¨J.L.Cohen
by John Peppall
Pic J. L. Cohen J. L. Cohen was one of the most prominent labour lawyers in Canada before the present regime of collective bargaining was established in the middle of the last century. He played an important role in establishing that regime, working with both the Ontario and Dominion governments. He also acted for a number of Communists in trouble with the law.
Read more...
---
Book Review

Cook and Son: Race to a Shifting Destination
by Linda Morra
Nominated for this year's Giller Prize, Wayne Johnston's finely wrought sixth novel, The Navigator of New York, is loosely based on the historical polar expeditions of Dr. Frederick A. Cook and Commander Robert Peary, and the controversy in the early twentieth century that arose over their competing claims to have been the first to reach the North Pole. Yet, at a crucial moment in the novel, Dr.
Read more...
---
Rapture
by Susan Minot
Knopf
116 pages $27 cloth
ISBN: 0375413278

Book Review

Phallus Seize
by Michael Greenstein
The central characters in Susan Minot's Rapture, Benjamin Young and his lover Kay Bailey, are engaged in the act of fellatio throughout the course of this intelligently paced novel. Centrifugal and centripetal forces are at work (and play) between the minds and erogenous zones of these lovers, and the narrative dialogue that ensues creates a comforting distance between partners and readers.
Read more...
---
Book Review

Rolf Jacobsen Provides Safe Passage Beyond
by Erling Friis-Baastad
Scandinavian poetry has only slowly come to be appreciated in Canada; that's probably because of a former dearth of good and readily available translations. Certainly Canadians must empathize with the Scandinavian experience, considering how much they have in common: climate and terrain, small population and large, even threatening, neighbors. Their prehistoric legends include ravens and wolves, bears and northern lights
Read more...
---
Book Review

Why the Glass Wall is There
by Judith M. Newman
Twenty-five years ago Frank Smith wrote an article which appeared in the Harvard, Educational Review "Making Sense of Reading¨and of Reading Instruction" in which he argued children must have two fundamental insights before they can learn to read: 1. print is meaningful, and 2. written language is different from speech.
Read more...
---
Book Review

Theatre by Keith Garebian
by Keith Garebian
King Lear by William Shakespeare Directed by Jonathan Miller The Festival Theatre, Stratford, August 20-November 6, 2002 "Jonathan Miller has elected to stage the tragedy on an empty stage
Read more...
---
Book Review

Insight-Full Anthology
by Alex Boyd
The Moosehead Anthology and Matrix magazine¨both the result of "one of the periodic flourishings of English language literary culture in Quebec"¨come together in Moosehead Anthology num 8: The Matrix Interviews, a collection of sixteen interviews edited by R.E.N. Allen and Angela Carr. The style of the book is unpretentious, using a patchwork of portraits as its cover.
Read more...
---
Arms
by Madeline Sonik
Nightwood Editions
177 pages $24.07 paper
ISBN: 088971181X

The Originals
by L. E. Vollick
DC Books
260 pages $22.03
ISBN: 0919688497

The Khaki Angel
by Danny Evanishen
Ethnic Enterprises
141 pages $11.95
ISBN: 0968159680

Swimming in the Ocean
by Catherine Jenkins
Insomniac Press
161 pages $19.95
ISBN: 1894663179

Falling backwards
by James Eke
Ekstasis Editions
210 pages $19.95
ISBN: 1896860982

Book Review

First Novels by W.P Kinsella
by W. P. Kinsella
The Khaki Angel, by Dave Williams (Ethnic Enterprises, 141 pages, ISBN: 0968159680), is a small novel from an unknown press that does everything wrong but still manages to tell an entertaining, suspenseful story because the author instinctively understands the basic tenet of all novel writing: a likable character strives against great odds to achieve a worthwhile goal.
Read more...
---
The Trade Mission
by Andrew Pyper
HarperFlamingo
293 pages $34.95 cloth
ISBN: 0002005085

DreadfulWater Shows Up
by Hartley GoodWeather
Harper Flamingo Canada
234 pages $32 cloth
ISBN: 0002005107

That Sleep Of Death
by Richard King
Dundurn
304 pages $11.99 paper
ISBN: 0888822294

Death on the Rocks
by Eric Wright
Dundurn
271 pages $19.99 paper
ISBN: 1550023810

Haudenosaunnee
by Don Atkinson
Trafford
232 pages $26.74 paper
ISBN: 1552126811

The Holy
by Daniel Quinn
Context Books
419 pages $24 paper
ISBN: 189395630X

Heads You Lose
by Martin S. Cohen
Ekstasis Noir
314 pages $19.95 paper
ISBN: 1896860931

Book Review

Mysteries and Thrillers
by Robert Allen Papinchak
Amateur detective Sam Wiseman seems to have the perfect day job for investigative talents in Richard King's engaging first novel, That Sleep Of Death (Dundurn, 304 pages, $11.99, paper, ISBN: 0888822294). Sam sells books in the vicinity of McGill University. A good bookseller appears to have the same skills as a good detective¨ "clever questioning, an ability to absorb and retain details about lots of different books, intuition, and sometimes inspired guesswork.
Read more...
---
Book Review

Unsustainable Growth in Orbit
by Patrick R. Burger
One of the things that immediately strikes the reader of Schroeder's second science fiction novel, Permanence, is its classic science fiction style. Classic because it is reminiscent of 50s SF when exciting ideas were carried by strong storytelling that eschewed stylistic adornment.
Read more...
---
Book Review

Your Red Plaid Shirt
by K. Gordon Neufeld
"If a story is not to be about love, then I think it must be about fear." These are the opening words of "The Look of the Lightning, the Sound of the Birds", one of 21 stories in Diane Shoemperlen's meaty new collection. Indeed, many of this author's stories are about love, but fear and insecurity are rarely absent, though masked by a dry and supple wit.
Read more...
---
Book Review

Hellenic Beguilement (Or A Jest of the Gods)
by David Solway
What struck me most forcefully about the island of Patmos when I revisited last summer was not the towering Monastery of St. John or the famous apocalyptic grotto (where the Book of Revelations was not written) or the sprawling waterfront village with its liveliness and colour or the wide sweep of its many inviting beaches, but the character of its inhabitants.
Read more...
---
Book Review

The Art of Complaining about Travel
by Jason Brown
I was once so impressed and heartened by a small piece of Alain de Botton's writing, in which John Ruskin and Goethe were invoked to help him weather a breakup, that I clipped it and tucked it into my desk drawer for a rainy day. What worked so refreshingly well was the juxtaposing of the lonely and drab details of an acute personal crisis with an epiphany Ruskin had while taking shelter from a thunderstorm in the woods.
Read more...
---
Book Review

Gift Books ű Editor's Pick. Music/Biography
by Olga Stein
Glenn Gould was born in Toronto, on September 25, 1932 to parents Bert and Florence Gould. His musical talents were noticed at an early age, and his mother began to teach him when he turned three. Gould studied at the Toronto Conservatory of Music from 1942-6. Tim Page writes, in his Introduction to this delightful and touching collection of photos that Gould's professional career began in 1945, when "he played Bach, Mendelssohn and Dupuis on the organ in Toronto's Eaton Auditorium.
Read more...
---
Book Review

Polished Erudition Without Airs
by Christopher Wiseman
Eric Ormsby is best known for his carefully crafted and sophisticated poetry, the most recent collection of which, Araby, appeared in 2001. However, he has long had a high reputation, especially in the United States, for his graceful, shrewd and wide-ranging reviews, most of which have distinguished the pages of the consistently top-quality journal The New Criterion.
Read more...
---
Book Review

Artfully Driven Poetics
by Patrick Watson
The intriguing Starnino/Tisserand arguments over Christian B¸k's Eunoia (Books in Canada, Sept 2002) reminded me that this clever but vacuous stunt had actually won the Griffin prize for poetry. Regrettably B¸k displaced at least one contender whose words evoke experience, feelings, literary echoes, and gusts of meaning and light: Karen Solie's Short Haul Engine.
Read more...
---
Darkness and Silence
by Tim Bowling
Nightwood Editions
78 pages $22.93 paper
ISBN: 0889711755

Downriver Drift
by Tim Bowling
Harbour Publishing
254 pages $21.12 paper
ISBN: 1550172204

Book Review

A River and Surrounding Life
by Diana Fitzgerald Bryden
Pic Tim Bowling As a poet, Tim Bowling has undeniable gifts: lyric strength, directness, musicality, and a confident sense of gesture. He has an inclination towards too-useful archetypes (strong, silent fathers; the mystery of feminine wisdom), but can usually keep that in check. In his most recent collection, Darkness and Silence, I hear the influence of Yeats, more than anyone. Not mystical, spirit-tapping Yeats, but the grave, grand, sombre poet who believes in simplicity
Read more...
---
Book Review

A Violence From Within: Wallace Stevens and the Poet's Mission
by Kenneth Sherman
In the spring of 1941¨amidst grim news issuing from the European theatre of war¨Wallace Stevens delivered a lecture at Princeton University called "The Noble Rider and the Sound of Words" in which he made an elegant and passionate attempt to deal with poetry's relationship to reality. How, Stevens asked his audience, ought poetry and art in general to deal with the onslaught of extreme events? It is a question that was on my mind one year ago as I watched the World Trade Center crumble.
Read more...
---
Book Review

Iris Murdoch: Her Life and Thought
by Sheila Mason
Influential women philosophers are as rare as hen's teeth. Or used to be. Things are changing now, in part because of Iris Murdoch's writings on moral philosophy and because of her fascination with the inner struggles with good and evil of reflective people, a recurring theme of her twenty six novels.
Read more...
---
Book Review

The Varian Fry Story
by Sharon Abron Drache
Historical biography about individuals who have penned their own memoirs, and who are professional writers themselves is a challenge, especially so when the subject is Varian Fry (1907-1967), an unsung World War II hero. Biographer Shirley Isenberg might have had a reasonably straightforward task had Fry not decided to substantiate his antifascism writings by visiting Berlin in the summer of 1935, where he witnessed firsthand Nazi stormtroopers beating Jews in the streets.
Read more...
---
Book Review

Lessons From An Old Disaster
by Malcolm MacLeod
The Halifax explosion of December 1917 made a huge hole in the history of families and community at the East coast capital. Eighteen hundred died. Approaching so calamitous a crater, it is not surprising that writers have found it difficult to trace more than a portion of its circumference. Eighty-five years later, we are still waiting for an account that is thoroughly comprehensive, reliable and definitive.
Read more...
---
Book Review

Letter From London by Marius K. Lunar
by Marius Kociejowski
Lunar As I turned the corner of the street a couple of nights ago I had a big surprise. The full moon was neatly suspended from the hook of a giant crane. I have heard since that this was the brightest it has been since records began and certainly, had I owned a pair, I might have put on sunglasses. My sublunary source, a friend of ours called Annie, is a midwife and she can testify that at the hospital where she works there was all manner of heightened nocturnal activity.
Read more...
---
Fetish
by Tara Moss
HarperCollins
306 pages $29.95 cloth
ISBN: 0002005190

Book Review

Killer Fetishist
by Cindy MacKenzie
I was tipped off about Tara Moss, a new Canadian author, by a bookseller in North Vancouver as someone I had to read¨someone whose work was 'over the top.' As soon as I read the book and started researching the author, I realized what he meant. Born and raised in Victoria, B. C., Moss is a top international model who now resides in Australia.
Read more...
---
Rogue's Wedding
by Terry Griggs
Random House
292 pages $34.95 cloth
ISBN: 0679311440

Book Review

Wedding Night Jitters
by Kathryn Kuitenbrower
Rogue's Wedding is preposterous. On purpose. Griffith Smolders, chased by a ball of lightning in his hotel room on the night of his wedding, suspects an omen and takes off to save his life from the beautiful and forthright Avice Drinkwater, who is naked and waiting in the next room. The setting is London, 1898. Grif heads north on an unlikely odyssey in an attempt to escape his fate.
Read more...
---
Why Orwell Matters
by Christopher Hitchens
Basic Books
211 pages $37.95 cloth
ISBN: 0465030491

Book Review

Why Hitchens Matters
by Shaun Smith
Call me a pessimist, but I once hurled a copy of Wallace Stegner's novel Crossing to Safety across a room because I simply could not believe the good fortune of its characters. A maxim when writing fiction: readers will readily accept events that spell disaster for characters, but will question anything that turns events to their favour.
Read more...
---
Book Review

Gift Books ű Editor's Pick. General Knowledge
It's said that a picture is worth a thousand words. The truth of the statement is amply evident in the pages of the Firefly Visual Dictionary. The book is itself beyond verbal description. It's absolutely stunning, with 6,000 color images depicting entire disciplines and what falls within.
Read more...
---
Book Review

Gift Books ű Editor's Pick. Art/History
by Olga Stein
A full review of this book will be appearing in the December issue, so I won't go on at length here. Suffice it to say that this is a handsome, coffee-table-sized book with superb color reproductions of Thomson's best known and admired work. The paintings capture Canada's northern landscape in a style that was Thomson's own but that also coalesced around a vision, a goal¨shared by close associates Lawren Harris, J.E.H. MacDonald, and Arthur Lismer, A.Y.
Read more...
---
Letters to Editor

Letters to the Editor
Solway The Sad Balladeer: An Open Letter to the (Unofficial) Laureate of 'This Sucks' In his usual high but heavy-handed style, David Solway once again decries the state of current Canadian poetry in his recent article (Wilted Laurels [or, A Sad Ballade to the Poets Inglorious. BiC September 2002)]. This time, however, he's crafted a variation on a theme: blast the idea of a poet laureateship on the grounds that Canadian poetry is bereft of literary merit.
Read more...
---
Up Front

Amazon.ca/Books in Canada Bestsellers Lists
* Stats based on period from September 17 to October 15 Top 50 Bestselling Fiction 1 Wayne Johnston, The Navigator of New York (Knopf Canada, Hardcover) 2 Alice Sebold, The Lovely Bones (Little, Brown, Hardcover) 3 Rohinton Mistry, Family Matters (McClelland & Stewart, Hardcover) 4 Maeve Binchy, Quentins (McArthur, Paperback) 5 Richard B.
Read more...
---
Children's Books

Children's Books
by Mary Anne Cree
Priscilla the rat from Sharon Jennin's Priscilla and Rosy is back and young readers (and some not so young) will delight in her latest adventure. Priscilla is a rat who must dance, but her tiny house does not give her the space she needs to express herself. While searching for a new home with more space for pirouetting, she and her best pal Rosy stumble into Madame Genevieve's Dance Studio
Read more...
---
Children's Books

Children's Books
by Jeffrey Canton
With every novel, Martha Brooks pushes the boundaries of Young Adult fiction a little bit harder, a little bit further. She does it ever so quietly¨perhaps hoping that we'll get so embroiled in the lives of her characters that we won't notice what's different about her approach this time or where it is that she's taking us.
Read more...
---
Children's Books

Children's Books
by Theo Heras
Three new books for the very young employ patterning to encourage participation. In size, shape and illustrative media the books are very different. Yo Baby! is square and pencil crayon-pastel-toned. A Day with Nellie is a tall and bright collage. We'll all go flying is long and vividly coloured. All three convey the curiosity and exuberance and wonderment that is part of the preschoolers' world view. A Day with Nellie is exactly that; the story follows Nellie through the day.
Read more...
---
Children's Books

Children's Books
by Deborah Wandal
As there are a few common themes woven through these four books, children (ages 6 - 11) might enjoy reading some of these together. As Long as the Rivers Flow, and Himalaya both offer fascinating information about the economies of two very different rural existences, and the ways that survival strategies become enriched by culture, ritual, and many different types of knowledge.
Read more...
---
Children's Books

Children's Books
by Jeffrey Canton
This month, Books in Canada salutes all the authors, illustrators and storytellers who participated in the largest cross-country book tour of its kind in celebration of Canadian children's books, the 26th annual TDCanadian Children's Book Week. From November 2nd through 9th, they journey into the lives of their young fans from coast-to-coast.
Read more...
---
Children's Books

Children's Books
by Theo Heras
How many kids have spent time at the edge of a crowd looking in? In Sparks by Graham McNamee and A Company of Fools by Deborah Ellis, two young protagonists are thrown from the comfortable sidelines into very different but equally challenging social situations. In McNamee's novel, Todd Foster never knows if his ideas are stupid unless somebody else tells him. He is in a regular grade 5 class after spending the previous year in Special Needs.
Read more...
---
Children's Books

Children's Books
by Gillian Chan
Iain Lawrence is a writer who is as versatile as he is talented. In his previous novels, he has covered such diverse subjects as albinism and traveling freak shows, traditional sea faring yarns, and the horrors of the First World War. His latest novel, The Lightkeeper's Daughter, works on a much smaller canvas, but is no less intense. Lizzie Island is a small island off the coast of British Columbia.
Read more...
---