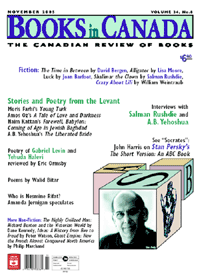 Note from Editor

Editor's Note
by Olga Stein
Events in the Middle East continue to dominate the news. One can easily lose sight of the fact that great civilizations grew out of the region's sands and rivers, and that three of the world's major religions were cradled there. It remains a place close to God despite the ungodly tumult, and nowhere is this spiritual constancy-the celebration of beauty, history, romantic and brotherly love-more in evidence than in its literature.
Read more...
---
Book Review

Too Far Out to Come Back
by John Oughton
Every novel is in many respects a metatext: a book about other books. Even though its premise may be strikingly original, that very originality is defined in reference to many other books that form the building blocks of a culture. David Bergen's new novel, The Time in Between, is no exception. In touching on themes of cultural differences, and the weight of history in Vietnam, it seems a companion piece to Graham Greene's 1955 work The Quiet American
Read more...
---
Book Review

A Gate for Fugitive Gods
by Richard Carter
"We are always in the middle of life, looking forwards and backwards; the only movement we can make to defy physics and history is the journey of the spirit." -Diana Brebner "Spiritual" is one of those adjectives that immediately provokes suspicion. Its meaning is too vague, its double-vowel suffix too earnest, and its devotional implications too ridiculous for down-to-earth folks who call a spade a spade. Possibly for this reason, Diana Brebner's poems may never be widely read.
Read more...
---
Luck
by Joan Barfoot
Knopf Canada
308 pages $32.95 cloth
ISBN: 0676977006

Book Review

Running Out of Luck
by Ann Diamond
This is a dark, amoral comedy about love and mortality, and all the things in between, including those grey areas where life and death seem to merge and grow indistinguishable. We know were the novel is set in Southern Ontario because the characters spend every waking minute subtly hating one another-except, of course, for the person they are married to, or currently having an affair with.
Read more...
---
Alligator
by Lisa Moore
House of Anansi
304 pages $29.95 cloth
ISBN: 0887841953

Book Review

The Vulnerable and the Predator
by Nancy Wigston
Lisa Moore is a highly inventive wordsmith whose talents have earned her a place on the Giller Prize Shortlist for the second time. Alligator opens with an exceptionally vivid scene: Colleen, a teenaged girl in St. John's, views a documentary film her artistic aunt Madeleine made twenty-odd years ago. In front of astonished witnesses, a professional alligator-wrestler in Louisiana just escapes with his life when the beast he knows so well attempts to devour him.
Read more...
---
Young Turk
by Moris Farhi
Arcade Publishing
392 pages $34.95 cloth
ISBN: 155970764X

Book Review

Turkish Delights
by Michael Greenstein
Like some figure in an oriental carpet, Moris Farhi's Young Turk weaves together thirteen interconnected stories into a well-wrought novel. Each tale showcases a different narrator. The first, "Rifat: In the Beginning", discourses on death from the point of view of children and adolescents. Rifat, a nine-year-old Muslim, describes his circumcision a year earlier to his Jewish girlfriend, Gul, four years his senior and also undergoing her own rite of passage.
Read more...
---
Crazy About Lili
by William Weintraub
McClelland & Stewart
264 pages $29.99 cloth
ISBN: 0771089163

Book Review

Montreal, Mon Amour
by Eric Miller
What is the relationship between sex and art? They are very close, yet very distant. Franz Kafka once remarked, of his feelings for a woman, that the only resolution possible was intercourse-or literature. Like many writers, male and female, he preferred literature. Dance, however, is not like writing. The whole body participates centrally and visibly in this art, making a more-or-less stylized sexuality powerfully apparent. Notoriety accrues to the person of a dancer.
Read more...
---
Book Review

Pieces of Love and Darkness
by Michael Greenstein
Amos Oz's detailed memoir, A Tale of Love and Darkness, is as compelling as any of his novels, for the friends and family members we meet are portrayed as if they were characters plucked from the pages of Chekhov and Tolstoy before being transported to the Land of Israel. The opening "underground" passage recalls Dostoevsky and Kafka: "I was born and bred in a tiny, low-ceilinged, ground-floor flat.
Read more...
---
Book Review

Remembering Baghdad
by Nancy Wigston
Thirty years ago, when Montreal writer Naim Kattan published this memoir of Jewish Baghdad, horrors from Iraq were not being shown on the nightly news. Quite the contrary. In 1975 the war that had gone wrong for America was ending in ignominy on the other side of the world, in Vietnam.
Read more...
---
The Liberated Bride
by A.B. Yehoshua/Translated from the Hebrew by Hillel Halkin
Harcourt
568 pages $20 paper
ISBN: 0156030160

Book Review

Paradise Lost
by Olga Stein
Ignorance is bliss, the saying goes. In The Liberated Bride this simple equation is extended on each side to produce an array of additional thematic content. Most significantly, "ignorance" is innocence, and bliss is a state of grace denoting both life in paradise (the Biblical Garden of Eden) and conjugal happiness. In A.B.
Read more...
---
Book Review

Intrepid Orientalist
by Christopher Ondaatje
Soon after Richard Francis Burton (1821-1890) returned from his daring journey to Mecca in 1853, there appeared an unsettling photographic portrait that revealed a man who had dispensed with any attachment to Victorian society. At the bottom of his personal copy of the photograph, now in the possession of the Royal Geographical Society, Burton provided a stunning caption in his distinctive handwriting: "The highly civilized man". This serves as the title of Dane Kennedy's scholarly biography.
Read more...
---
Dry
by Barbara Sapergia
Coteau Books
246 pages $19.95 paper
ISBN: 1550503197

Book Review

Dry Prognostication
by Antony Di Nardo
The media release for Dry includes the claim that this book is "a powerful literary thriller about a frighteningly near future where myth and adventure intersect . . ." Publishers are no doubt prone to hyperbole. Sure, the reader will find references to Nordic mythology and native lore; there's adventure if you consider chasing wood buffalo off a cliff adventurous; and a future of perpetual drought is frightening.
Read more...
---
Book Review

See "Socrates"
by John Harris
In "ABC Books", which is the preface and "conveniently" (since Persky is not interested in ABBA) the first entry of this book, Persky mentions a friend who questions the idea of writing a book in imitation of and homage to Czeslaw Milosz's ABC's
Read more...
---
Book Review

Gift Books
by Olga Stein
In November, 2003, a twenty-five-year-retrospective of Richard Tetrault's art was held at Vancouver's Interurban Arts Centre, located at the intersection of Carrall and Hastings Street. Tetrault, a painter, muralist and printmaker, is an artist of Vancouver's Downtown Eastside.
Read more...
---
Takao Tanabe
by Ian M. Thom, Roald Nasgaard, Nancy Tousley, Jeffrey Spalding
Douglas & McIntyre, Vancouver Art Gallery, Art Gallery of Greater Victoria
170 pages $60
ISBN: 1553651413

Book Review

Gift Books
by Olga Stein
This is not just a superbly produced book, with no expense spared on the quality of paper and colour reproduction, it is an expertly written book. An Introduction by Ian M.
Read more...
---
Cape Dorset Sculpture
by Derek Norton, Negel Reading, Introduction by Terry Ryan
Douglas & McIntyre
136 pages $35 paper
ISBN: 1553650883

Book Review

Gift Books
by Olga Stein
Cape Dorset is a tiny hamlet, located on the southwest tip of Baffin Island. It rests just south of the Arctic Circle. Growing out of a small community that coalesced around the trading post established by the Hudson's Bay Company in 1913, Cape Dorset is now "a modern community of nearly fourteen hundred inhabitants in the newly created Canadian territory of Nunavut
Read more...
---
Book Review

Developing Man
by Patrick Watson
At a crucial point in the education of the boy called The Wart, who will become King Arthur, in T. H. White's enchanting novel The Sword in the Stone (1938), the great magician Merlin takes his pupil on a magical visual tour of the history of the universe. It is a kind of high speed film-in-the-mind, in which they watch the blackness of the void producing gases, then nebulae, then stars, one of which spins off flaming planets.
Read more...
---
Book Review

A 'What-if' of History
by John Oughton
This intriguing book blends personal memoir, popular history and speculation. Marchand, although raised in New England, is genetically a pure laine Quebecois who remains Roman Catholic.
Read more...
---
Book Review

The UN Unquestioned
by Martin Loney
This is a curious collection of essays, emanating from a conference at Wilfrid Laurier University. The title and the setting might suggest a vigorous analytical debate over the future of an organization that has experienced a litany of failures. What is actually on offer is less a debate than a regurgitation of the dominant view of the UN secretariat that while failures have occurred they can be addressed by reform.
Read more...
---
Book Review

Margaret Laurence in Life and Letters
by Clara Thomas
These two books have been labours of love. Paul Socken's collection, thirty-two letters in all, has been given a very special production by the University of Manitoba Press. This small beautifully produced book is a gem, and will take its place as a special treasure on the shelves of Roy and Laurence lovers. Xiques's work is the product of many years of devoted research.
Read more...
---
Book Review

Israel Today for the World of Tomorrow
by Adrian Stein
Upon receiving notification of winning the Nobel Prize for Economics in 2005, in conjunction with American Thomas C. Schelling, Robert J. Aumann stated that the prize was awarded for two things: ". . . firstly, for the school of games theory we've developed in Israel. We've turned Israel into the number one force in this profession. Secondly, this prize goes to Israeli science and Hebrew University.
Read more...
---
Ostraca
by Gabriel Levin
Hushlon House
72 pages $12.82 paper
ISBN: 0856463175

Poems from the Diwan
by Yehuda Halevi/Translated from Hebrew by Gabriel Levin
Anvil Press (London, 2002)
176 pages $14.95 paper
ISBN: 0856463337

Sleepers of Beulah
by Gabriel Levin
Random House UK (1998) $6.99 paper
ISBN: 1856191966

Book Review

The Shepherd of Stones: From Ha-Levi to Ha-Levin
by Eric Ormsby
When the ancient Athenians voted to banish someone, they scribbled their votes on fragments of pottery, or ostraca. Such potsherds were thus intimately connected with ostracism, with exclusion from a community. Unearthed from middens, the ordinary discards of a daily life we can only imagine in fragments, ostraca disclose the past in unexpected glints, in faintly deciphered scrawls, in the abrasive contours of their hard-fired clay.
Read more...
---
Spine
by K. I. Press
Gaspereau Press
90 pages $18.95 paper
ISBN: 1894031903

Clinic Day
by Diana Fitzgerald Bryden
Brick Books
119 pages $16 paper
ISBN: 189407839x

Book Review

Second Books, Second Chances
by Ian LeTourneau
If a first book of poetry is the equivalent to walking onstage with the appropriate props and costume, the second should be a refined and expressive soliloquy. Both K. I. Press and Diana Fitzgerald Bryden have attempted this confident speech in their sophomore efforts. The results are mixed. Press's Spine displays a poet serious about her craft. Using humour and wit, her poems examine and dissect the sometimes messy interactions between literature and life.
Read more...
---
Book Review

The Polykaravis of David Solway
by Amanda Jernigan
Regular readers of Books in Canada will remember that in October of 1999, this journal ran a feature on the enigmatic Greek fisherman-poet Andreas Karavis. The feature comprised an interview with Karavis, conducted by Anna Zoumi of Elladas magazine, a gathering of Karavis' poems translated from the Greek by David Solway, and an essay by Solway on Karavis' oeuvre.
Read more...
---
Book Review

Clowning about the Big Picture
by Michael Harris
Salman Rushdie's new novel falls under the ties-that-bind rubric. Set in Kashmir and the United States, Shalimar the Clown is about the connections we presume exist within families, and those other, mysterious and invisible connections, that link us to strangers. Much has been made, for example, of Rushdie's character Max Ophnls, and the fact that he shares a name with the real-life Ophnls, a film director (Letter from an Unknown Woman, Liebelei).
Read more...
---
Books on Kids

Kids' Lit
by Anne Cimon
As I began to read award-winning poet and children's author, Lynne Kositsky's Claire by Moonlight, a story set in 1755, during the expulsion of the Acadian people from Nova Scotia, I was reminded how many of their descendants had resettled in Louisiana, an American state Hurricane Katrina had just devastated. Once again people had to leave their homes with nothing but their clothes on their backs, and find, however temporarily, a new place to live
Read more...
---
Second Watch
by Karen Autio
Sono Nis Press
199 pages $9.95 paper
ISBN: 0451208196

Books on Kids

Kids' Lit
by Julie Birrell
I read my first chapter book in the backseat of the family station wagon on the way to a rented cottage when I was eight years old. At the end of the book, the protagonist's best friend dies of cancer. Confronted with one of my very first unhappy endings, I looked out the window of the car, the book clutched in my lap, and felt something visceral, dark and complicated that seemed just beyond my understanding. I was hooked.
Read more...
---
Books on Kids

Kids' Lit
by Julie Birrell
In the author's endnote of The Horse's Shadow, Lawrence Scanlan tells us how "history should be remembered: in lives lived." In his latest novel, Scanlan brings us a vibrant slice of North American history through the life of spunky habitant heroine, Claire Vigere.
Read more...
---
Uglies
by Scott Westerfeld
Simon Pulse Simon & Schuster
432 pages $6.99 paper
ISBN: 0689865384

Books on Kids

Kids' Lit
by M. Wayne Cunningham
In Scott Westerfeld's page-turning and thought-provoking first book (of his new trilogy about a future world), young Uglies live in the Orwellian, state-controlled, high-density dorms of Uglyville. At least this is where they're kept until they turn sixteen.
Read more...
---
Books on Kids

Kids' Lit
by M. Wayne Cunningham
For 17-year-old Gwendolyn Cooke, the pleasantly likeable heroine of Terri Farley's Seven Tears Into The Sea, "the call of the sea" means more than it does for most others. For as Farley tells it through Gwen's voice, seven years earlier she was saved from drowning at Mirage Beach. Her rescuer, an unknown sea faring gypsy lad, had whispered to her, "Beckon the sea, I'll come to thee . . .
Read more...
---
Interviews

A Millennial Author: A.B. Yehoshua interviewed by David Solway
by David Solway
Born in Jerusalem in 1936, A.B. Yehoshua is a major voice and presence in what Israelis call the "generation of the State". A 6th generation Israeli, whose forefathers came at the start of the 19th century, he is one of Israel's pre-eminent novelists and numbers among his various works The Lover, The Continuing Silence of a Poet (short stories), Five Seasons, Mr.
Read more...
---
Interviews

Better Times: Salman Rushdie Interviewed by George Fetherling
by George Fetherling
The last time I interviewed Salman Rushdie was by telephone on the eve of a Vancouver engagement. At six the next morning I went to a coffee bar to see how the piece looked in print. But I couldn't concentrate on the newspaper because of all the hubbub in the restaurant. It was September 11, 2001. As soon as people told me what had happened in the U.S., I knew that Rushdie, who had just finished an appearance in Texas, wouldn't be crossing the border that day
Read more...
---
First Novels

First Novels
by W.P. Kinsella
The Sundog Season, by John Geddes is a wistful coming of age novel, deadly accurate in its portrayal of a 13-year-old small-town boy as he tries to make sense of the adult world that surrounds him. The opening is a grabber. "When I was five years old I wished for the death of another boy, prayed for it, and it happened.
Read more...
---
First Novels

First Novels
by W.P. Kinsella
In The Unexpected and Fictional Career Change of Jim Kearns by David Munroe, we are warned that there is going to be a life-changing incident concerning Jim Kearns, a fortyish husband, father and labourer. He is a pretty good guy, very cynical, but not without good reason, and he has a wonderful sense of humor. "I had just dropped out of school for the second time in four years . . . I thought the existence of Jean Paul Sartre made France's worship of Jerry Lewis understandable.
Read more...
---
Bonk on the Head
by John-James Ford
Nightwood Editions
276 pages $20.95
ISBN: 0889712042

First Novels

First Novels
by W.P. Kinsella
It is said that "Military Intelligence" is the ultimate oxymoron, a thesis clearly proven by the novel Bonk on the Head by John-James Ford. While not a terribly good novel, it is worth reading for its scathing indictment of the Royal Military College at Kingston. Herbert Kempt, sometimes known as Verbal, is a teenager in a monstrously dysfunctional military family. His grandfather, a former military man, is a foul-mouthed, incontinent, old drunk.
Read more...
---
First Novels

First Novels
by W.P. Kinsella
Murder at Mussel Cove, by Hugh MacDonald, has the most interesting cover so far this year: six pairs of eyes staring from a wall of flame. Sara, fleeing an abusive boyfriend in the USA, settles in Halifax, gets a job as a reporter for a weekly, and is sent to Mussel Cove to investigate a series of fires. Her accommodation is Safe Haven, a foreboding former orphanage, a sinister and dark place. Her housekeeper is a one-handed woman.
Read more...
---
First Novels

First Novels
by W.P. Kinsella
As if By Accident, by Julie Johnston, is very predictable little novel might have made a teary movie of the week, a vehicle for an older actress, back when such things were in vogue. The first section of the book is about Val, a Toronto fiction editor, pushing 50, and somewhat bored with her 11-year marriage to Ed, a renovation contractor. Because he has to work late, they decide to take separate cars to an out of town social event.
Read more...
---
Three Day Road
by Joseph Boyden
Viking Canada
351 pages $32
ISBN: 0670063622

First Novels

First Novels
by W.P. Kinsella
In 1919, Niska, an old medicine woman, ventures into civilization to retrieve one of the two boys she reluctantly sent to war. She speaks of the townspeople: "I must look a thin and wild old woman to them, an Indian animal straight out of the bush." She expects Elijah Whiskeyjack to return, but is it Xavier Bird who gets off the train. He is a mere shadow of his former self; he is without a leg, addicted to morphine, and near death. The three-day road is a journey between life and death.
Read more...
---
The First Vial
by Linnea Heinrichs
Thistledown Press
347 pages $17.95
ISBN: 1894345843

First Novels

First Novels
by W.P. Kinsella
I couldn't, nor could a second reader, discover any significance in the title. The cover exhibits a frightening painting by Peter Brueghel the Elder that will not generate much goodwill toward the novel. This is a genre novel, a bodice-ripper with no ripped bodices-not the kind of book that a small press usually produces. However, it is very readable, and appears well researched
Read more...
---
A Place Apart
by Maureen Lennon
Dundurn Press
384 pages $21.99
ISBN: 1550025449

First Novels

First Novels
by W.P. Kinsella
A Place Apart, by Maureen Lennon, set in the 1960s, is another in the long succession of first rate novels being published this season. Cathy is a teenager in crisis, but not the usual sex, drugs and rock and roll crisis. Cathy's mother is a murder waiting to happen. She is unhinged, living in a dream world where she is enthralled with Jackie Kennedy and her young family. In her own home, she is violently abusive toward Cathy.
Read more...
---
First Novels

First Novels
by W.P. Kinsella
The Avro Arrow Manipulation: Murdering Medicare by Will Cupchik, has a premise that is very imaginative. A conspiracy theory to top all previous conspiracy theories. In 1959 a covert group code-named TAMPRR acting on behalf of some American military officers and aircraft manufacturers, influenced the Canadian government to abruptly cancel the Avro Arrow CF-105 fighter-interceptor aircraft program, with devastating results. Fifty years later in 2009, a more powerful TAMPRR, INC
Read more...
---
Treading Water
by Anne DeGrace
McArthur & Company
302 pages $29.95
ISBN: 1552785262

First Novels

First Novels
by W.P. Kinsella
Treading Water by Anne DeGrace may at one time have been a story collection, but they have been cunningly and effectively joined together to form a delightful novel. Inspired by the British Columbia town of Renata, which was flooded for a B.C. Hydro project, the story begins in 1905 and ends in the present.
Read more...
---
Brief Reviews

Brief Review: Non-Fiction
by Jeff Bursey
In early August the Globe and Mail reported that the premiers, while in Alberta, might discuss the issue of Daylight Saving Time, compelled by George W. Bush's plan to extend it by one month in his country. The reasons given for the proposed extension are "complaints from farmers and airlines", and "limited savings on energy costs". As Michael Downing's latest book shows, these reasons are specious and empty, and have been thoroughly debated for nearly a century.
Read more...
---