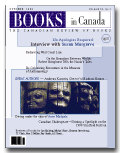 Note from Editor

Note from the Editor
by Diana Kuprel
A cluster of texts tackles divers incarnations of West Coast cultural and intellectual life. BC writer Susan Musgrave ruminates over her peregrinations to reveal the formative events and spiritual alliances in her creativity.
Read more...
---
Skin Divers
by Anne Michaels,
pages $0 TP
ISBN: 0771058799

Book Review

Diving Deeper into Mystery
by Eva Tihanyi
No matter how private the impetus for a poem might be, Michaels continually aims to reach beyond her own subjectivity, to project it onto the screen of history, of humanity as a whole. In her work, the personal is scrupulously contextual.
Read more...
---
Book Review

Dancing Cookie, or Encounters in the Museum's Sacred Space
by Karen Duffek
In its brief transgression of the museum's sacred spaces, the Dancing Cookie-an animated nylon sculpture by Evelyn Roth-left us with food for thought. It provoked the kinds of questions that artists continue to grapple with today.
Read more...
---
Book Review

Rainbow Scratched the Raven's Back
by Brian Brett
In some ways, Bringhurst's study reminds me of the linguist, Edward Sapir, whom he often cites and praises. There's controversy these days over some of Sapir's conjectures, but while Sapir might appear wobbly to some, there's no doubt...
Read more...
---
Book Review

Pauline's Passion
by Clara Thomas
Pauline Jewett had been a front-runner among Canadian women, both academically and politically, even before she became the first Canadian woman to serve as president of a university.
Read more...
---
Book Review

Ways of X-Making
by Stan Persky
Hacking is one of those remarkable people who seamlessly join human experience to history, social practices, and societal structures to yield explanations more compelling than any heretofore available.
Read more...
---
Book Review

Very Victorian Notions of Progress
by Tim Tokaryk
As Ruse admits, "without metaphors-which are vehicles for seeing similarities in otherwise dissimilar things-one would lose a value [as] essential" as a descriptive narrative, and "in its absence science would simply grind to a halt".
Read more...
---
Book Review

T-Bird Rises from Modernism's Ruins
by Charles Reeve
The late 1970s brought a wave of declarations of modernism's demise, which continued into the early 1990s. Modernism, this "postmodernist" argument runs, killed itself by allowing its mushrooming popularity to pull its critical sting.
Read more...
---
Book Review

Pandora's Thrush - Where is Hope in Fiction?
by Margie Ruthledge
Pandora was created by the gods as a perfect beauty, her name meaning "the gift of all". To that perfection was added an insatiable curiosity. And to pique this curiosity, the Immortals presented Pandora with a box and strict instructions not to open it.
Read more...
---
Books on Kids

Books on Kids
by Heather Hodgson
Most of what Canadians know about the schools is from the media, and much of what is crucial was locked up in classified files. Milloy has researched the morass of information into one of the most comprehensive pictures of that tragedy to date.
Read more...
---
Interviews

Blindfolded Prophetess - Nadia Halim speaks with Susan Musgrave
by Nadia Halim
Susan Musgrave published her first book, Songs of the Sea Witch, in 1970, when she was only nineteen years old. She has written steadily since then, producing thirteen more books of poetry.
Read more...
---
Interviews

Frozen Acrobatics of Memory - Branko Gorjup speaks with Anne Michaels
by Branko Gorjup
The interview was held in June at the Italian Cultural Institute on Huron Street in Toronto. As a prelude to our conversation, which unintentionally centred on time and its passing, we saw an exquisite show of photographs by Mary Pocock and Marcus Shubert
Read more...
---
Essays

Line Breaks - West Coast Line, Past and Present
by Andrew Klobucar
As early as 1959, prominent poets working out of both the Beat movement and the Berkeley Renaissance began making brisk trips north to work (drink) and engage (drink) with Vancouver writers.
Read more...
---
Essays

If 'twere done then 'twere well it were done ... well: Canadian Shakespeare
by Keith Garebian
All productions "betray" a text, but the crucial question is, to what degree and to what effect? In the case of Leblanc's Macbeth, the betrayal was virtually total; it was certainly catastrophic.
Read more...
---
First Novels

First Novels - Living in the Material World
by Diana Brebner
Three first novels from Newfoundland bob in the wake of Wayne Johnston's The Colony of Unrequited Dreams and concern themselves, as his novel did, with fictionalized historical figures.
Read more...
---
Brief Reviews

Brief Reviews - Exploration/Biography
by Phyllis Reeve
John Kendrick studies and writes about the Spanish exploration of the Pacific Northwest, particularly the "enlightened voyages" of 1791-1792.
Read more...
---
Brief Reviews

Brief Reviews - Political Theory
by Martin Loney
The main thrust of Borovoy's argument is directed at those, like University of Calgary Law professor Kathleen Mahoney, who argue that, when pursuing equality, certain speech must be curtailed.
Read more...
---
Brief Reviews

Brief Reviews - Art Theory & History
by John Knechtel
Beclouded Visions is an exhortation, a call to ethical life, to resistance in the form of counter-memories. Maclear ties an Enlightenment project to a "utopian" politics devoted to "our capacity to imagine what cannot yet be.
Read more...
---
Brief Reviews

Brief Reviews - Poetry
by rob mclennan
Writing in both English and French, Jones has the ability to absorb a varied range of influence and parts of the world around him into his own particular sphere, occasionally picking up someone else's ball ...
Read more...
---
Brief Reviews

Brief Reviews - Fiction
by Ted Whittaker
Ray Smith possesses a splendid ear. The voicings of the children and, even better, of the Hatchers, Frank's up-mountain in-laws, are flawless.
Read more...
---
Brief Reviews

Brief Reviews - Fiction
by Fadi Abou-Rihan
Indeed, moments of humour and even zaniness notwithstanding, Notes of a Desolate Man is not a light read. To follow Xiao Shao's footsteps is not to follow in them, for his journey is neither desirable nor detestable.
Read more...
---
Brief Reviews

Brief Reviews - Fiction
by Gordon Phinn
On one level, it is a symbolic portrayal of a much misunderstood woman finally granted her innermost wish; on another, a lengthy and somewhat tedious reprise of the princess-and-the-pea motif-the poor little rich girl always griping for more.
Read more...
---
Children's Books

Children`s Books
by Julie Glazier
The story follows the large Robertson family as they prepare a Thanksgiving dinner in the fall of 1841. Instructions for activities related to the story are provided at the end of each chapter.
Read more...
---
Children's Books

Children`s Books
by Jeffrey Canton
This quiet, moving book explores inner-city life with sensitivity and compassion from the perspective of a street-smart kid who is bursting with energy and imagination.
Read more...
---
Beowulf
64 pages $19.95
ISBN: 088899365x

Children's Books

Children's Books
by Mariella Bertelli
Retelling old myths and ancient epics is challenging. With his version of Beowulf, writer Welwyn Wilton Katz faces the challenge honourably by using a heroic narrative voice true to a bard from the past.
Read more...
---
Sunwing
248 pages $14.95
ISBN: 0006481663

Children's Books

Children's Books
by Jeffrey Canton
Sunwing is a masterfully plotted adventure that hooks you on the very first page and doesn't let go. It's a roller-coaster ride that throws more thrills and chills at you than you'll ever find at Canada's Wonderland.
Read more...
---
Children's Books

Children's Books
by Jeffrey Canton
Lionheart's Scribe is the final installment in Karleen Bradford's moving trilogy about the three Crusades organized by the Holy Roman Empire to recover Jerusalem from the Muslims between 1096 and 1190.
Read more...
---
Skellig
by David Almond,
Delacorte Press
176 pages $15.95 TC
ISBN: 038532653X

Children's Books

Children's Books
by Sherie Posesorski
Extremely popular with both children and adult readers, Skellig sold out in four days in England. Almond has just been awarded the prestigious Carnegie Medal, and Skellig was named the Whitbread's Children's Book of the Year.
Read more...
---
Douglas Fetherling

Douglas Fetherling
by Douglas Fetherling
It's insulting to anyone but a genre writer-someone who cranks out romances or westerns, for instance-to be called prolific. Serious writers are interested in craft, not athleticism, and each moves to the rhythms of his or her own metabolism.
Read more...
---
Great Authors

Great Authors of Our Time - Andreas Karavis
by Diana Kuprel
Andreas Karavis was born in 1932 in Xania, Greece. After graduating from high school, he decided to forgo a university education and buy a small fishing boat.
Read more...
---
Great Authors

The Pelagic Bard of Kalypso's Isle
by David Solway
Very little is known about Andreas Karavis, owing to a dearth of public documentation as well as to the poet's notoriously laconic nature. This constitutes a serious and probably insurmountable obstacle for the potential biographer.
Read more...
---
Great Authors

Chorus of Voices We Hear in Wine
by Anna Zoumi
This rare interview with Andreas Karavis was conducted aboard his caique and published originally in Greek for the Summer 1999 issue of the literary quarterly, Elladas.
Read more...
---
Great Authors

Selected Poetry by Andreas Karavis
by David Solway
Translated by David Solway
Read more...
---