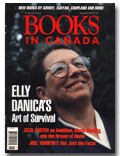 Note from Editor

Note from Editor
by Barbara Carey
We've done some shuffling in our line-up of columns. Up Front and Coren at Large have retired from the fray; they have been replaced by Outlook, a column of cultural commentary featuring a roster of writers from across the country.
Read more...
---
Environmental Health Risks & Public Policy Decision Making in Free Societies
by Daivd V. Bates,
129 pages $18.95 TP
ISBN: 0774805064

The Greening of Canada Federal Institutions & Decisions
by G. Bruce Doern, Tom Conway, Tom Conway, Thomas Conway,
312 pages $50 TC
ISBN: 0802060455

Too Good to Be True Alcan's Kemano Completion Project
by Bev Christensen,
pages $19.95 TP
ISBN: 0889223548

Property Rights in the Defense of Nature
by Elizabeth Brubaker,
pages $15.95 TP
ISBN: 0919849245

The Last Great Forest Japanese Multinationals & Alberta's Northern Forests
by Larry Pratt, Ian Urquhart,
275 pages $18.95 PT
ISBN: 0920897770

The Presence of Whales Contemporary Writings on the Whale
by Frank Stewart,
320 pages $19.95 TP
ISBN: 155110301X

Witness to Wilderness The Clayoquot Sound Anthology
by Howard Breen-Needham, Sandy F. Duncan, Deborah Ferens, Phyllis Reeve, Susan Yates,
250 pages $17.95 PT
ISBN: 1551520095

Balance Art & Nature
by John K. Grande,
250 pages $19.99 TP
ISBN: 1551640066

Nature & the Crisis of Modernity
by Raymond A. Rogers,
187 pages $19.99 TP
ISBN: 1551640147

Book Review

Development Costs
by Brian Fawcett
Im going to start this year's round-up of environmental titles with a book that, for me, is close 'to home in more ways than one.
Read more...
---
Book Review

Along for the Ride
by Dennison Berwick
How many ways are there to retell the experience of travel? These four books use four different approaches to digest and recount the "truth" of their journeys within the best techniques of storytelling.
Read more...
---
Book Review

All in the Family
by John Degen
Gowdy takes the facade of a stereotypical nuclear family, the Canarys (Mom, Dad, three daughters, and a grandmother), and mixes in a healthy dose of the fabulous.
Read more...
---
Exotica
by Atom Egoyan,
Consortium Book Sales & Distribution
pages $15.95 PT
ISBN: 0889104751

Book Review

Viewing Pleasures
by David Prosser
If Exotica the movie has captured the popular imagination -- at least as much as any Canadian film ever does -- Exotica the book vindicates the idea of the published script by making it only part of the package.
Read more...
---
Book Review

Darkness Visible
by Phyllis Grosskurth
There are as many forms of depression as there are depressed people, ranging from those who feel they are not enjoying life as much as they should to those who are totally debilitated.
Read more...
---
Microserfs
by Douglas Coupland,
208 pages $25 TC
ISBN: 0002244047

Book Review

The PowerBook of Daniel
by Dan Bortolotti
Microserfs is in many ways a more formally innovative novel than Generation X, as Coupland successfully uses clever textual devices to articulate the technology inherent in the narrative.
Read more...
---
The Floating Garden
by D. G. Jones,
Consortium Book Sales & Distribution
96 pages $12.95 TP
ISBN: 0889104735

Book Review

Inventing Who We Are
by Erin Moure
Aurora is evidence for me as a reader that a life in words is possible. It evinces such a sense of joy in text and presence and juxtaposition of words and inner histories.
Read more...
---
Book Review

The Best Revenge
by Maureen Garvie
Beneath the surface of Marriage of Masks and The Tragedv Queen, both novels by women of a certain age, runs the question "What do women want?"
Read more...
---
Book Review

Wired In
by Ted Whittaker
De Kerckhove believes that the progress of the current electronic revolution is inevitable, will be universal, and can be mostly worthwhile. We're told that the alphabet has been the greatest influence on humanity "until the discovery of electricity."
Read more...
---
Book Review

Lingering Refrains
by Sheryl Halpern
There's nothing like a good story -- served, thank you, without the trendier postmodernist toppings (metafictions and hypertexts on the side, please).
Read more...
---
Book Review

Yours Truly
by Janice Keefer
Eight years after the death of Margaret Laurence, there is still no one who has taken her place within what she called the "tribe" of Canadian writers.
Read more...
---
Book Review

The Prairie and the Valley
by Linda Leith
Finnigan's dark sense of comedy comes to the fore in her account of Carey, who fell in love with a Protestant lad, was forbidden to see him ever again, and ended up unmarried and keeping house for her four bachelor brothers.
Read more...
---
Book Review

Hello to Berlin
by Keith Nickson
Stan Persky, who reviews for the Globe and Mail and teaches philosophy at Capilano College in Vancouver, has written an ambitious though uneven book that provokes in ways that aren't always intended.
Read more...
---
Gringo Star
by Stan Fogel,
pages $14.95 TP
ISBN: 1550222333

Book Review

Going Nowhere
by Glenn Sumi
Stan Fogel's Gringo Star is a travel book that goes nowhere. It provides neither the sensual pleasures of good travel writing nor the insights of meaningful and sustained critique of the genre.
Read more...
---
Book Review

Passionate Voices
by Mary Hill
In his translation of the Montreal author Anne Dandurand's Petits Ames sous ultimatum (Small Souls Under Siege), Majzels proves himself the master of his own method.
Read more...
---
Interviews

A Long Sojourn
by Donna Nurse
I always wanted to be a writer. I don't remember much of my youth. I don't know if I'm repressing it or what, because I had a tough time.
Read more...
---
Letters to Editor

Letters to the Editor
by Barbara Carey
Being a children's author, with short stories in Cricket magazine, a first junior-fiction novel that came out in May, and a second young-adult novel slated for release next month, I thought I was the only one running into condescending comments.
Read more...
---
Essays

Not Just the Facts
by Joel Yanofsky
In the long run, awards don't matter much, of course; critical judgements are unpredictable and subject to trends and fashion. Still, it's hard to figure out how a book as accomplished as Macfarlane's The Danger Tree wasn't even short-listed for a GG.
Read more...
---
Profiles

Ralph Gustafson 1909-1995
by Douglas Fetherling
He was an old Oxonian who was already a recognized figure on the English literary scene when he returned to North America just before the outbreak of the war, to work for the British government in New York.
Read more...
---
Profiles

The Art of Survival
by Joan Givner
Danica sees the church as complicit in her abuse, for when she appealed for help to the nuns and priests, they counselled obedience to her father's authority; she never willingly enters a Catholic church.
Read more...
---
Grammar Girl

Grammar Girl - A Girl Like I...
by Rose Thorne
Apostrophes are one of the sillier dodges thought up by the inventors of English, whoever they were, and in some ways I can't help sympathizing with the abolitionists.
Read more...
---
First Novels

First Novels - The Young and Rebellious
by Eva Tihanyi
Through Sarah, Atkinson portrays strippers not in a cause-of-the-day sense, but as human beings with souls as well as bodies.
Read more...
---
Brief Reviews

Brief Reviews - Non-Fiction
by Alexander Craig
The Aftermath is a first-rate, first-hand account of willing one's way to survival and reunion, stepping out of hell into normal, everyday life.
Read more...
---
Brief Reviews

Brief reviews - Non-Fiction
by Laura Paquet
Peacock's meticulously researched book brings Farmi's exploits vividly alive. It reads like a printed equivalent of those clifthanger movie serials -- you just can't wait to read what Farini did next.
Read more...
---
Brief Reviews

Brief Reviews - Poetry
by Rita Donovan
The books I received for review overwhelmingly focus on family, loss, home and, sometimes, salvation. In certain cases, this involves an emotional land-grab, in others, a temporal rootlessness.
Read more...
---
A Gift of Rags
by Abraham Boyarsky,
216 pages $16.95 CT
ISBN: 1895555574

Brief Reviews

Brief Reviews - Fiction
by Lori Hahnel
A Gift of Rags shows us that 14 years after the end of the war, survival is still a daily issue for these people. And despite their differences, it really is the only issue; as it is, after all, for all of us.
Read more...
---
Deadly Reunion
by Jackie Manthorne,
176 pages $10.95 TP
ISBN: 0921881320

Brief Reviews

Brief Reviews - Fiction
by Anne Denoon
The issue of fidelity resonates in the denouement of Deadly Reunion, which turns out to be something of a cautionary tale about the risks of careless dalliance.
Read more...
---
Brief Reviews

Brief Reviews - Fiction
by George Kaufman
MacLean is so good at playing with the traditional guess-who formula that it's a shock when the story turns out to be both more, and less, than a classic murder mystery.
Read more...
---
Brief Reviews

Brief Reviews - Fiction
by Lorne Daniel
Ferguson's fifth novel is by turns startling, numbing, sharp, and sodden. Its coastal landscape is alternately rain-soaked and fire-razed, and its characters are similarly capable of extreme shifts.
Read more...
---
Brief Reviews

Brief Reviews - Non-Fiction
by George Kaufman
This memoir takes us through a beautifully detailed account of a way of life that has practically disappeared: the one-room schoolhouse; the provincial exams; the threshing season; the simple, subtle social games of a tiny community.
Read more...
---
Bats about Baseball
by Jean Little, Claire Mckay, Kim LaFave,
32 pages $17.99 TP
ISBN: 0670852708

Morning Light An Educational Storybook for Children & Caregivers about AIDS & Saying Goodbye
by Margaret Merrifield, Heather Collins,
30 pages $6.99 TP
ISBN: 077375704X

How on Earth? A Question & Answer Book about How Our Planet Works
by Ronald Orenstein,
96 pages $22.5 TC
ISBN: 0896582698

Where Only the Elders Go - Moon Lake Loon Lake
by Jan B. Waboose, Halina Below,
24 pages $8.95 PT
ISBN: 0921254628

Wesakejack & the Flood
by Bill Ballantyne, Linda Mullin, Linda Mullin,
32 pages $12.95 TC
ISBN: 0921368453

Wesakejack & the Bears
by Bill Ballantyne, Linda Mullin,
32 pages $12.95 TC
ISBN: 0921368461

The Spring Celebration
by Tina Umpherville, Christie Rice,
pages $9.95 TP
ISBN: 0921827466

A Kids Guide to the Brain
by Sylvia Funston, Jay Ingram,
64 pages $9.95 TP
ISBN: 1895688191

Children's Books

Children's Books - Myth and Science
by Janet McNaughton
We still have a lot to learn about our First Nations, so it is fitting that half of these books deal with some aspect of Native culture.
Read more...
---
Douglas Fetherling

Douglas Fetherling - The Ballad of English Bill
by Douglas Fetherling
One of the unusual facts about Skelton's life has been his willingness to employ many different verse forms, ancient and contemporary. Lately, his desire to adapt from as many different cultures as possible has become a kind of benevolent obsession.
Read more...
---
Outlook

Outlook - Spin Control
by Brian Bartlett
Places like the casino can confuse us about our symbols and our language. In this way, the naive, the desperate, and others get hurt.
Read more...
---