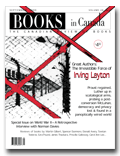 Note from Editor

Note from the Editor
by Diana Kuprel
September 1, 1999 marks the 60th Anniversary of the start of World War II. During the six years it took to run its course, the earth was rent, entire peoples "displaced", words for the atrocities committed, invented.
Read more...
---
Book Review

I saw what you did, I heard what you said
by James Wong
Privacy is a hot topic. It's even the chief source of anxiety for a vast majority of people. Why? One reason is the impact of the popular use of information technologies: with the huge mass of personal data being transmitted on-line ...
Read more...
---
Book Review

The Cloudburst that Left il Duce Soaked
by Martin Kitchen
Martin Gilbert's recent books have two things in common. The first is their sheer size-with the present volume measuring 24.5 by 16.5 by 6 centimetres for a total of almost 2.5 litres of relatively small print with narrow margins.
Read more...
---
Book Review

Greater than the tread of mighty armies
by Ken Stickney
Why, you ask, are they publishing yet another book on the Battle of the Atlantic? Have not its weaponry, its strategies, and its outcome been done a hundred times before? But with In Great Waters, aviation novelist Spencer Dunmore has
Read more...
---
Book Review

Pawns in a Scientific War Game
by Tim Tokaryk
In my backyard, I, like most North American children, took up arms against my neighbour's children-with plastic guns and rifles that popped or cracked as we chased each other over fences and through gardens. That was our concept of war.
Read more...
---
Book Review

The Trains Left on Time
by Doug Beardsley
In Facing the Extreme, Tzvetan Todorov, renowned pioneer in the field of structuralism, focuses his critical eye on life in the concentration camps and posits the theory that there was "a rich moral universe...
Read more...
---
Book Review

Mussolini's Captive Bard
by Jack Illingworth
An Israeli friend of mine enjoys telling the story about how he first read Ezra Pound in an undergraduate course in Hebrew poetry. Most of the students apparently had little experience with poetry ...
Read more...
---
Book Review

Return Routes to Proust's Paragraphs
by Christopher Merrill
At a party in Paris in 1919, a British diplomat found himself describing, at some length, the intricacies of committee work. His interlocutor, Marcel Proust, "an unshaven, grubby, slipfaced" novelist, took an unusual interest ...
Read more...
---
Book Review

Last Man Standing When History Stops
by Robert Sibley
Ten years ago, an obscure American policy analyst named Francis Fukuyama came as close to achieving celebrity status as a North American intellectual can when he published, in the Summer 1989 issue ...
Read more...
---
Book Review

Bulldozing a Strip-Mall of Sacraments
by Hugh Graham
Revolutionaries are simplifiers: they usually clear out the accumulated lumber of the past and replace it with something plainer. Old regimes, by contrast, are all superfluous complexity-their privilege, laxity,
Read more...
---
Book Review

From Wychwood Sage to Media Guru - Probing McLuhan Post-Conversion
by Francois Lachance
Certain ways of reading can silence and certain publishing practices abet forgetfulness. Marshall McLuhan is perhaps remembered less as a media theorist than as a media guru. It has been over thirty years since he was featured ...
Read more...
---
Book Review

Netizens@Canada.com
by David Black
Let's call it Black's law of technological change. For each expansion in technology's presence in our lives, there is a corresponding fragmentation of consensus about the consequences of ordering pizza via TV or calling home from Everest.
Read more...
---
Books on Kids

Books on Kids - The Homefront
by Linda Granfield
Recently, a speaker at a luncheon marking the 75th anniversary of the Royal Canadian Air Force observed that, each Remembrance Day, he hears veterans complaining about how little others appreciate or even know about their efforts.
Read more...
---
Books on Kids

Books on Kids - Hide-and-Seek
by Alicia Sloboda
Janusz Korczak's experiment before the war: He took one child from an orphanage and without saying a word went with it on a walk along the noisy streets of Warsaw. Then he led it into a darkened lecture-room filled with students ...
Read more...
---
Interviews

The Unwritten Chapters of World War II - Diana Kuprel speaks with Norman Davies
by Diana Kuprel
Norman Davies, born in 1939, is regarded as one of the most brilliant and provocative historians of Europe in the world today. Formerly a Professor of History at the University of London's School of Slavonic and East European Studies, Davies is the
Read more...
---
Interviews

Pressed Between the Pages of Balzac - Cherry Clayton speaks with Alice Boissonneau
by Cherry Clayton
Alice Boissonneau is a writer with a great deal to say about post-war Toronto, its past and its people. Born in Walkerton, Ontario, she worked for several years in hospitals in Toronto and Vancouver.
Read more...
---
Essays

Bombs of Penzance
by Sydney Butler
The bomb woke me from a deep sleep. My eyes were stinging with encrusted dirt, my mouth and nose clogged with plaster dust and grit. I rolled off my narrow, iron bed to find myself standing,
Read more...
---
Essays

No Heroes on Those Ships
by Alex Lister
I joined the Canadian Navy in December of 1941, when I was sixteen, lying about my age. I told them I was seventeen because I didn't want to get dipped back as a boy seaman. They made five dollars a month.
Read more...
---
Essays

The Right to Live as We Wish
by Waclaw Ivaniuk
I was interned at the Miranda de Ebro concentration camp in Northeast Spain from 1940 to 1943. The camp held about 4,000 prisoners, the soldiers of dozens of nations.
Read more...
---
Essays

Unfinished Still Life - Canadians Write the Holocaust
by Norman Ravvin
Are young writers, painters, playwrights, and musicians sitting down at a café table in some distant Kosovar town, right at this moment, contemplating how they should respond to the most recent war in their homeland?
Read more...
---
Essays

Doodlebugs over London
by Elizabeth Bate
My sister was married in 1940. The whole village came to the reception, which was held in our garden. Mother did all the cooking. We waved good-bye to the newlyweds as they left for London for the first night of their honeymoon.
Read more...
---
Essays

Into the Eye of a Hurricane
by Michael Kutyn
I enlisted in the Royal Canadian Air Force in 1941 at the age of nineteen. After graduating and receiving my Observer's Wings in August 1942 at #1 Central Navigation School in Rivers, Manitoba, I was posted to the RCAF Embarkation Depot in Halifax.
Read more...
---
Essays

Fields of Fire
by Eric Brown
I enlisted in the Air Force in 1940. The following year, I was sent overseas to bomber command in Bournemouth for basic English Air Force training. In 1943, I was transferred to a squadron in Yorkshire. We started flying into enemy territory
Read more...
---
Essays

It's Not The Size that Counts
by Gim Fong
When the war broke out, I tried for two years to join the Air Force. But the Air Force didn't want Chinese Canadians then, and I was rejected several times. Finally, I was granted a twenty-minute interview. They just wanted to get me off their backs.
Read more...
---
Profiles

The Strangeness of Faraway Lands
by Bogdan Czaykowski
Our early childhoods were obliterated by the experience of the war: the Soviet occupation; deportations to Siberia and Kazakhstan; the labour camps; the arrests and lengthy imprisonment of the fathers; life in camps and settlements; starvation in the
Read more...
---
First Novels

First Novels - Crossing the Uncompassed Landscape of Human Affairs
by Diana Brebner
When publishers drop big money and hard covers on first novels, it's hard not to be impressed by their efforts. I suspect that, behind the glitz and bravado, the publishers know that the book-buying reader is the difficult, final judge ...
Read more...
---
Brief Reviews

Brief Reviews - Fiction Anthologies
by Nikki Abraham
Reviewing a current national anthology of short stories is much like taking a pulse: it's a quick and painless way to determine the health of the subject.
Read more...
---
Book of Kings
by James W. Thacker,
Overlook Press
pages $27.95 TC
ISBN: 0879519231

Brief Reviews

Brief Reviews - Fiction
by Jack Illingworth
James Thackara's The Book of Kings (773 pages, no price listed) is famous for being one of this decade's better known unpublished works of fiction. Its 1999 publication by The Overlook Press marks a capitulation of sorts ...
Read more...
---
My Paris
161 pages $17.5
ISBN: 155128068X

Brief Reviews

Brief Reviews - Fiction
by Alana Wilcox
Gail Scott's My Paris (Mercury Press, 161 pages, $17.50) is a delightfully odd book. Its narrator is a flâneur, a French-Canadian writer who has been awarded an extended stay in Paris in a "leisure lottery studio", but who spends most of her time ...
Read more...
---
Brief Reviews

Brief Reviews - Fiction
by Eva Tihanyi
Signe, the protagonist of Sarah Sheard's The Hypnotist (Doubleday Canada, 244 pages, $29.99 cloth), is a Toronto photographer who is interested in observing and recording intimate details: a beetle on a mushroom cap, a tattered map lying on the roadside.
Read more...
---
Brief Reviews

Brief Reviews - Historical Fiction
by Dmitry Beniaminov
Richard Lourie's The Autobiography of Joseph Stalin (Counterpoint, 261 pages, US $25 cloth) is an intriguing look at the rise and rule of the petty thief from Georgia who became a ruthless world leader whose hands were indelibly stained with the ...
Read more...
---
Brief Reviews

Brief Reviews - Memoir
by Jennifer Duncan
When Moira Farr first met Daniel Jones, she thought he was a jerk. Jones had a reputation in Toronto as an angry young poet and alcoholic. But, after staying sober for eight years, Jones was shedding that notorious persona.
Read more...
---
Brief Reviews

Brief Reviews - Political Theory
by Martin Loney
"Civil society" refers to the activity of citizens and voluntary organizations that is undertaken independently of the state and that is not directed primarily at making a profit. Among development activists, the term has become a buzzword for the 90s.
Read more...
---
Children's Books

Children's Books
by Theo Heras
"High Flight", the topic of Linda Granfield's latest book, is a poem that has inspired and brought comfort to people for nearly sixty years. It is a beautifully wrought sonnet expressing its author's, John Gillespie Magee Jr.'s, exhilaration while flying:
Read more...
---
Children's Books

Children's Books
by Jeffrey Canton
Behind every folk or fairy tale, myth or legend, lurks another story. A different turn of the tale, perhaps? Another version from some other place or time? An alternative ending? Joan Bodger has spent a lifetime exploring the world ...
Read more...
---
Children's Books

Children's Books
by Jeffrey Canton
Who am I? Is there only one of me in the world? Will I be a hero some day? Is my whole life mapped out in advance? Or will I have to find my way all by myself? Sometimes I feel like I don't fit in my body! Imagine if we could switch bodies...
Read more...
---
Shacklands
by Judi Coburn,
pages $7.95 PT
ISBN: 1896764134

Children's Books

Children's Books
by Julie Glazier
The cover of Judi Coburn's first young adult novel, The Shacklands, features an arresting portrait of a young woman rising above a row of shacks. This is an actual family photograph of Coburn's grandmother, and although ...
Read more...
---
Children's Books

Children's Books
by Mary Cree
Many years ago, my mother told me about a family friend whose daughter had chanced upon Rudolf Nureyev rehearsing alone in the studio. As she watched him with awe and admir ation, he paused, came over, took her hand, and said ...
Read more...
---
Douglas Fetherling

Douglas Fetherling - Tarzan, Inc.
by Douglas Fetherling
ohn Taliaferro is the latest biographer of Edgar Rice Burroughs (1875-1950), creator of Tarzan. Unfortunately, in Tarzan Forever (Distican, 383 pages, $44.50 cloth), Taliaferro proves that he's no literary critic, only another fan.
Read more...
---
Great Authors

Great Authors of Our Time - Irving Layton
by Diana Kuprel
Irving Layton (Israel Lazarovitch) was born in Romania in 1912. The following year, he emigrated with his family to Canada. After graduating from Macdonald College and McGill University,
Read more...
---
Great Authors

Ecstasy Like an Irritant in the Blood
by Carmine Starnino
What's fascinating here isn't the answer but our chronic need to pose the question: How many good poems has Irving Layton written? As far as I know, no one has ever tested Gustafson, Klein, Page or Jones in this way ...
Read more...
---
Great Authors

The Classroom Battle Between Ego and Genius
by John Oughton
My chance came in the fall of 1970. York University was then a hotbed of poet-professors: Eli Mandel, Miriam Waddington, Frank Davey, and the francophone poet-critic, Hedi Bouraoui, among them.
Read more...
---
Great Authors

On the Occasion of Layton's 87th Birthday
by Doug Beardsley
A birthday tribute to Irving Layton is a dangerous undertaking, particularly so at this time. He is still passionately with us, at eighty-seven, very much with us, though slowed now by old age, that affliction that catches up to us
Read more...
---