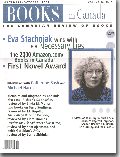 Note from Editor

Note from the Editor
by Olga Stein
Eva Stachniak's deeply moving novel, Necessary Lies, published by Dundurn Press, is like nearly all well-written novels, layered with many themes, all worthy of comment or discussion, all important. Every reader will, of course, find his or her own meaning in this tale of a Polish academic, who leaves Poland just before the birth of the Solidarity movement and the political upheavals in the 1980s for a teaching stint at Montreal's McGill University.
Read more...
---
Book Review

Lives Well Arranged
by Clara Thomas
From Margaret Atwood to Eric Wright this is a timely publication if ever there was one. Never have Memoirs been more popular or saleable, and never before, I believe, has there been a collection of excerpts from the especially rich and wide-ranging Canadian field.
Read more...
---
Book Review

For Family and the Written Word
by Lorne Shirinian
Keith Garebian's memoir, Pain: Journeys Around My Parents, confronts and provokes the reader with its frank portrayal of growing up in a family marked by marginality in a society where race and status are important factors. It also challenges the reader through its eclectic style that on the surface, at least, appears to be postmodern. But it is so much more. The title refers to Garebian's journey around his parents for the sake of seeing them from all angles.
Read more...
---
Book Review

It's a Mad, Mad World
by Julie Chibbaro
Pic Will Ferguson Will Ferguson previously plunged his sharp teeth into Canadian and Japanese societies, penning biting satires that reveal these countries' foibles. Books like Why I Hate Canadians set the acid level for his caustic eye, which he now turns on America in the form of a novel, Generica. The results are wickedly brilliant. The hero of Generica is Edwin de Valu "(a.k.a. Ed, a.k.a. Eddie, a.k.a.
Read more...
---
Book Review

All the Perfumes of Arabia
by W. J. Keith
In most dictionaries, Araby is defined as a "poetic" word for Arabia, but poetry-lovers old enough to remember James Elroy Flecker and the golden journey to Samarcand, who might expect camel-caravans moving languorously into a romantic sunset, will be in for a surprise. The title is, in fact, one of Eric Ormsby's subtle jokes.
Read more...
---
Book Review

Facing BiG Brother
by Robert Sibley
George Orwell is one of the few 20th-century writers whose name evokes our barbarous age. "Orwellian" has entered the language as an adjective for describing all those tyrannical ideologies that made the last century the bloodiest in history.
Read more...
---
Book Review

Rawls' Road to Political Liberalism
by Rory A. A. Hinton
For the past thirty years political theorists have been preoccupied in large part with trying to answer the following question: How is it possible for a stable and just society of free and equal citizens to exist when these citizens are profoundly divided by reasonable, though incompatible, religious, philosophical, and moral doctrines? Anyone familiar with this question will know that it finds its contemporary genesis in a book that single-handedly breathed life into a subject that Peter Lasl
Read more...
---
Book Review

The ins and outs of Virtue and Vice
by Richard Davis
According to the nineteenth century English philosopher John Stuart Mill, all human beings desire to live lives pregnant with happiness; we all long to be the recipients of liberal amounts of varied, high quality pleasures with pain making as brief an appearance in our conscious experience as possible. Happiness is the one and only thing we desire for its own sake; everything else is desirable simply as a means to securing happiness. Perhaps this is so.
Read more...
---
Book Review

A Dazzling Impresario. Remembering Moss Hart
by Sam Ajzenstat
Pic Moss Hart From 1930 to 1960 George S. Kaufman and Moss Hart, a couple of "unacknowledged legislators" on the truly supreme courts of Broadway and Hollywood put a spin on the phrase "life, liberty and the pursuit of happiness" that still helps to define America for many people for whom "Kaufman and Hart" is only a vague memory. The archetypal moment occurs when the Marx Brothers leap fully formed from Kaufman's head.
Read more...
---
Book Review

The Very Definition of Hip
by T. F. Rigelhof
Nobody said Mordecai Richler was hip or cool, did they? In all the hundreds and hundreds of things that were said and got printed in the days after Richler died, nobody said anything like, "I really dug that cat, man. Mort was hip, man, he was one cool daddy-o," did they? If anyone stepped out of that time warp, I completely missed it.
Read more...
---
Book Review

On Snooker and Writing
by L. M. Morra
On one level, Mordecai Richler's On Snooker: The Game and the Characters Who Play It is a series of essays that cursorily examine the origin, rules, and history of the game, and the professional development, achievements, and personal lives of such snooker champions or "characters" as Stephen Hendry, Steve Davis, Ronnie O'Sullivan, and John Higgins. Richler observes that journalist A. J. Liebling has also been seen to describe sports figures as "characters.
Read more...
---
Book Review

Weathering Desire and Unrequited Love
by Cindy MacKenzie
"The sun is pouring down, the air is sweet with the smell of caragana in yellow blossom, and it occurs to her for the first time that her own unrequited love affair has always been nestled inside the larger one between Saskatchewan and Ontario. Saskatchewan so bitter, tenacious, aware. Ontario so careless and immune. An affair between two landscapes and two histories no less real, and no less ongoing than are certain romances between people
Read more...
---
Book Review

Pure and Simple Lust for Power
by Fred A. Reed
Where are they now, the vainglorious, power-hungry men who strutted across the Balkan stage during the long nightmare of the 1990s, directing squads of paramilitary cut-throats or high-flying night bombers? Abducted from his Belgrade redoubt, former Yugoslav President Slobodan Milosevic now awaits trial at the hands of the Hague (read "NATO") Tribunal. Mr. Milosevic fetched a hefty $1.3 billion, making him the first head of state to be privatized.
Read more...
---
The Ash Garden
by Dennis Bock
Harper Flamingo Canada
281 pages $34 paper
ISBN: 0002255243

Book Review

Another View of The Ash Garden
by Keith Nickson
The editors at HarperCollins must have slipped into a state of rapture when they saw how our national newspapers reacted to the launch of Dennis Bock's first novel, The Ash Garden, on August 25¨the very cusp of the frenzied fall book season. In The Globe and Mail, Bock was ordained as a hybrid of Updike, Cheever, and Mavis Gallant who had learned like an acolyte from Ondaatje and Urquhart while avoiding their "narrative excesses.
Read more...
---
Sex: An Anthology
by edited by Beverley Daurio & Anna Rumley
The Mercury Press
223 pages $18.95 paper
ISBN: 1551280884

Book Review

Teasing without Follow-through
by Gloria Hildebrandt
The title "Sex: An Anthology" attracts attention. Intrigues you. Raises your expectations. Lifts your hopes. You anticipate stimulating reading. The cover blurb promises more. "What is pleasure, and how is it conveyed in fiction?" it asks. "These delightful stories explore the sensual and the sexual with an urban, open edge ű fearlessly, dramatically, and in spirited wantonness." Lovely, you think, and settle back into soft, plump pillows to be swept away by wanton tales of passion
Read more...
---
Kingdom of Monkeys
by Adam Lewis Schroeder
Raincoast Books
196 pages $19.95 paper
ISBN: 1551924048

What's Left Us
by Aislinn Hunter
Polestar
200 pages $19.95 paper
ISBN: 1551924129

Book Review

All Manner of Peregrinations. Two Short Story Collections from Vancouver
by Joan Givner
These two collections, each consisting of six stories and a novella, are by Vancouver-based writers who have recently emerged from British Columbia's creative writing programs, and bear the stamp that readers have come to expect from that source. In fact, the recent crop of graduates is so good and so numerous that it has caused journalists to pontificate once more on the effectiveness of creative writing classes.
Read more...
---
Interviews

Rules of Engagment in Love and War. An Interview with Catherine Bush
by Nancy Wigston
Born in Toronto in 1961, Catherine Bush has also lived in Montreal, New York, London and Provincetown, Massachusetts. She holds a Bachelor's degree in Comparative Literature from Yale, has worked as an arts journalist and dance critic, taught creative writing at Humber School for Writers and at Concordia University, and has attended Yaddo and MacDowell writers' colonies.
Read more...
---
Interviews

A Brilliant Career. An Interview with Michael Harris
by David Solway
The author of six books of poetry, including New and Selected Poems and In Transit, Michael Harris has edited several anthologies, most recently The Signal Anthology of Contemporary Canadian Poetry. Twice a prize-winner in the CBC Literary Competition, including First Prize for Poetry in 1988, he has edited almost sixty poetry books for his Signal Editions imprint (VThicule Press, Montreal) as well as translated the complete poetry of Marie-Claire Blais (Veiled Countries\ Lives).
Read more...
---
Essays

Michael Taube
I am pleased to join Books in Canada as a monthly columnist reviewing works of non-fiction. The task at hand is a difficult one, however. Not in terms of writing my column, but rather getting BiC readers intrigued by works of politics, history, and economics. Some people are genuinely scared off by non-fiction, including editors. I know of journalists who have struggled¨and often failed¨to sell book reviews on international topics. Unless the author's name is recognizable, as with William F.
Read more...
---
Essays

George Fetherling
A.J.A. Symons¨the initials, he was reluctant to admit, stood for Alphonse James Albert¨wrote the beginnings of many full-sized books and actually completed one that became quite famous, first as a cult favourite, savoured by a small band of devotees, and finally as part of the mainstream, available to all in an orange-spined Penguin. Now, The Quest for Corvo, subtitled "An Experiment in Biography," has come out in an entirely new edition, with an introduction by A.S.
Read more...
---
Essays

Hemingway Finds Eros in Africa
by Christopher Ondaatje
Pic Hemingway with his fourth wife, Mary, 1953-54 All I wanted to do now was to get back to Africa. We had not left it yet. But when I would wake in the night I would lie, listening, homesick for it already. Ernest Hemingway, Green Hills of Africa Ernest Hemingway was the first great American literary celebrity of the 20th century. By the time of his death in 1961, he was an international legend.
Read more...
---
Prose/Poetry

Journey Toward Meaning
by Richard Greene
Despite being short-listed for the Governor General's Award in 2000, A. F. Moritz is that rarity among Canadian poets, one more venerated abroad than at home. He has received, among many honours, a Guggenheim Fellowship and the Award in Literature of the American Academy and Institute of Arts and Letters. His work is a constant presence in major American anthologies. W. S. Merwin calls him "a poet of originality, daring, and projection," with "a remarkable voice and range of imagination.
Read more...
---
Electric Light
by Seamus Heaney
Faber & Faber
81 pages $14.99 cloth
ISBN: 0571207626

Prose/Poetry

A Mind Enchanted by Language
by Kildare Dobbs
After his magisterial translation of Beowulf, which made some of us feel we never knew the Anglo-Saxon epic before¨in my case for the excellent reason that I never knew the Anglo-Saxon epic before¨comes a collection of poems that discover Heaney in his own time and place. Instead of the dreary sea and windswept world, beset by storms and monsters, he offers the narrow rooms of childhood on the farm, the milking parlour, the angers of Ulster, the fatigues of travel.
Read more...
---
Prose/Poetry

Five Pieces For Irving Layton
by Kenneth Sherman
"It is good to wish for strong models." Elias Canetti * 1 * In 1969, as I was about to leave for Israel where I would work for the summer as a volunteer on a Kibbutz, enlightened friends of my parents bought me a gift: the 1969 edition of Irving Layton's Selected Poems. The book was electrifying. I was immediately struck by the highly charged, visceral texture of Layton's language, the urgency of his voice.
Read more...
---
Up Front

A Note from our friends at Amazon.com
by Marven Krug,Steve Duda,Tom Nissley
One of the few things more gratifying than discovering a new author is passing the word on to someone else. At Amazon.com, we take great care in helping our worldwide community of book lovers find and discover new, important, entertaining works of literature. As first-year sponsors of the Amazon.com/ Books in Canada First Novel Award, it's been our great pleasure to spend time with the work of so many outstanding new Canadian novelists.
Read more...
---
Generica: A novel
by Will Ferguson
Penguin
309 pages $24 paper
ISBN: 014029984X

Martin Sloane
by Michael Redhill
Doubleday Canada
280 pages $29.95 paper
ISBN: 0385259220

Canterbury Beach
by Anne Simpson
Penguin/Putnam
309 pages
ISBN: 0670894842

All Worldly Pursuits
by Hillel Wright
New Orphic Publishers
197 pages $20 paper
ISBN: 0968731767

Flying in Silence
by Gerry Turcotte
Cormorant Books
309 pages $19.95 paper
ISBN: 1896951279

First Novels

First Novels
by W.P Kinsella
All Worldly Pursuits. by Hillel Wright, (New Orphic Publishers, 197 pages, $20.00, ISBN: 0968731767) is an autobiographical novel tempered by imagination. With luminous and articulate writing Wright tells the story of Wiley Moon, a world traveler with the wanderlust of his immigrant Jewish ancestors who escaped to America to avoid persecution. In the psychedelic Sixties Wiley meets and marries Crystal; they have four children and experiment with a back-to-the-earth lifestyle.
Read more...
---
Brief Reviews

Brief Reviews
by Nancy Wigston
Fiction New England writer Suzanne's Berne's enthralling debut work, A Crime in the Neighbourhood, shot out of nowhere to win Britain's prestigious Orange Prize. A Perfect Arrangement (Algonquin Books, 320 pages, $36.95, cloth, ISBN: 1565122615), Berne's second novel, revisits familiar territory: the flawed American family with its illusions about safe neighbourhoods¨with a twist, however.
Read more...
---
Brief Reviews

Brief Reviews
by Barry Goldlist
Biography Modern thinking concerning "quacks" can follow two paths: First, proven 'scientific' treatment is available, but some charlatan (the quack) offers useless or frankly injurious therapy for personal gain (usually financial); alternatively, 'scientific' medicine has little or nothing to offer (e.g. end-stage cancer resistant to therapy), and the quack engenders false hope by providing therapy nonetheless. Both opinions are reasonable only if useful therapies actually exist.
Read more...
---
Children's Books

Children's Books
by Jeffrey Canton
What a season we have before us. September starts off with a hoard of new and exciting fiction by children's and young adult writers as diverse as Arthur Slade, Mary Sheppard, Cora Taylor, Michael Bedard, Julie Johnston, Brian Doyle, Teresa Toten, Cary Fagan, Sarah Withrow and Eva Wiseman.
Read more...
---
Children's Books

Children's Books
by by Hadley Dyer
Pic National Ballet of Canada's Martine Lamy as Dr Coppelius's doll. Former National Ballet of Canada principle dancer Frank Augustyn and award-winning author Shelley Tanaka look at seven classic ballets and the people who have brought them to life in Footnotes: Dancing the World's Best-Loved Ballets, which takes inspiration from the television series of the same name.
Read more...
---
Dust
by Arthur Slade
HarperCollins Canada
170 pages $14 paper
ISBN: 0006485936

Children's Books

Children's Books
by Jeffrey Canton
Arthur Slade's literary inventiveness is wonderful. His Northern Frights series of young adult novels, for example, uses the darker side of Icelandic folktales and legends in contemporary Canadian settings to great effect. But unfortunately the quality of the writing never quite matches the breathtaking imaginative leaps that he offers young readers. And, sad to say, his new novel Dust suffers from the same ailment. It's a tour de force idea that doesn't quite work after take-off.
Read more...
---
Children's Books

Children's Books
by Lena Coakley
Teachers, librarians and young readers alike will appreciate the splendid writing in these two new anthologies edited by well-loved Canadian children's authors, Sarah Ellis and Tim Wynne-Jones. The short stories, novel excerpts and picture book texts featured here are some of Canada's best examples of writing for middle readers and the younger side of young adults.
Read more...
---
Children's Books

Children's Books
by Theo Heras
The only way in which I can approach this book is personally. That is not because I am a children's librarian and delighted that such a book exists. Rather, it is because I vividly remember my own very first visit to the local public library and receiving a library card. This is a book with a purpose, as it says in the title, to celebrate books and reading. The purpose immediately establishes a certain expectancy. Eric Beddows's idyllic cover illustration creates an atmosphere.
Read more...
---
Children's Books

Children's Books
by Jeffrey Canton
Canadian history is the focus of two new series aimed at young readers. Dear Canada, based on a U.S. counterpart is published by Scholastic Canada and aimed at readers 8-12, the same market that Penguin Books' Our Canadian Girl targets, also a copycat of a hugely successful American series.
Read more...
---
First Novel Award

Necessary Lies wins the Amazon.com/ Books in Canada 2000 First Novel Award
by Joel Yanofsky, Julie Keith, Carmine Starnino
Joel Yanofsky, Julie Keith, and Carmine Starnino selected the winner of the Amazon.com/Books in Canada 2000 First Novel Award from a short list prepared by W. P. Kinsella. Joel Yanofsky is a literary columnist at the Montreal Gazette. He is the author of Homo Erectus and Other Popular Tales of Romance, a collection of humourous essays, and of the novel Jacob's Ladder, which was short-listed for Le Grand Prix de MontrTal. Julie Keith is president of the Quebec Writers' Federation.
Read more...
---