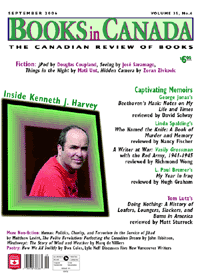 Note from Editor

Editor's Note
by Olga Stein
Before George Orwell's 1984, Aldous Huxley's Brave New World, and such lesser known dystopian novels as Ayn Rand's Anthem, there was Evgenii Ivanovich Zamiatin's We. Written in 1920, this brilliant, haunting novel is unrivaled for its clear-sighted exhortation against the cold calculus of Bolshevism.
Read more...
---
Book Review

Productive Idlers
by Matt Sturrock
In recent years, the steadily expanding and fragmenting realm of non-fiction publishing has seen the advent of some curious sub-genres¨selfish little species of writing (part escapist romp, part nostrum) that obliquely address the problem of personal fulfillment.
Read more...
---
Book Review

Smart Folks, Smart Talk
by Paul Drolet
The celebrated CBC radio series Ideas has been on the air for 40 years. To mark the occasion, Bernie Lucht, executive producer of the series has culled an impressive list from some of the show's finest interviews and lectures and produced a book. The subjects run the gamut: democracy and dictatorship, the nation-state, the public good, ideology, utopianism, religion, peace and violence; in short, the warp and woof of this beacon of Canadian intellectual life.
Read more...
---
Let Me Finish
by Robert Angell
Thorndike Press
320 pages $32.95 cloth
ISBN: 0151013500

Book Review

A Lifetime of Recollections
by Clara Thomas
LET ME FINISH is a memoir, though Angell repeatedly insists on the unreliability and instability of memory: "Most of the true stories in this book were written in the last three years and came as a surprise to me, the author. I'd never planned a memoir, if that is what this is, and never owned a diary or made notes about the passage of the days.
Read more...
---
Book Review

Jonas's Masque
by David Solway
In the Preface to his memoirs, novelist and political columnist George Jonas quotes his wit-dispensing and oracular father, a professional baritone reminiscing about his role in Verdi's Un Ballo In Maschera. The world reminds him of a masked ball. Europe in particular is a Venetian carnival, "with assassins dressed up as lyric poets. Butchers lurk in ducal palaces, wearing Beethoven's mask. The mask is Beethoven's, but the voice is Beria's.
Read more...
---
Book Review

Money and Terror
by Stewart Bell
Look behind any suicide bomber and you'll find a network of supporters who helped him along the path to martyrdom. Whatever its motives, a terrorist attack is not a sudden outburst, but rather the final act of a process of radicalisation, recruitment, training, planning, fundraising, and propaganda.
Read more...
---
My Year in Iraq
by L. Paul Bremer with Malcom Montgomery
Simon and Schuster
432 pages $18.99 paper
ISBN: 141654058X

Book Review

Theatre of Chaos
by Hugh Graham
While he was Washington's man in Iraq, Paul Bremer was thought by security experts to be "the most threatened American in the world." One plot on his life was aborted because of a traffic jam; in another a roadside bomb came within a few seconds of killing him. One time he had to travel in a convoy of 17 Humvees, 3 Blackwater helicopters, 2 Apache helicopters and F-16 fighter-bombers for "top cover". This was the Iraq that Bremer left behind him.
Read more...
---
Book Review

The Phoney Revolution
by John Pepall
John Ibbitson is the Ottawa columnist for The Globe and Mail. It is, he writes, "the best job in Canadian journalism." He has published several works of fiction and non-fiction, and has written a number of plays. He is bright, thoughtful, industrious and imaginative. And now he has written a silly book. The Polite Revolution covers a great deal. It is not an inside story of contemporary politics scooped from off-record sources such as those Peter Newman used to write
Read more...
---
Book Review

Beyond Propaganda
by Richmond Wong
To what extent does A Writer at War present the "ruthless truth of war"? Assembled by editors Antony Beevor (Stalingrad and Berlin: The Downfall 1945) and Luba Vinogradova from a collection of hitherto unpublished notes taken by Soviet journalist/ novelist Vasily Grossman during his time with the Red Army from 1941 to 1945, A Writer at War provides a rare insider's look into the private life and psyche of the author, as well as the war's soldiers, civilians, and victims.
Read more...
---
Book Review

Scoring Music
by BTla Szabados
The great philosophers were not much interested in music as a philosophical subject, except for some notable exceptions such as Schopenhauer and Nietzsche, and more recently, Wittgenstein and Adorno. Wittgenstein had a life in music and an acute sense of the development of European classical music, but he disliked anything after Brahms.
Read more...
---
Book Review

The Full Story of Music in Canada
by Patrick Watson
Within a very few years after settlement began in Canada, music was a sufficiently important part of the colonial life that diaries, letters, and official reports make mention of it. The first documented ball was in 1667, and dancing must have become an important relief from the tedium of the long winter nights.
Read more...
---
Book Review

A History of Financial Innovation
by Christopher Ondaatje
William Goetzmann and K. Geert Rouwenhorst, two Professors of Finance at the Yale School of Management, have come together to produce a handsome volume surveying all of the significant financial innovations that have changed the world. The two editors have garnered essays by a distinguished and adventurous group of historians and economists to trace "the origins of value" through four thousand years of history.
Read more...
---
Book Review

Measuring Wind
by Morley Thomas
Marq de Villiers has written a delightful book on wind and weather that is both informative and fascinating. The author has previously published successful books on exploration, history, politics, water, and travel, and in this book he demonstrates that he can persuasively write on weather and climate as well.
Read more...
---
Miraculous Hours
by Matt Rader
Nightwood
80 pages $16.95 paper
ISBN: 0889712018

Home of Sudden Service
by Elizabeth Bachinsky
Nightwood
78 pages $16.95 paper
ISBN: 0889712123

Ligatures
by Donato Mancini
New Star Books
102 pages $17.87 paper
ISBN: 1554200172

Killing Time
by Hank Schacte
New Star Books
144 pages $17.87 paper
ISBN: 1554200199

A Small Dog Barking
by Robert Strandquist
Anvil
160 pages $18 paper
ISBN: 1895636698

Book Review

Introducing Five New Vancouver Writers
by Lyle Neff
Some four centuries after warlike and fur-trading Europeans first contacted the warlike and grease-trading tribes of the area, the enormous Canadian province of British Columbia remains, in the literary sense, strikingly underwritten.
Read more...
---
Book Review

The Hurrying Steps
by David O'Meara
How We All Swiftly collects the best of Don Coles's first six books, from Sometimes All Over (publishing in 1975), to Little Bird (published in 1991). This is the first time a number of these poems have been reprinted since Landslides (1986), his previous¨and now out of print¨selected poems. A newer generation of readers might thus be unfamiliar with Coles' early output, making this current volume a much-needed correction to a Canadian publishing gap.
Read more...
---
Book Review

Wandering in the Clearcut
by Adam Beardsworth
In his poem "Literary Terms", Andrew Steinmetz concludes with a poignant witticism: "More than anything, including a regular naptime/ and sex, every writer wants, a close reading." The brusque delivery and emotional austerity of Hurt Thyself, Steinmetz's second book of poetry, make it a collection that both demands, and deserves, at least as much. Moving effortlessly between the ordinary and the aesthetic, Steinmetz's poems betray a terse but compassionate eye for the uncanny.
Read more...
---
JPod, A Novel
by Douglas Coupland
Random House Canada
516 pages $34.95 cloth
ISBN: 0679314245

Book Review

Without Conduits to the Real World
by Brian Fawcett
Douglas Coupland became internationally famous 15 years ago for writing a single tableau that captured both the world in which his generation found itself and the way it responded. Early in Generation X, Andy, the narrator, is grooming his dogs on the porch of a rented house in Palm Springs, California when he notices that the muzzles of the dogs are covered with a cheesy goo.
Read more...
---
Book Review

Theatre
by Martin Morrow
WORKS OF NATIVE WIT I can never see or read a play by Canadian Cree dramatist Tomson Highway without thinking of the Russian master Nikolai Gogol. Not the Gogol of The Inspector General and "The Overcoat", necessarily, but the one who penned inimitable folk tales like "The Story of How Ivan Ivanovich Quarrelled with Ivan Nikiforovich"¨simultaneously one of the funniest and one of the saddest stories ever written.
Read more...
---
Seeing
by JosT Saramago
Harcourt
307 pages $32.95 cloth
ISBN: 0151012385

Book Review

Seeing Little
by Menachem Feuer
With courage and aesthetic flair, JosT Saramago avails himself of a radical type of skepticism in his latest novel, Seeing, in an attempt to find some vestige of authenticity in a world that has become inundated with deceit. A sequel to his international bestseller, Blindness, which explores human tendencies toward compassion and cruelty in the midst of a bizarre and devastating epidemic, the effort to dispel every kind of certainty in Seeing is an 'eye-opening' counterpoint.
Read more...
---
Book Review

Converging Lives
by Nancy Fischer
I used to know a fellow whose grandparents missed the Titanic. To their brief chagrin, some connecting conveyance failed to deliver them onto that doomed boat failed. Happily, their bad luck is why he was around to tell us that story. We all know tales like this one, and we love to share them. They are occasional proof of something that's usually invisible: every event, however trifling, may prevent or enable other, more significant events.
Read more...
---
Things in the Night
by Mati Unt. Translation from Estonian and Afterword by Eric Dickens
Dalkey Archive Press
310 pages $15.62 paper
ISBN: 156478388X

Hidden Camera
by Zoran Zivkovic. Translated from Serbian by Alice Copple-Tosic
Dalkey Archive Press
217 pages $15.62 paper
ISBN: 1564784126

Book Review

Works from Eastern Europe
by Jeff Bursey
In Context Magazine in 2003, John O'Brien, head of Dalkey, addressed one aspect of literature in translation: "If we try to zero in on the question of how many 'literary' works (any kind of novel, poetry, play) were translated . . . my guess is that, including everything that comes from the smallest of presses and not paying attention to quality or genre, the figure is about 150 works of literature out of the 150,000 books published in the United States. .
Read more...
---
Book Review

The Same Struggles Go On
by David Helwig
Walk into a bookstore and you're likely to find shelves labelled Literature, Fiction, Best Sellers, Crime, Thrillers, Romance, Science Fiction. The bookseller knows by the packaging or the author's name or the blurb where to put each book so that a customer who enters the shop can read the label and get what's required on that particular afternoon.
Read more...
---
Selected
by William Hawkins
Broken Jaw Press
168 pages $22 paper
ISBN: 1553910346

Book Review

Nanve Primitivism
by Shane Neilson
The publication of a Selected is a major milestone in a poet's career, and one usually hopes those having a passing familiarity with Canadian poetry would at least know the lucky poet. Alas, not in my case. This was the first time I had read William Hawkins, and to be fair to the poet I read Roy MacSkimming's colourful introduction after I had read the book, which helpfully explained the reason why Hawkins is incognito: he hasn't published since the early '70s.
Read more...
---
Book Review

George Fetherling
Like most other famous explorers in modern times, Vilhjalmur Stefansson found that he also had to be an expert at raising funds, attracting publicity and, perhaps just as important, churning out non-fiction books about his expeditions. He published two dozen works in all, the best known of which, such as My Life with the Eskimo and The Friendly Arctic, remain addictively readable. But nowhere in any of them does he touch on what his latest biographer has revealed about his personal life.
Read more...
---
Interviews

Inside Kenneth J. Harvey
by Olga Stein
Kenneth J. Harvey International bestselling author Kenneth J. Harvey's books are published in Canada, the US, the UK, Russia, Germany, Japan, Australia, Italy, Sweden, the Netherlands, Denmark and France. He has won the Thomas Raddall Atlantic Fiction Award, and Italy's Libro de Mare (the first Canadian author to win this award).
Read more...
---
Essays

Dooney's Cafe
by Stan Persky
Forgotten Scenes It's funny the way books fall into our hands. I was lazily reading an issue of the Times Literary Supplement one afternoon last summer when I ran into a longish article about a mid-20th century British novelist I'd never heard of named William Cooper. The thing that slowed me enough to read the opening paragraphs of D.J
Read more...
---
Essays

(Em) Bracing Young Men With Eyes On the Prizes
by T. F. Rigelhof
Given that eighty percent of the fiction sold in Canada is purchased by women, it seemed fitting, and just about right that the 2005 Giller Prize jury (Warren Cariou, Elizabeth Hay, Richard Wright) picked four novels by women¨Joan Barfoot's Luck, Camilla Gibb's Sweetness in the Belly, Lisa Moore's Alligator and Edeet Ravel's A Wall of Light¨for its shortlist and then added David Bergen's The Time in Between.
Read more...
---
Certainty
by Madeleine Thien
McClelland & Stewart
320 pages $32.99 cloth
ISBN: 0771085133

First Novels

Review of Certainty
by Nancy Wigston
Certainty by Madeleine Thien (McClelland & Stewart, 320 pages, $32.99, cloth, ISBN: 0771085133). Certainty weaves a tapestry of memories into one heartbreaking, intellectually stimulating whole. A young woman has died; her family is in mourning, especially her doctor husband who is left not only to question his inability to save his globetrotting wife but also to live with the guilt of having betrayed her sexually in the year before she died.
Read more...
---
Miss Lamp
by Chris Ewart
Coach House Book
176 pages $19.95 paper
ISBN: 1552451666

First Novels

Review of Miss Lamp
by Nancy Wigston
Miss Lamp by Chris Ewart, Coach House Book, 176 pages., $19.95, paper, ISBN: 1552451666). "Miss Lamp shines," begins this arch portrait of a lawyer, come back to her hometown, to defend an incompetent, comic-book evil dentist, who steals his patients' teeth. Ewart works best in close-up, concentrating not on court room drama¨which is fairly quickly disposed of¨but on Miss Lamp's memories and the presence of bit players in her orbit
Read more...
---
First Novels

Review of Lost Girls and Love Hotels
by Nancy Wigston
Lost Girls and Love Hotels by Catherine Hanrahan (Viking, 192 pages, $26.00, cloth, ISBN: 0670064440). Margaret is a Canadian girl behaving badly in Japan. Her reasons are many: her father deserted the family; her mother has turned New Age and gay; but mainly, her brother Frank, once her ally, has developed schizophrenia. In her adolescence Margaret coped with family life by becoming the school slut, a role she replays in Tokyo.
Read more...
---
Stolen
by Annette Lapointe
Anvil Press
232 pages $20 paper
ISBN: 1895636736

First Novels

Review of Stolen
by Nancy Wigston
Stolen by Annette Lapointe (Anvil Press, 232 pages, $20.00, paper, ISBN: 1895636736). This account of a young thief and drug dealer's life in rural Saskatchewan locks us into the mind of Rowan Friesen, a young man "known to police" since he and a mentally fragile pal blew up their high school. A master of the break-and-enter, Rowan proudly makes his living stealing and selling his loot on the Net. Lapointe's study of this twenty-six-year-old rebel bespeaks a sombre fascination.
Read more...
---
Unstolen
by Wendy Jean
Macmillan
320 pages $29.95 cloth
ISBN: 0330447564

First Novels

Review of Unstolen
by Nancy Wigston
Unstolen by Wendy Jean (Macmillan, 320 pages, $29.95, cloth, ISBN: 0330447564). High-achieving Bethany Fisher, nineteen years old, single mother of Ryan, four, lands a job as a police artist. Her visiting mother glimpses her daughter's drawing of a pedophile, based on a child's description of the man who snatched her brother. On seeing the same man at the grocery store, Doris follows him home and bashes his brains out.
Read more...
---
Before I Wake
by Robert J. Wiersema
Random House Canada
384 pages $32.95 cloth
ISBN: 0679313737

First Novels

Review of Before I Wake
by Nancy Wigston
Before I Wake by Robert J. Wiersema (Random House Canada, 384 pages, $32.95, cloth, ISBN: 0679313737). On a lovely spring day in Victoria, three-year-old Sherry Barrett becomes the victim of a hit-and-run. Driver Henry Denton was speeding home to his family; overwhelmed by guilt, he phones 911 to confess, then jumps off a cliff into the sea.
Read more...
---
Children's Books

Kids' Lit
by M. Wayne Cunningham
Strange, bizarre, weird, and richly imaginative are all words that are apt to describe these two must-read books. Reading Torontonian author Rob Payne's How to Be a Hero on Earth 5 is like touring Alice's Wonderland with Monty Python and the Adams family as guides. The adventure takes place in a space-time rupture between Earth and its alternate dimension, Earth 5.
Read more...
---
Sosi
by Linda Ghan
Signature Editions
222 pages $19.95 paper
ISBN: 1897109067

Children's Books

Kids' Lit
by M. Wayne Cunningham
Saskatchewan-born Linda Ghan's newest novel, Sosi, is a challenging story of a young girl growing up in a maelstrom of conflicting religious, political, and historical influences and personal circumstances that transform her from a lively, questioning child in Turkey to an early-twenties gin-loving, promiscuous, jazz-club junkie in Montreal, who has to be saved from herself.
Read more...
---
Children's Books

Kids' Lit
by Olga Stein
Growing up, I was always acquainted with some kid whose parents were strange and wonderful. They liked to travel with their children, and would always travel somewhere exotic¨not to get away but to explore and learn about new places. Travels with my Family is about parents like that. Both parents are writers, and both are willing to venture where no other sane parents would, especially with two young kids (who would prefer a trip to Disney World, or any other 'ordinary' vacation spot).
Read more...
---
Great Authors

Miltonian Intonations 3/4-way Through: John Glassco Writes to A.J.M Smith
It was a day of research like any other. I had spent hours sorting through daunting piles of documents stored in the Trent University archives, too aware of the warm summer weather on which I was missing out. Then, to my surprise, I opened a file containing letters from the late 1960s between John Glassco and Arthur Smith.
Read more...
---